If you had asked me two weeks ago to name Japan's three greatest gifts to the rest of the world, I would have said sushi, Zen and all of Japanese cinema except the 1989 film Tetsuo: The Iron Man. Or I would have said mochi, J-pop and Japanese gardens. I would not have said saké.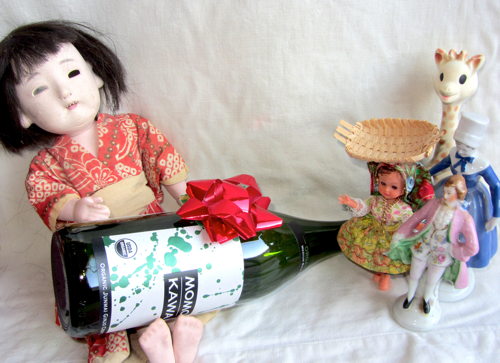 Despite appearances, I am not the totally least qualified person in America that you could ask about Japan's greatest gifts. My master's thesis was about postwar Japanese literature. I have studied the Japanese language and have felt inexplicably bonded with Japanese-ness since infancy, experiencing odd euphoric paroxysms upon being brought by my father to a bonsai festival and hearing the plaintive sound of samisens emerging from our TV. I would call this a relic of reincarnation: evidence that I am not just your average embarrassing American a-hole Japanophile but that somewhere back there, before being born in this body in Los Angeles, my soul spent another life in Japan.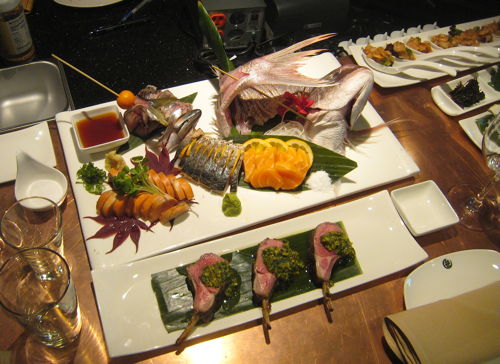 But even that didn't make me like saké.
Like most Westerners, I had only ever sampled saké warm, from tiny cups, in sushi bars. And despite my Japan Thing, it was always like, Ewww, this is bitter and murky and disgusting and how could anyone ever like this? And if you're going to make rice into spirits, then why not brew some kind of sweet alcoholic amazake? Because honestly, ewww.
One of America's tiny handful of stateside saké breweries, Oregon-based SakéOne, debuted saké on tap (featuring their Momokawa Organic Junmai Ginjo saké) at San Francisco's massive Outside Lands festival last week. Paul McCartney sang; Beaver State-brewed saké flowed. At a private party right before the festival, the SakéOne folks poured their products to evince that the warm stuff in little cups is not the whole saké story.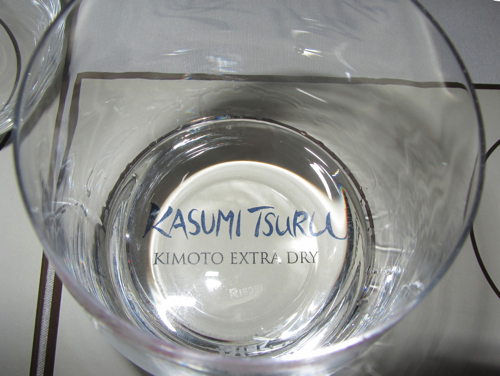 And it's not! Served chilled, at room temperature and in cocktails -- sak-tails, as I like to call them -- these crystal-clear craft elixirs tasted amazingly light, like the liquid equivalent of butterfly wings and rustling silk.
But what the hell is it?
"Not rice wine," said SakéOne CEO Steve Vuylsteke. Rather, saké is brewed through a process with high geek appeal -- involving steamed polished rice, koji fungus, moto yeast starter, fermentation, filtration, pasteurization, maturation (in which longer time-spans lead to deeper flavors), blending, dilution and bottling. Line winespeak and beerspeak, saké-speak is rife with percentages, gradations, notes and style-isms and source-isms. We've got your 65 percent polish, 1.5 acidity, +5 SMV, 16 percent alcohol brew made from Gohyakumangoku rice right here.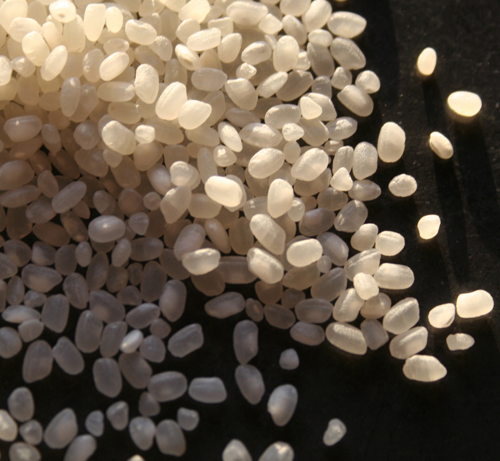 Could junmai ginjo -- that is, premium artisanal -- saké become the new cider, bourbon or tequila?
"Americans have a long, long way to go in terms of saké education," Vuylsteke mused. "So many Americans say they hate saké, because everybody remembers that one night long ago in a sushi bar when they felt like they were throwing back hot rocket fuel, then they woke up with a hangover."
In Japan, high-quality sakés are usually served chilled. Sakés that are served warm tend to be the cheapest and lowest-quality kinds, and two-thirds of the sakés consumed in America are entry-level -- aka bad, even boxed -- brands, Vuylsteke said.
"If you drank really bad warm Chardonnay, what do you think it would taste like?"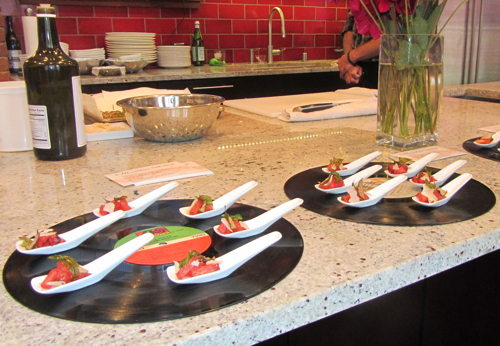 Chef Joshua Oakley of Tango & Stache paired outspokenly Western dishes with several SakéOne sakés. Grilled heirloom watermelon/fried caper berry/goat cheese appetizers (depicted above) appeared alongside cocktails made with basil-infused Moonstone saké. (See recipe below.) Stewed summer mushrooms crowned with quail eggs were served with Kasumi Tsuru Kimoto Extra Dry: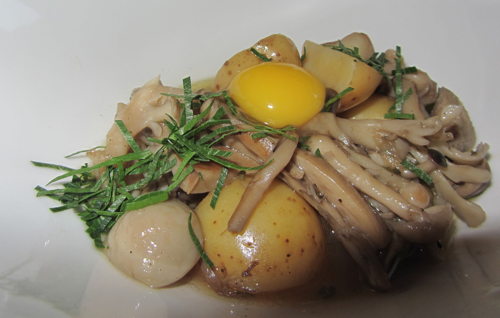 Sweet hibiscus tea-brined Niman Ranch pork tenderloin, wrapped in olio prosciutto and flanked by green-tomato conserva, grilled okra and peaches, a nod to Oakley's Southern roots, appeared alongside my favorite saké of the night: g fifty -- which is of the Daiginjo Genshu grade, in saké-speak.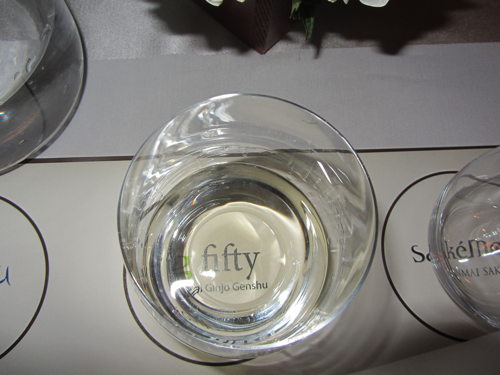 Not that I know what I'm talking about, but its feathery-faint sweetness teased the meat's saltiness and evoked high notes played on strings. A buckwheat-oatmeal plum cobbler was then paired with Sakémoto, a SakéOne import from Japan.
Can you try this at home? I asked Rising Star Chef Jason Kwon, owner of Berkeley's fusion-tastic Joshu-Ya Brasserie.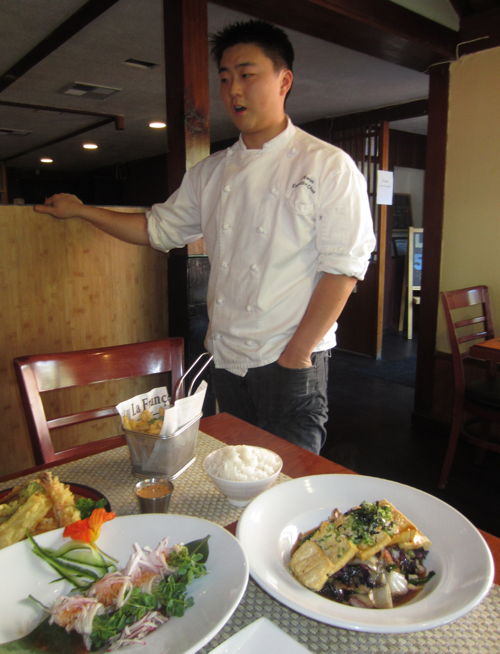 "Contrary to what industry buffs may argue, saké pairing is far from an exact science. It's important to note, however, that sake typically does not go well with strongly flavored dishes," Kwon said. He also cooks with saké to "open up a new realm of subtle flavors." Joshu-Ya's most popular cocktail, the East Village, contains saké, another Japanese spirit known as shochu, shiso mint, fresh lemon juice and wild honey.
Saké and chocolate? A.K. Crump, CEO of TasteTV, which hosts International Chocolate Salons nationwide, would pair clear premium saké with "a good dark chocolate bar or truffle -- for example, something from Amano Artisan Chocolate, Gem Chocolates, Alter Eco, E. Guittard or Forte." To eat with cloudy sakés, "I might choose a milk-chocolate bar from Theo or Papa Chocolat ... or maybe even a good white chocolate from FGR Chocolate Collection or Chocolot."
Now we need to know only this: Which saké goes best with cronuts?
Thai Sour Cocktail
3 oz. Moonstone Citrus Thai Basil Saké
1-1/2 oz. canned soursop juice
Splash of fresh lime juice
Pour ingredients into glass and stir.
Rice image courtesy of SakéOne. Doll image by Anneli Rufus. All other photographs are by Kristan Lawson.