At a friend's bar mitzvah one hot summer day in the 1970s, one of my middle-school classmates wheedled a bartender into making us a tequila sunrise. This three-level cocktail, a recent invention back then, flared triple-decker scarlet-orange-ice-cube-white in its clear plastic cup like the chemical miracle it was.

What kid would not love something so lustrous? What kid would not drink something so new and forbidden whose very name was synonymous with cool? What kid, having never previously tasted any alcohol besides ritual wine, would not at the next possible opportunity seek another such drink? And another? What kid, not knowing good spirits from bad or actual grenadine from FD&C Red corn syrup, wouldn't spend the next ten years quaffing tequila sunrises, feeling weird after every one, and deciding this was all tequila's fault?
We who reached drinking age before artisanal spirits were widely available to the general public formed our opinions about cocktails based mainly on gutter-quality versions of their components. Lately I started thinking that I owed tequila sunrises another chance.
As a showcase for agave-based spirits, "the tequila sunrise is not highly recommended," said master mixologist Scott Beattie, author of Artisanal Cocktails and bar manager of Goose & Gander in St. Helena, CA. "Because for so many years it has mainly been made with bad tequila, cheap orange juice and super-sweet syrup, the tequila sunrise isn't regarded as a particularly tasty drink."
Beattie urged me to avoid sunrises entirely and start by sampling 100 percent agave tequila straight. He advised me to study up on Jaliscan distilleries and the intricate laws governing a spirit that he calls "one of the most highly regulated products in the world and among the most complex-tasting. You'll find notes of fruit and herb -- the terroir can be captured in agave, just as in wine grapes. Some people claim that there's a lot of difference between tequilas made from agave grown in the highlands and in the lowlands," and that tequila distilled from agave grown near the sea "actually smells a little like seawater, and has this brininess to it."
He advised me learn the differences between tequila blanco, aged only two months or less; tequila reposado, aged from two months to a year, and tequila añejo, aged from one to three years. He sagely suggested approaching añejo as if it were brandy.
So that's what I did at San Francisco's Blackbird Bar, sampling Suerte -- a new tequila brand founded last year by two Coloradans and derived from 100 percent blue Weber agave grown in the Jaliscan highlands. After being slow-cooked in a traditional brick oven for 52 hours -- more than quadruple the minimum required industry standard -- agave hearts destined to become Suerte then spend an astounding sixteen hours being crushed in a traditional tahona, the stone wheel-and-channel device seldom seen in tequila-making today.
These remarkable liquids bore as much resemblance to the tequilas of my youth as manchego to Cheez Wiz. The clear blanco tasted brilliantly bright. The blonde reposado tasted slyly smoky, with a hint of honey. The exciting amber añejo evoked flowers and caramel, borne on a hot desert wind. Then bar manager Gina Schuarte concocted an all-natural sunrise.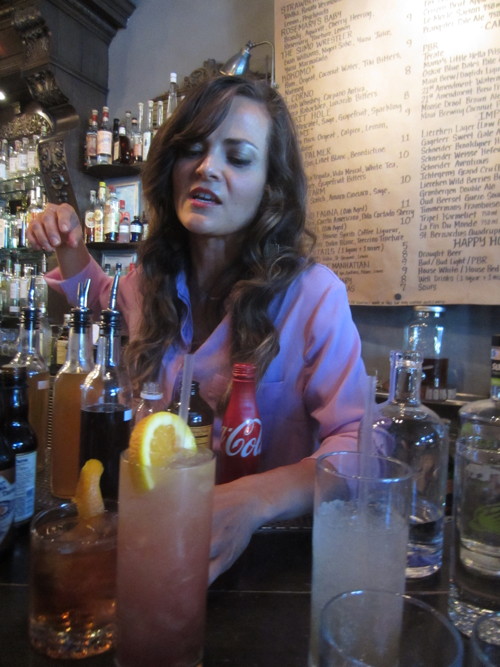 It blazed gently on the tongue like sweet spicy fire.
And it gave me an idea: Ask modern-day mixologists for their new takes on this now-controversial, much-mocked classic cocktail whose shameless sweetness and no-secrets vividness evokes bell bottoms, Jaws, and Jimmy Carter. My search yielded treasures beyond belief: I now give you Seventeen Tequila Sunrises:
1. Del Tramonto all'Alba, created by Ergys Dizdari and served at Filini Bar and Restaurant in Chicago's Radisson Blu Aqua Hotel: 1 oz. Vanilla Chipotle Syrup (made by boiling together sugar, vanilla bean and dried chipotle peppers); 1 oz. tequila; 2 oz. fresh orange juice. Shake ingredients together; top with Prosecco and 0.5 oz Aperol. Its name means "From Dusk 'til Dawn" in Italian.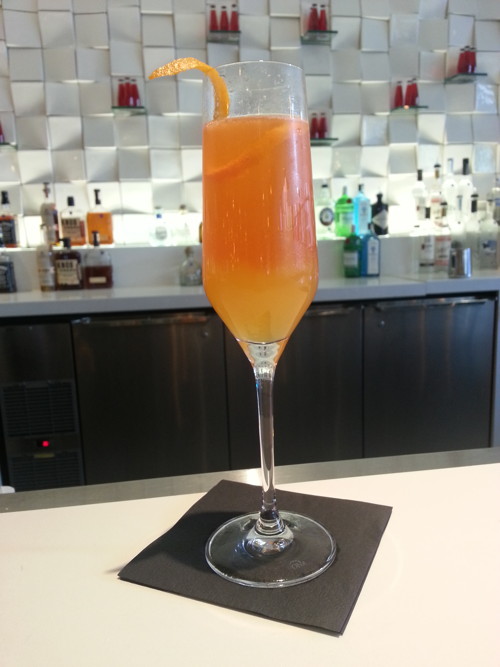 2. The Sun Goes Down, created by Sara Rosales and served at Radiator Whiskey in Seattle: 2 oz. Suerte Reposado; 1 oz. fresh orange juice; 0.25 fresh lime juice; 1 chiltepin pepper; 0.25 oz. bell pepper/real grenadine syrup (place in saucepan 1 cup bell peppers, 1 cup organic sugar, 1 cup pomegranate juice and 2 cups water; bring to boil; reduce heat; simmer 20-30 minutes to taste). Crack the chiltepin pepper with muddler to release seeds. Combine all ingredients except syrup and shake well. Double strain into a double old-fashioned glass and float bell pepper/grenadine syrup on top of drink. Garnish with Luxardo cherry.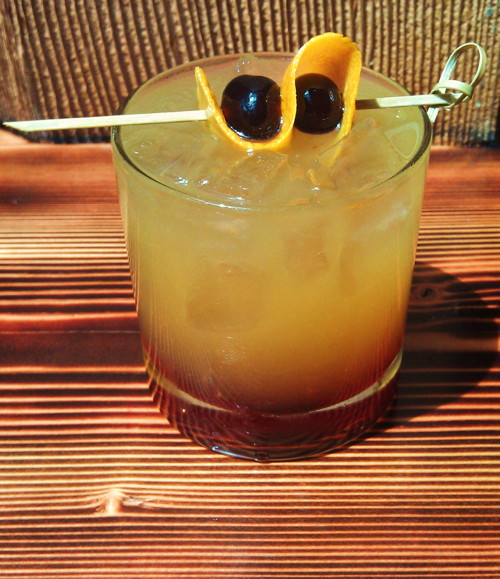 3. The Gin Sunset served at FIVE in Berkeley, CA uses gin instead of tequila to create a sharp, crisp flavor. Its base layer comprises gin, grapefruit juice and agave syrup. Orange juice is floated for its central layer and lemon juice is floated for its top layer, with a sink of Maraschino grenadine and pomegranate syrup for the red spot at the bottom. The drink is assembled in a coupe glass because its globular shape resembles the sun.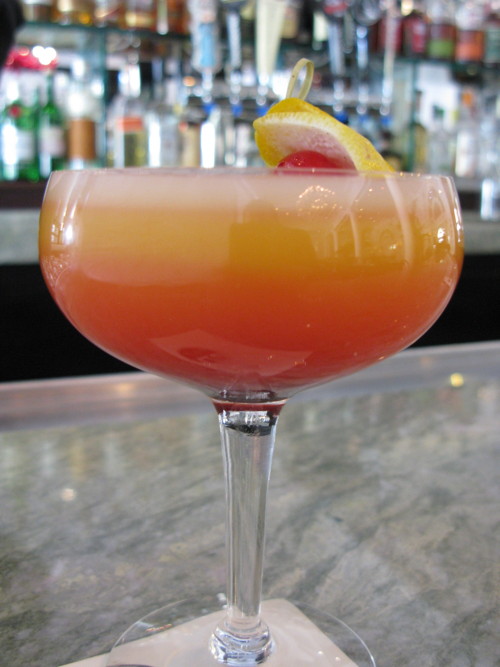 4. Before Sunrise, created by Bryan Ranere and served at San Francisco's Foreign Cinema: 1 oz. Amaro Nonino; 4 dashes Peychaud's bitters; 2 oz. Vida mezcal; the juice of half a lime. Build in Collins glass with a salt-and-sugar rim. Fill glass with ice. Top with fresh ruby-red grapefruit juice, garnish with lime and brandied cherry.
5. The Phoenix Rising, created by Joanne Weir and served at Copita in Sausalito, CA: 1.5 oz tequila blanco; 0.5 oz Luxardo maraschino liqueur; 1.75 oz freshly squeezed orange juice; 0.25 oz freshly squeezed lime juice; ice; 6 pitted fresh cherries. In a cocktail shaker, combine cherries and Luxardo.  Gently muddle cherries. ("You don't want to smash them into oblivion," Weir advises, "just extract the juice.") In a separate cocktail shaker, combine tequila, orange juice and lime juice with ice. Shake vigorously for 10 seconds. Strain into a double old-fashioned glass over ice. Pour muddled cherry-Luxardo mixture over drink. Serve.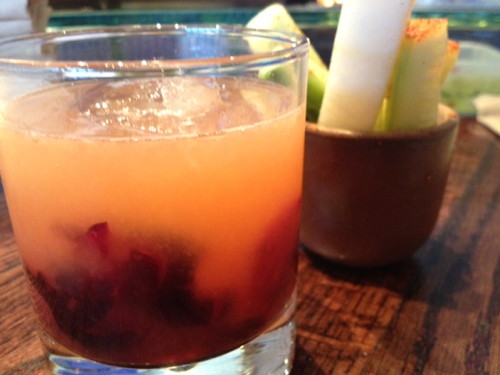 6. The Mi Casa Sunrise, devised by the folks from family-owned small-batch single-estate Michoacan-grown Mi Casa Tequila, has a flamboyantly fluffy top. Start with 3/4 oz. natural grenadine ("the best you can buy," advises Mi Casa co-founder Arthur Eli Rodriguez); 2 oz. Mi Casa Reposado; 1 oz. fresh lime juice. Mix ingredients with ice for twelve seconds; strain into coupe and top with orange foam, which has been made by mixing and charging in a cream charger 3 egg whites, 6 oz. orange juice and 1 oz. simple syrup.
7. The Amanecer, served at Two Restaurant & Bar in Chicago, is made with Don Julio Blanco, Jack Daniel's Tennessee Honey, peach purée, raspberry syrup and muddled mint, served in a tall glass and garnished with an orange rind. Its name means "daybreak" in Spanish.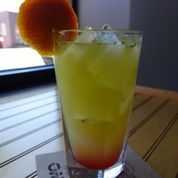 8. The Aurore Casamigo, created by Seth Hendrickson of the Left Bank Brasserie Santana Row in San Jose, CA: 1.5 oz Casamigos reposado tequila; 0.5 oz fresh lime juice; 0.5 oz Combier liqueur; 0.5 oz blood orange juice; 2 dashes Peychaud's bitters; 2 strawberries. Muddle strawberries in bottom of glass, mix all other ingredients in a shaker with ice and pour over strawberries. Garnish and enjoy.
9. The Rising Sun, served at the Departure Restaurant & Lounge in Portland, OR: Muddle a one-inch piece of ginger; add 2 oz. Cazadores Reposado; 0.5 oz. fresh lemon juice; 1.5 oz. fresh orange juice; 0.25 oz. honey syrup. Shake with ice and double strain into old-fashioned glass. Top with 0.5 oz. house-made grenadine. Garnish with orange wheel and lemon twist.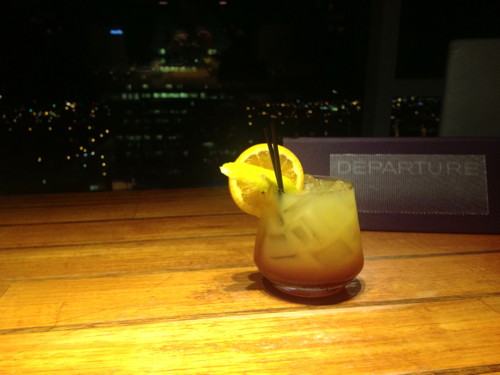 10. The Tequila Sunrise served at Bocanova in Oakland, CA has a cream-sicle quality as it comprises tequila, orange juice, simple syrup and egg whites mixed together and poured over ice, topped with soda water and a quarter-ounce of grenadine.
11. The Grecian Sunrise served at Dio Deka in Los Gatos, CA is a Greek version of the classic sunset, comprising Aphrodite ouzo, fresh orange juice and a splash of grenadine.
12. The Showdown, created by Sara Rosales and served at Radiator Whiskey in Seattle: 2 oz. Suerte reposado; 1 oz. pear nectar; 0.25 ounce lime juice; 1 chiltepin pepper; 0.25 ounce Campari/real grenadine syrup (made by combining equal parts Campari and grenadine, preferably Small Hands brand, and shaking well). Crack chiltepin pepper to release seeds. Combine all ingredients except syrup and shake well. Double strain into double old-fashioned glass and float syrup. Garnish with Luxardo cherry.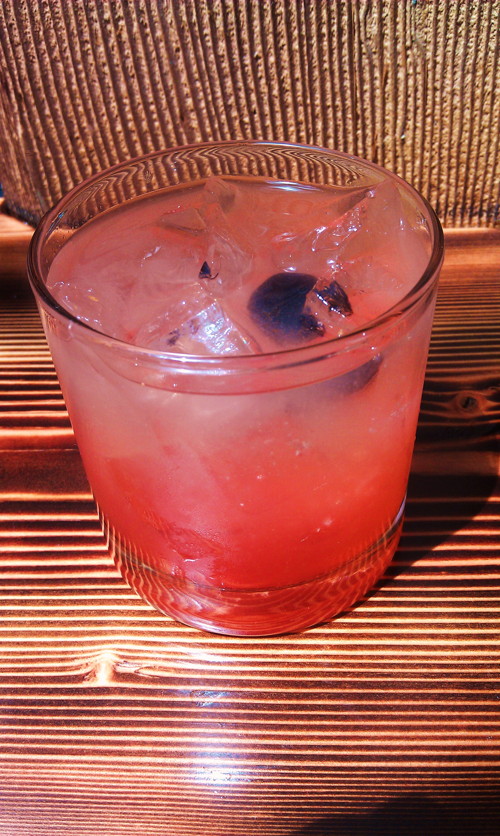 13. The Improved Tequila Sunrise created by Richard Woodruff and served at San Francisco's Chambers Eat + Drink: 1.5 oz. Don Julio Reposado; .5 oz. Cointreau; 2 oz. fresh orange juice; 0.5 oz. house-made brandied cherry juice. Combine tequila, Cointreau and orange juice; shake and double strain into chilled coupe glass. "Sneak brandied cherry juice into the side of the glass so that it goes to the bottom for that 'sunrise' look," Woodruff advises. Garnish with brandied cherry wrapped in orange peel on a stick.
14. The Tequila Sunrise served at the Kachina Southwestern Grill in Westminster, CO: 1 oz. Sauza Blue Reposado; 3 oz. orange juice; cherry juice floater, served in highball glass over ice, garnished with orange zest and a cherry.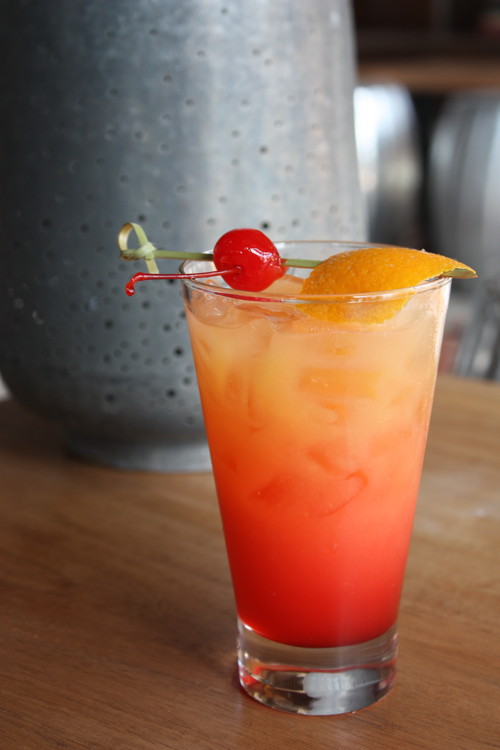 15. The Tequila Sunrise served at Chicago's Little Market Brasserie includes the restaurant's signature house-made orange-hibiscus-mint soda instead of the traditional mixers.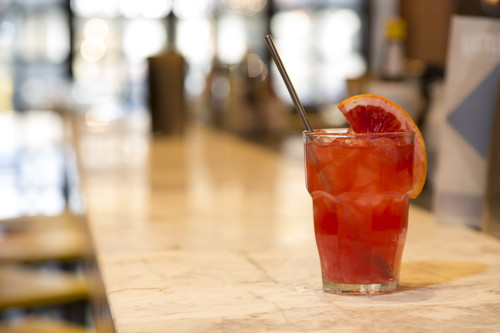 16. Just Another Sunrise: Jan Henrichsen of Found in Evanston, IL replaces traditional tequila with chocolate tequila, then uses blood orange juice and a grenadine foam, garnished with chiles.
17. The Oaxacan Sunset, created by Gina Schuarte and served at San Francisco's Blackbird Bar, comprises Del Maguey mezcal, Hendrick's gin, tangerine syrup, The Bitter Truth spiced-chocolate bitters and Alvear Solera Pedro Ximenez sherry.
Phoenix Rising image courtesy of Brian Basmajian. Oaxaca Sunset and Suerte bottles photographed by Anneli Rufus. Amanecer Image courtesy of Two. Gin Sunset image courtesy of FIVE. The Sun Goes Down and Showdown images courtesy of Radiator Whiskey. Rising Sun image courtesy of Departure. Del Tramonto all'Alba image courtesy of Filini. Kachina Tequila Sunrise image courtesy of Kachina Southwestern Grill. Little Market Brasserie Tequila Sunrise image courtesy of Little Market Brasserie. All images used with permission.