The bitter truth about beer floats is that they aren't root-beer floats.
The bitter truth about beer floats is that they're bitter. And sweet, thus bittersweet, but not in the naturally, instantly, intrinsically perfect manner of bittersweet chocolate or strong sugary tea. Beer floats are bitter first, like a punch in the face, because the bitterness of beer is not the spicy, sultry bitterness of chocolate and caffeinated drinks but a hoppy, sleepy bitterness that cries out for pickles and pork.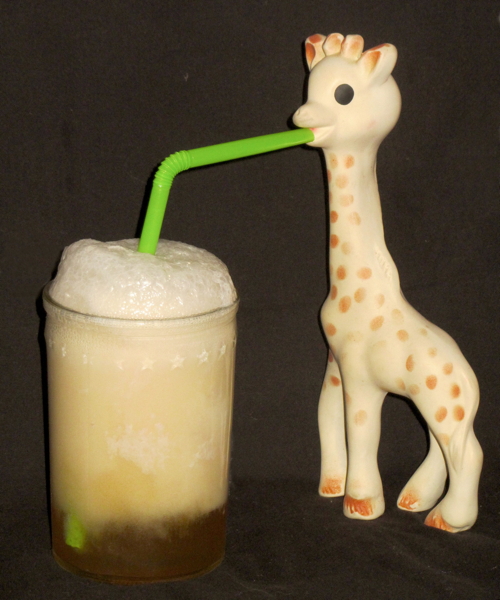 Or is that just a cultural construct?
I first sampled beer floats a few years ago at SF Chefs, where the folks from Humphry Slocombe (an SF outfit that makes ice cream in such flavors as prosciutto, foie gras and strawberry-olive) served them. These tasted to me like fizzy insults, but when I said so online, commenters virtually accused me of being a stupid inbred rube who had lost my taste buds in a hunting accident. This did not dislodge my belief that beer floats are merely a cruel play on words, that beer floats are to root-beer floats what pea sandwiches are to peanut-butter sandwiches.
Yet as the Beer Wave sweeps this nation, beer floats and other beer desserts are fizzing in the trendiest kitchens. For the sake of history I had to give them another try; you can read about the results below.
But first, here's what some of America's top chefs are doing right now with sweetness and suds:
The Stout Float created by mixologist Jan Henrichsen and served at Found in Evanston, Illinois: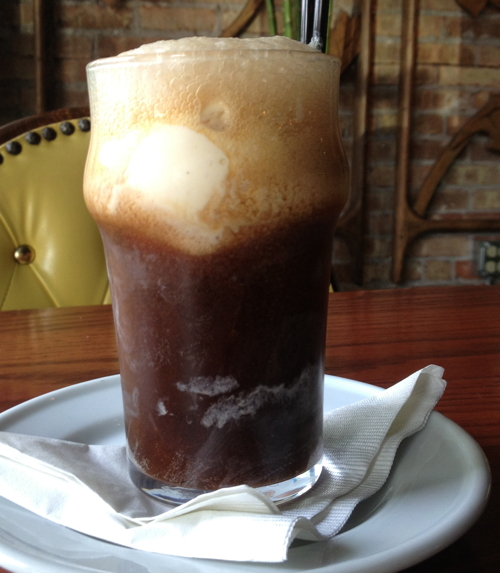 "About six years ago, friends and I put together a ridiculous amount of ice cream, sorbets and beers, and combined them. It was a very hot summer," Henrichsen explains. "The simplest float was the clear favorite amongst our group: stout and vanilla ice cream."
At Found, the recipe features local Black Dog gelato and Michigan-based New Holland Brewing Company's barrel-aged Dragon's Milk.  
"The bitter cocoa and coffee note from the beer and the creamy, rich, not-too-sweet aspects of the gelato mix beautifully," Henrichsen says. "We add blackstrap bitters and call it a day."
---
The Black Butte Porter Chocolate Tart created by pastry chef Laurel Almerinda and served at Rustic Canyon Wine Bar & Seasonal Kitchen in Santa Monica, CA: Salted caramel, whipped cream, candied cacao nibs and a six-pack of craft beer are cooked down to an intense beer syrup. Each slice of this tart contains nearly a full bottle of beer.
---
The signature Guinness Spiked Milkshake created by Chef Tim Goodell and served at 25 Degrees in Hollywood's Hollywood Roosevelt Hotel includes Guinness, house-made chocolate sauce and vanilla ice cream: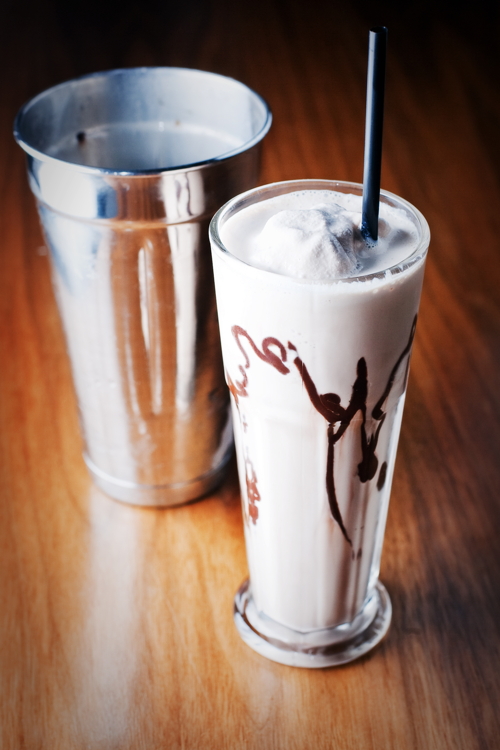 ---
The Chocolate Porter Real Beer Float created by Chef Colby M. Reade and served at Steins Beer Garden & Restaurant in Mountain View, CA: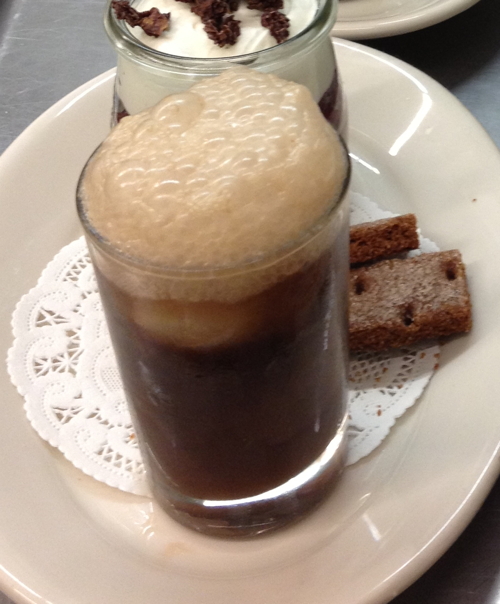 Brown sugar is added to vanilla-bean ice cream, into which dark, rich Hangar 24 Chocolate Porter is poured slowly.
Because the alcohol in the porter makes freezing in regular freezers difficult, liquid nitrogen is employed to ensure that this mixture maintains the right consistency. Once the mixture is fully frozen, Devil's Canyon root beer is drizzled over over it. Shortbread-textured brown sugar/honey/cinnamon graham crackers are served with this dessert. As a root-beer float containing beer, it could technically be called a Root Beer Beer Float.
---
The Sea-Salt Shortbread served at Chicago's Little Market Brasserie comes topped with a stout ganache that is made with dark chocolate, heavy cream and stout: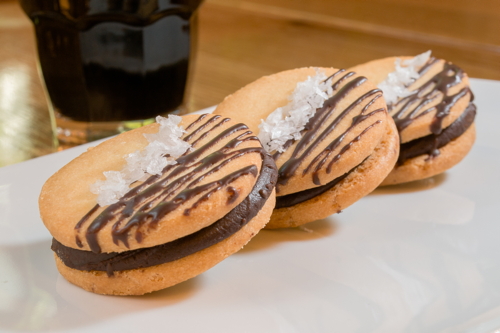 ---
The Vanilla Beer Float served at BUILD Pizzeria in Berkeley, CA is made with Allagash Belgian-style witbier, vanilla ice cream, locally made honey-basil syrup and sea salt. BUILD's Chocolate Beer Float is made with Bison organic chocolate stout, chocolate ice cream and house-made Valrhona fudge drizzle.
---
The Car Bomb served at Detroit's Toasted Oak is a twist on the Irish Car Bomb cocktail, and comprises Jameson Irish Whiskey ice cream, Bailey's Irish Cream fudge and rich bittersweet Guinness syrup: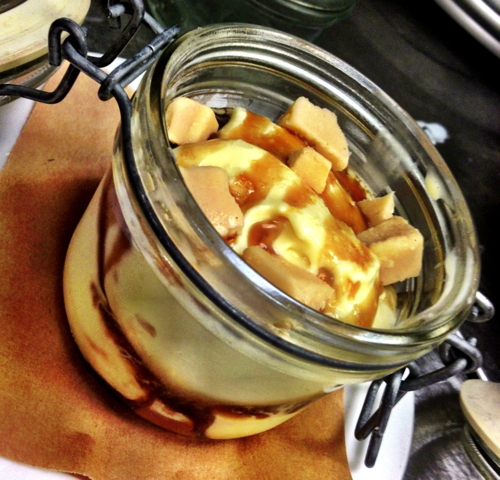 ---
The Hoegaarden Honey Milkshake created by Chef Bart Vandaele and served at the Belga Café in Washington, DC is served with apple doughnuts and beer-caramel sauce: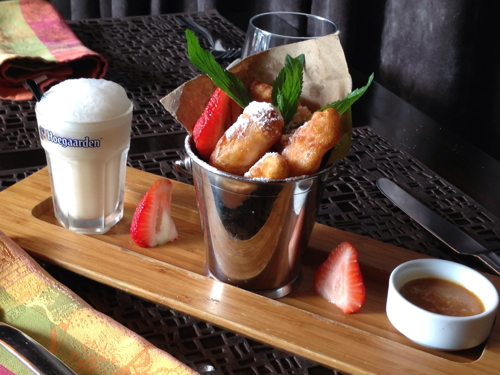 ---
The Stout Sticky Toffee Pudding created by chef Dakota Weiss and served at NINETHIRTY and The Backyard in the W Los Angeles - Westwood includes stout, vanilla-bean gelato and toffee popcorn.
"I love our Stout Sticky Toffee Pudding," Weiss says, "because it is incredibly rich and gooey. Using the Stout beer helps cut through that richness and adds another layer of nutty, caramel-y flavor. We top it off with toffee popcorn to provide a perfect amount of crunch and an element of texture."
------
The House-Made Vanilla-Porter Ice Cream created by sous chef Kevin Cuddihee at Chicago's Two is served with house-made whipped cream and a brandied cherry: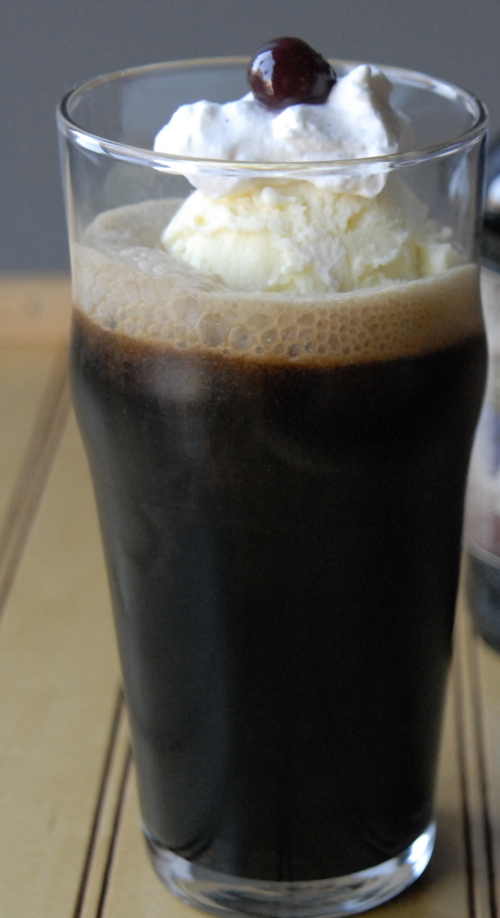 ---
The Lindeman's Framboise Beer Float served at Play in Colorado Springs' Broadmoor Resort draws upon the haunting sweetness of Belgian-style fruit beers and is made with vanilla ice cream; Play's other beer dessert, the Guinness Beer Float, comes with either vanilla or chocolate ice cream and includes a not-so-secret ingredient: Kahlúa.
"We wanted to have fun with our beverage program and decided that adult floats, shaved ice and shakes were one way to convey this," says Play's food-and-beverage marketing and public-relations manager Krista Schulz.
 
---
The Mango-Mousse Olive Oil Cake created by executive pastry chef Fabrice Bouet and served at Chicago's Lockwood Restaurant and Bar features jelly made from Blue Moon Brewing Company beer, is topped with a coriander tuile and served with poached rock melon, frozen-yogurt parfait and raspberry sauce: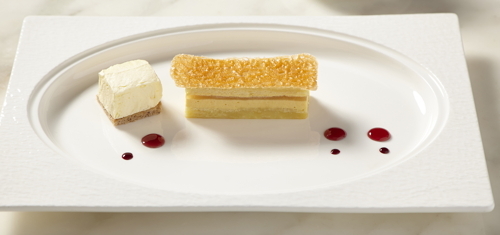 -----
Samuel Adams/Ben & Jerry's Make-at-Home Beer Floats: Samuel Adams brewer Jennifer Glanville and Ben & Jerry's "flavor guru" Eric Fredette teamed up recently to create beer floats using products from their brands -- and shared two of their recipes, which you can see below.
"Beer has a vastly greater range of flavors from its range of ingredients" than wine does, Glanville explains. "And with so many beer styles and ice cream flavors out there, the combination possibilities are truly endless." In the two recipes offered here, "the beer and ice cream complement each other and help bring out more of the flavors. You can also use different beer and ice-cream styles to cut and contrast flavors. Or, since Sam Adams and Ben & Jerry's have so many different styles, you can go crazy with off-the-wall creations like Boston Lager and Ben & Jerry's Red Velvet Cake."
I tried the first of these two recipes myself (as depicted above, with giraffe) and was stunned at its silky, creamy, downright soothing smoothness. The ale's effervescence teased and fluffed the frozen yogurt to create a thick texture suggesting egg creams and edible bubble baths. I found myself racing myself to drink it with a straw and eat it with a spoon, at which point it struck me that what nags me about such desserts is the fact that their volatile chemistry makes one of their main ingredients rapidly dissolve the other main ingredient, amounting to a gentle if delicious murder in your glass. Such deaths aggrieve me, as I am a slow eater who knows that keeping the beer and the ice cream separate and consuming each from its own separate vessel would make both of them last longer. It is this, then, that alienates me from beer floats, ultimately: They force you to consume them quickly, then they laugh at you because they're gone.
Samuel Adams Summer Ale and Ben & Jerry's Liz Lemon Greek Frozen Yogurt
Glanville and Fredette explain: "This float allows the lemon in the frozen yogurt to shine. The overall citrus flavors are bold yet balanced by the peppery heat from the Grains of Paradise in the beer and the delicate floral notes from the lavender and fruity blueberry swirl in the ice cream."
RECIPE
Makes one float
 
Ingredients:
2 scoops Liz Lemon Greek Frozen Yogurt
½ bottle Samuel Adams Summer Ale
 
Method: Place two scoops of yogurt in float glass. Pour in Samuel Adams Summer Ale until yogurt rises to top of glass.
Samuel Adams Blueberry Hill Lager and Ben & Jerry's Vanilla Ice Cream
Glanville and Fredette explain: "In this beer, the slightly sweet flavors of the blueberries are balanced by the lemon citrus character of the brew's noble hops. Rich and creamy, the vanilla ice cream brings a nice sweetness to the pairing but doesn't overpower the fruit flavor in a perfect complement to each other."
RECIPE
Makes one float
 
Ingredients:
2 scoops Ben & Jerry's Vanilla ice Cream
½ bottle Samuel Adams Blueberry Lager
 
Method: Place two scoops of ice cream in float glass. Pour in Samuel Adams Blueberry Hill Lager until ice cream rises to top of glass.
Giraffe image by Kristan Lawson. Stout Float image #1 courtesy of Found. Guinness Milkshake courtesy of 25 Degrees. Real Beer Float courtesy of Steins. Car Bomb image courtesy of Toasted Oak. Shortbread image courtesy of Little Market Brasserie. Hoegaarden Honey Milkshake courtesy of Belga Café. Stout Float image #2 courtesy of Two. Olive-Oil Cake image courtesy of Lockwood. All images used with permission.