If you order an ordinary chocolate milkshake or banana split when the same menu includes tobacco-scented sodas and peppercorn floats, does that mark you as cowardly and dull -- or very brave?
When desserts taste (as they now do) of eucalyptus and cigars, are the courageous those who eat the out-there stuff? Or are the brave ones those who stare trendiness in the eye and nibble Mystic Mints?
Edgy, outrageous flavors in desserts are not the newest trend but a persistent one that's growing. Bacon brownies are so 2012. This year's Father's Day special at San Francisco's DeLise Dessert Café was cigar-and-whiskey ice cream. San Francisco's wildly popular Ice Cream Bar & Soda Fountain (depicted above) offers customized ice-cream sodas whose two dozen flavor options include basil, fennel, rosewood, wintergreen, dill and hot-hot-hot "hellfire." Tobacco essence can be sprayed on drinks here "as an aromatic," ICB&SF owner Juliet Pries told me.
Tobacco aromatic was a key component of the Passion Project, a thick foamy drink also comprising chai tea tincture, turbinado syrup, cream, soda and the vintage sweet-and-sour acidulant known as lactart.
A commitment to creating syrups and ice creams from scratch, in-house, using mainly organic ingredients the old-fashioned way -- to match the restaurant's beautifully authentic 1930s soda-fountain lunch-counter assemblage -- spurred Pries' fascination with exotic flavors not just from bygone eras but from all realms of cookery and all over the world. ICB&SF's collection of herbs and spices fills many shelves: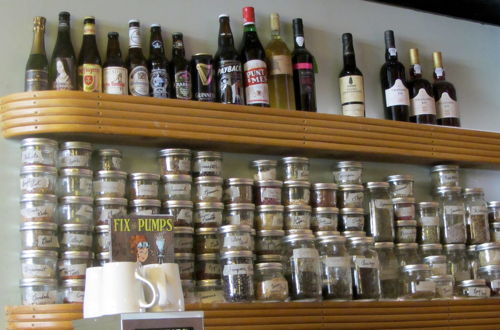 Hence the effervescent drink called A Stalk in the Park: celery-seed extract, fountain syrup, cream, lactart, soda, celery stalk and fresh mint.
And the Tiny Bubbles float: fresh lime, 5-spice and black peppercorn tinctures, turbinado syrup, soda and roasted pineapple ice cream.
And the life-savingly smooth, delicious Dublin Honey: Guinness, caramelized honey ice cream, Valrhona chocolate syrup and a float of Graham's ten-year-old tawny Port: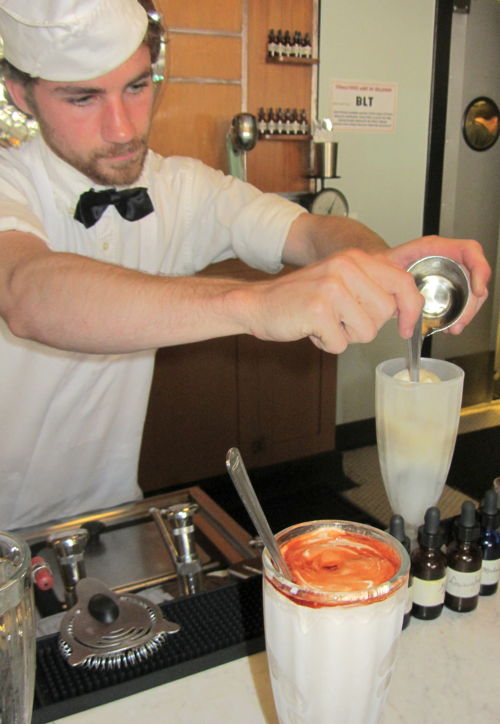 "It's an ongoing adventure," Pries beams. For each new potential flavor, "we make tinctures and see how they taste -- adding a little sugar, a little acid."
This is absolutely art.
DeLise Dessert Café owner-chefs Eloise and Dennis Leung, who met while attending San Francisco's Le Cordon Bleu-affiliated California Culinary Academy, chopped up real cigars to make an infusion for their cigar-Scotch ice cream. Adding chocolate, vanilla and Scotch, they filtered the cigar solids from the liquid before pouring it into their gelato machine, "but you could still definitely taste and feel the cigar," Eloise told me. "It was a complex flavor experience -- like a burning in the bottom of your mouth."
She flavors other ice creams with goat cheese, mooncakes and toasted rice, creating rich fusion-y excitements -- and she flavors Rice Krispy-type squares with miso paste, because it adds a subtle savoriness to pastries that are already balanced painstakingly on that exquisite not-too-sweet point.
And she also does it because she can: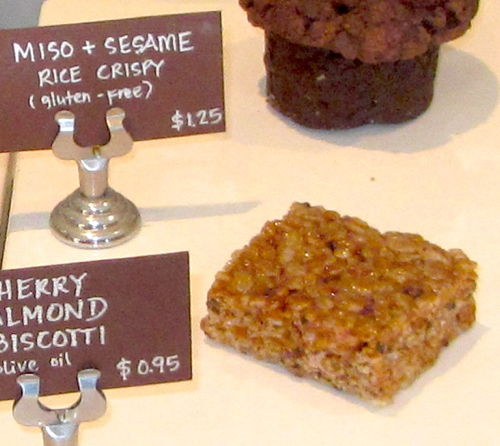 San Francisco's Acquerello restaurant serves a flourless chocolate cake with compressed blueberries, black-licorice gelato and eucalyptus custard. Yes. Like from the tree. Chef de Cuisine Mark Pensa cooks cream, egg yolk and sugar in a  saucepan, whisking constantly. The eggs eventually take on a creamy scrambled effect. The mixture thickens further and is then tipped into a blender, with a bit of xanthan gum and a few drops of fine eucalyptus extract added for the finishing touch.
At San Francisco's Chambers Eat + Drink, executive chef Trevor Ogden makes a chocolate terrine with candied almonds, toasted coconut, candied orange peel and yellow-curry ice cream. He also offers a coffee cake with creme-fraiche frosting, lavender meringue and aged balsamic vinegar ice cream. Because salad is dessert. Or is it the other way around?
In Denver, at Sage Restaurant Group's The Corner Office, guests can enjoy the Psychedelic Boat Trip -- a sundae comprising avocado ice cream, Nutella, coconut Chantilly, luxardo cherries and pistachios. Well, sure: I have heard that avocado ice cream is nice and creamy. And coconut, chocolate and cherries always team up well. Plus pistachios and Nutella for a double-protein punch. Taking the choco-coco-cherry threesome as a surefire starting point -- maybe with fresh cherries, cacao nibs and delicately infused Ty Ku premium nigori Coconut Sake -- maybe then we could add anything: Chorizo, say. Or krill.
But why?
Because. It's. There.
"A lot of people like a little hellfire in their chocolate phosphate," says ICB&SF's Pries. "You like classic cocktails? Consider trying something with a little wormwood."
Yes. I could. And something in my soul tells me I should. But why? Is this about one-upsmanship, the way kids used to dare each other to eat bugs? (That being said, some people do eat bugs.)
Would I consume a wormwood cocktail instead of a normal Cosmopolitan to prove that I am better, braver, more mature and open-minded and eclectic and adventurous and cosmopolitan than you and you and you who have never quaffed fennel milkshakes and have never even pondered floats that deliberately taste like cigarettes?
Or does this give me better dinner-party stories? "Lemme tell you about how I ate cigars."
Or do we devise and delight in out-there stuff because, living these lives of luxury, we're bored? Because, adrift in Lotusland with every comfort at our fingertips, we must create excitement somehow, somewhere, even in our sundae bowls?
This concept struck me on a recent trip to Virginia City, Nevada, a former rip-roaring Wild West boomtown. Strolling the same wood-paneled sidewalks and lounging at the same saloons as those bygone pioneers who risked their lives to strike it rich, I thought: For middle-class Americans today, nothing compares to that. Nothing compels us to haul wagons over mountain ranges. Nothing asks us to bury our children by the trailside and move on. Nothing says: Make a fortune or die of diphtheria.
But something in our human souls craves danger, makes us want to test ourselves, to prove: I can.
At Oakland, California's Hopscotch restaurant, chef Kyle Itani has just launched a new dessert menu which includes a chervil-spiked peach melba and chocolate-ganache cake with caramel sauce and milk-chocolate arare -- yes, those crunchy soy-sauce-flavored Japanese rice crackers: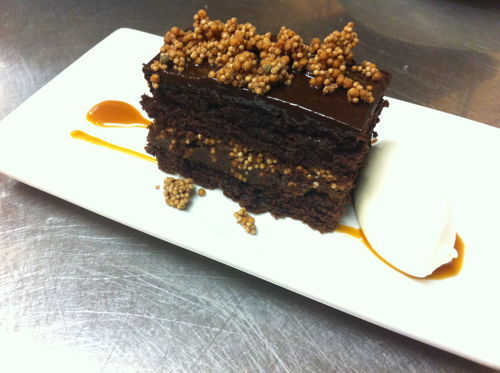 "I like to use the arare crackers for two reasons with the chocolate cake," Itani told me. "First, it adds a little bit of a salty punch that is really nice, and second, it brings me back to my childhood where I could -- and still can -- always count on my dad having stocked the pantry with all kinds of arare that he picked up from the local Japanese market."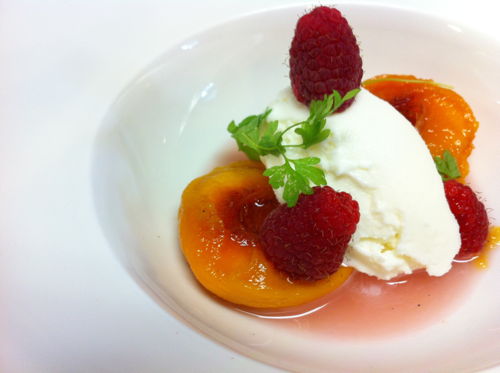 "The chervil is a great garnish for the peach melba because it adds a little bit of mint flavor to the dish and also brightens up the plating. I can't stand desserts garnished with mint sprigs. Who wants to eat that? Chervil is much more delicate and subtle, both in its flavor and texture profiles."
 
So maybe, just maybe, we really are becoming more open-minded, and flavors that formerly seemed foreign to each other... aren't.
Chocolate cake and peach melba photographs courtesy of Hopscotch. All other photographs by Kristan Lawson, used with permission.