You know those community cookbooks that used to pop up everywhere, packed with recipes contributed by people affiliated with various churches, clubs and schools and sold to raise funds for those churches, clubs and schools?
Flipping last year through one such book, which was published many years ago by a parents' group at my public high school, I was shocked to discover a cake recipe allegedly contributed by my mother. Shocked not because she never baked, but because it was for "Tomato-Juice Cake," which included you-know-what, and which to my knowledge Mom never made or even mentioned. Had she done so, I would have run screaming from our olive-colored kitchen, ashamed of and for her as kids are when their parents appear on telethons or wear miniskirts.
Why, of all the things she actually baked, did she affiliate her name with this nightmare in "Goodies From Our Galleys"? As she passed away three years ago I cannot ask her -- well, I can, but you know how it is.
But here's the thing. What seemed disgusting to me last year, seems disgusting to me now (I don't even like carrot cake or pumpkin pie) and would have seemed super-humongously-disgusting when "Goodies From Our Galleys" was new (I never read it, then) is now a thing. A trend. Actual chefs are making sweet desserts with "savory" vegetables.
I mean it. Mushrooms. Beets.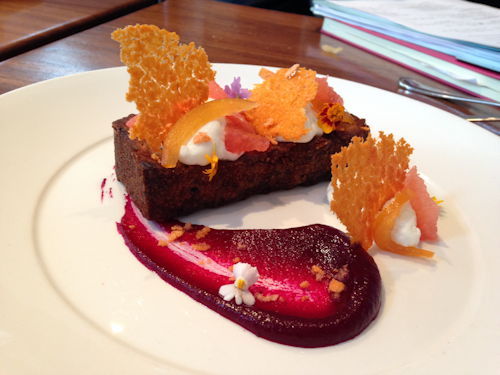 Vanilla parsnip cake, whipped cream cheese, carrot crisps, vanilla beet coulis, and candied grapefruit peel (depicted above) comprise a dessert served at San Francisco's Bluestem Brasserie which Pastry Chef Andrea Johnson created and named "Return to Your Roots." Get it? Roots?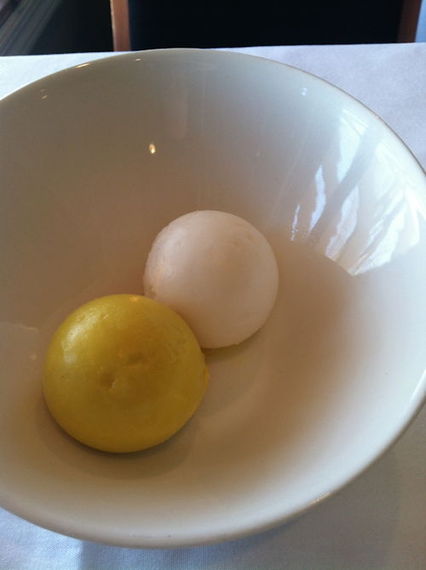 Golden beet sorbet and tomato-water sorbet, created by three-time James Beard Award nominee Chef Luciano Del Signore, is served at Detroit's Bacco Ristorante. (See the beet-sorbet recipe below.)
Strawberry-fennel chiffon with black garlic ice cream and fennel-oil jam, created by Chef de Cuisine Ryan Pollnow and his team, thrills brave takers at San Francisco's Central Kitchen: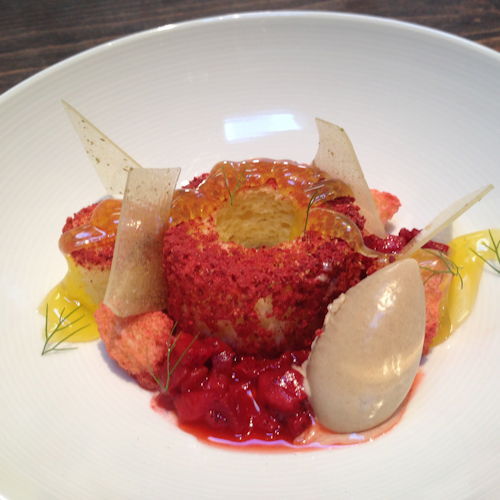 Ginger Beer Parsnip Cake, featuring Executive Chef Matt Greco's parsnip ice cream stuffed between bite-sized ginger-beer parsnip cakes, is served at the Restaurant at Wente Vineyards -- located in that other Wine Country, the Livermore Valley Wine Country (suggested pairing, this being a winery restaurant and all: Fonseca's twenty-year-old Tawny Port):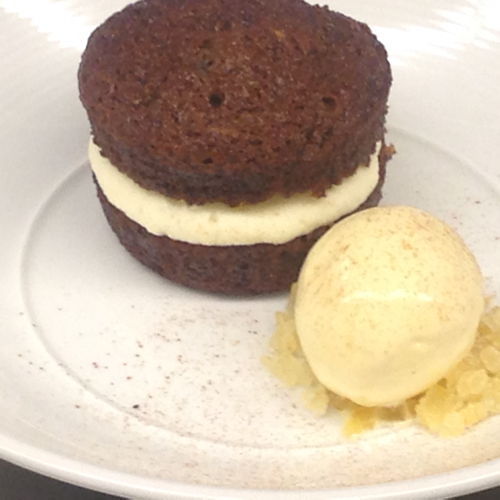 Crème fraiche cake with white chocolate ganache, sweet-pea mousse, pea Anglaise, lemon curd, toasted hazelnuts and pea tendrils is also on the spring dessert menu at Detroit's Bacco: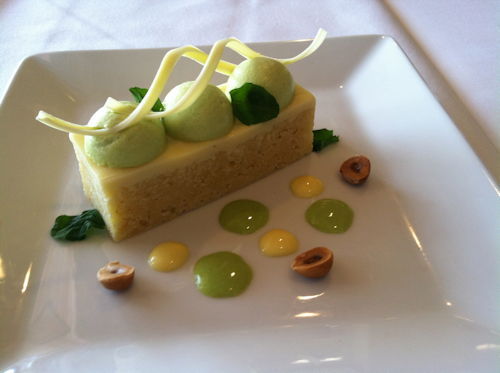 Sweet-potato donuts with pumpkin-pie spices and maple-caramel sauce have been on the menu at San Francisco's Hog & Rocks, whose Executive Chef Robin Song is now serving carrot donuts with coriander sugar and maple-caramel dipping sauce: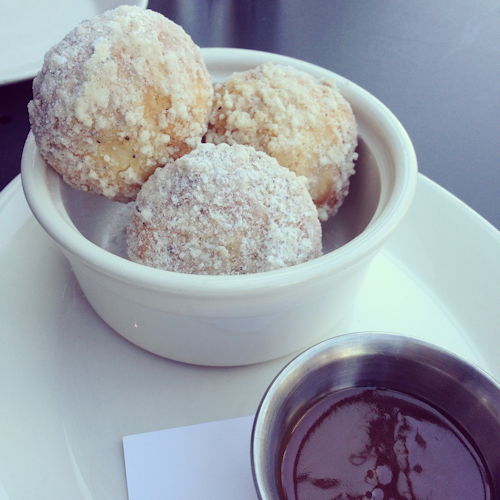 Candy-cap mushroom ice-cream sandwiches (featuring candy-cap gelato between butterscotch-pecan cookies, served with brown-sugar caramel) created by Executive Chef Kory Stewart are served at the Americano Restaurant in San Francisco's Hotel Vitale: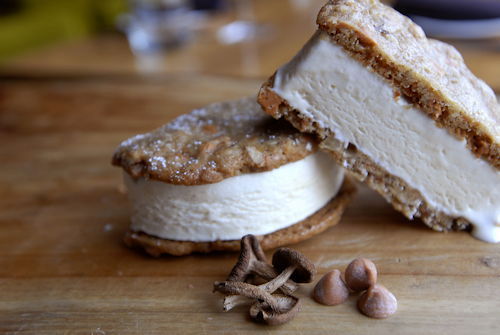 An ardent forager, Chef Stewart has also made candy-cap s'mores and candy-cap eggnog.
A beet cake created by Pastry Chef Bill Corbett of San Francisco's Absinthe -- made with over 2 cups of grated raw beets, and topped with fromage-blanc frosting -- is included in James Beard Award-winning food writer Carolyn Jung's new book San Francisco Chef's Table.
Basil gelato comes with fresh basil leaves and lacy-light traditional Italian pizzelle cookies at Bigalora Wood Fired Cucina, which has three Michigan locations: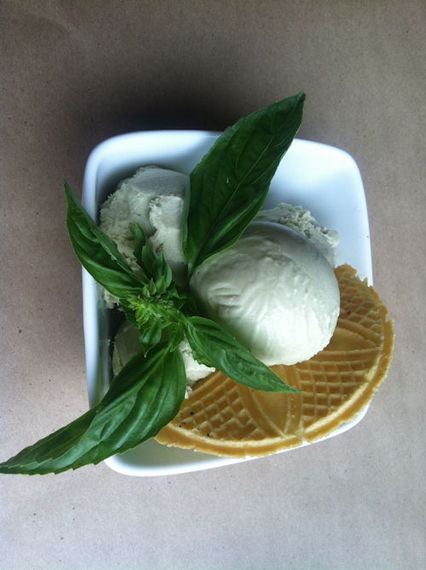 Winter squash is a key ingredient in James Beard Award-nominated chef-owner Jonathon Sawyer's Opera Torte, served at Cleveland's Greenhouse Tavern. The cake also includes brown butter, coffee, hazelnut and chocolate, so it's not a total squashfest: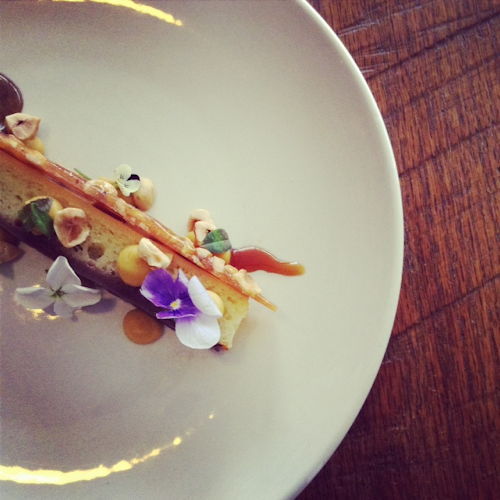 Kale muffins have been created by Executive Chef/co-owner Kathy Fang at San Francisco's Fang restaurant, in keeping with the kale wave that is currently sweeping the nation.
 
Kabocha goes into Executive Chef Kyle Itani's walnut-and-pomegranate-studded, cinnamon-cream-topped pumpkin cake at Hopscotch in Oakland, CA. Well, yeah: kabocha is a kind of pumpkin. It's just not the big round orange-skinned American pumpkin-pie, pumpkin-muffin type of pumpkin.
But not everyone's getting with the turnip-torte/cabbage-cannoli program.
"I'm honestly tired of all this sesame-seed ice cream and shiso jelly," Executive Chef Anthony Salguero told me yesterday at one of the Bay Area's most hotly anticipated new restaurants, Oakland's Bistro Michel. "I've done that. I've done the foams. It's fun, but I think some things should be kept as simple as possible. I'm going to make chocolate fondant and crème brulée in the traditional ways, but I'm going to make the best chocolate fondant and crème brulée that I can," said Salguero, who saves his beets for salad.
"Some things you just can't mess with."
So here's his chocolate fondant. One hundred percent parsnip-free: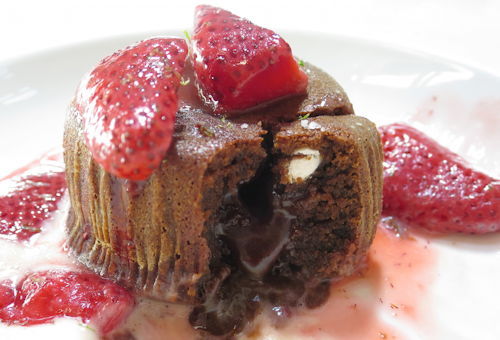 Chef Luciano Del Signore's Golden Beet Sorbet (Makes 2 quarts)
575 g Beet Juice
337.5 g Sugar
337.5 g Water
Peel and dice golden beets. Pass beets through a juicer and strain liquid through a chinoix. Bring sugar and water to a boil, cool and add to the beet juice. Allow base to sit overnight. Spin sorbet in batch freezer.
Candy-cap mushroom image by Richard Lorenzo. Crème fraiche cake and sorbet images courtesy of Bacco. Basil gelato image curtesy of Bigalora. Michel Bistro fondant image by Anneli Rufus. Kabocha cake image courtesy of Hopscotch. Ginger-beer parsnip cake image courtesy of the Restaurant at Wente Vineyards. Donut image by Erin Euser. Torte image by Jonathon Sawyer. Vanilla parsnip cake image courtesy of Bluestem Brasserie. Strawberry-fennel chiffon image by Ryan Pollnow. All images used with permission.