During a cooking demonstration last Friday in San Francisco, TV "Top Chef" Yigit Pura shared his best strategy for baking while unemployed.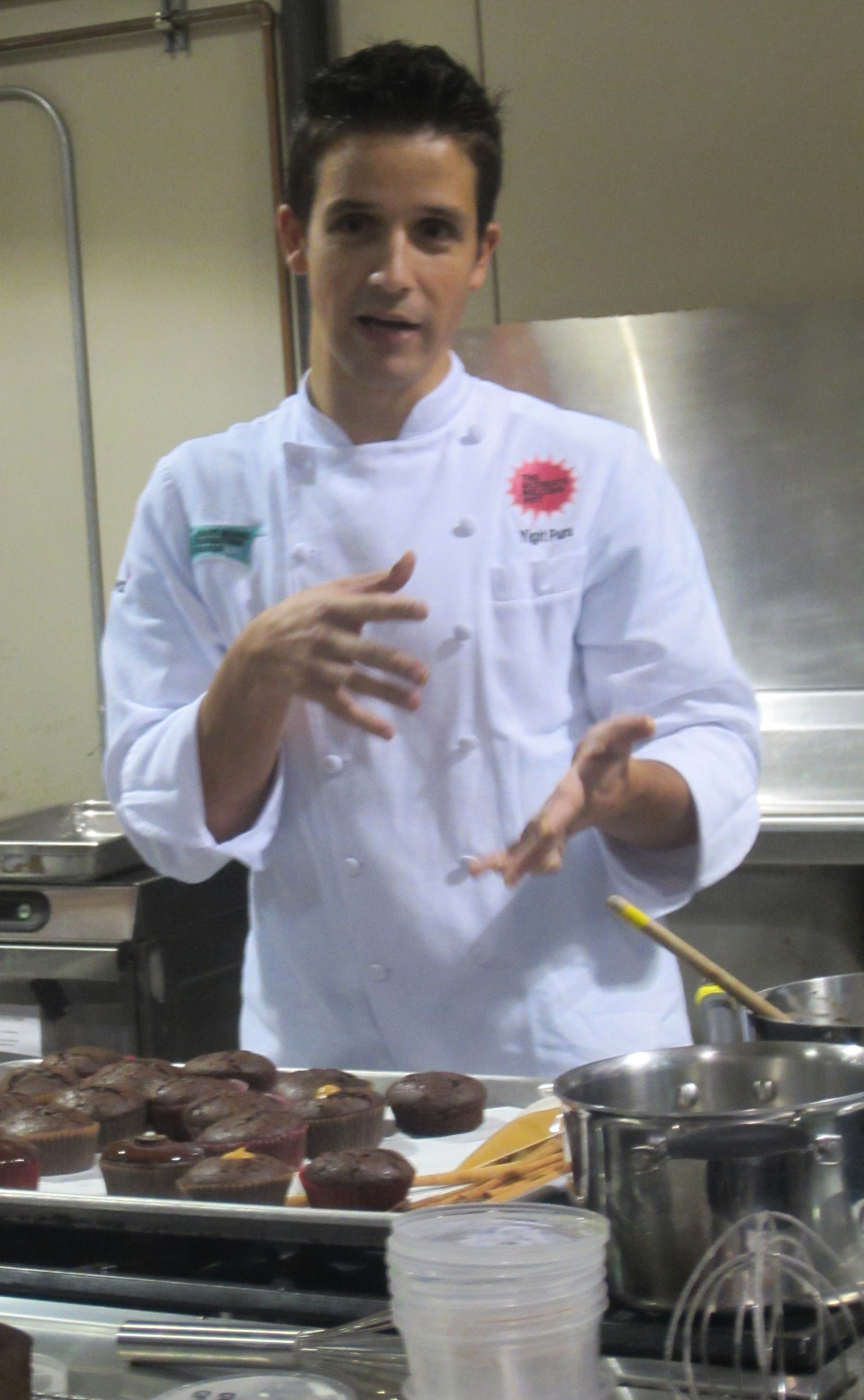 He didn't quite put it that way, but as Pura -- who won Bravo's Top Chef Just Desserts' premiere season -- showed how to make Chai Tea-Spiced Chocolate Cake with Dark Chocolate Ganache Glaze, he offered a winning combination: Use top-quality ingredients but bargain-basement implements. Your guests won't know whether the bowl in which you mixed your batter came from Sur La Table or Walgreens. But they will know whether the chocolate in that cake is Scharffen Berger or Brach's."Home Depot is the pastry chef's best friend," said Pura, who has posed shirtless for a 2012 Meals on Wheels calendar. Noting that a spatula is a spatula, fancy label or not, he explained how to create interesting textures on desserts by using such cheap tools as zip-loc bags and dollar-bin plastic scraps.

His cooking demo capped a San Francisco bakery crawl promoting the Elevate a Classic Dessert with Scharffen Berger Chocolate Contest, which launched last week and is accepting entries until January 2. (Its $10,000 grand prize would buy a lot of spatulas and zip-loc bags.)

The crawl included visits to Anthony's Cookies (home of the Double Chocolate Chunk with Walnuts), Kara's Cupcakes (conscientiously green home of the caramel-filled CandyBar Cupcake), Miette (home of the Scharffen Berger Triple Chocolate Cream Cake with roasted cacao nibs), and Citizen Cake, whose chef/owner Elizabeth Falkner -- an Iron Chef America and Food Network Challenge competitor and Top Chef judge -- wielded liquid nitrogen to create chocolate gelato sundaes with chocolate-cake crumbles and house-made marshmallow cream.At the cooking demo, Pura described chocolate cake as blissfully simple, its bitter undertones teased deliciously with spices such as the cinnamon, clove, cardamom and anise that went into his chai cake along with chopped Ceylon tea leaves.

He recommended sifting flour patiently, using room-temperature eggs, mixing batter gently, and avoiding the urge to open hot ovens while pastries are baking inside. And he urged his audience to consider the use of mayonnaise in desserts.

"Don't be scared off by devil's-food-cake recipes that call for mayo," Pura warned, explaining that mayonnaise is basically eggs and oil, which go into most cakes anyway.

"People like to think that pastry chefs have unicorns in our kitchens and that we work magic," he said. "But really we don't."

A trip to my local Dollar Tree revealed hundreds of kitchen implements selling for only one buck each. Bonanza! Save your cash for the crème fraiche.

Images courtesy of Anneli Rufus and Kristan Lawson.