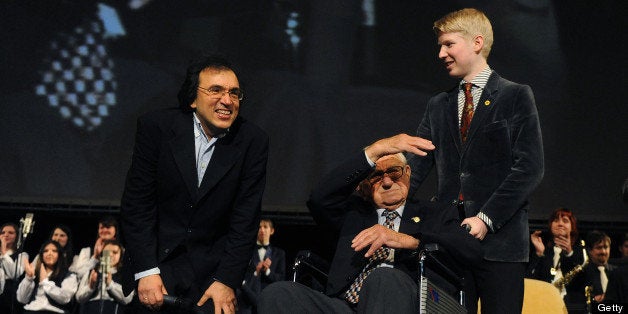 Heroism is not always physical, loud or public, whether onscreen or in life. And 21st century films about the Holocaust have foregrounded not merely the externalized bravery of protagonists like the Bielski brothers of Defiance, but the less obvious courage of rescuers who resisted Nazism by working under the radar.
While the Shoah is primarily a history of destruction and loss, it is not surprising that artists -- and audiences -- are drawn to stories of heroic protectors as opposed to merely depictions of victims. Nicky's Family, opening Friday, is an inspirational addition to this body of work, recounting the extraordinary tale of a non-Jewish British stockbroker who organized a rescue operation to save Jewish children in 1938 Europe.
src="https://images.huffingtonpost.com/2013-07-17-NickysFamilyWintonwithchild.jpg" width="600" height="400" />
Nicholas Winton rescuing children in 1939 -- footage discovered at the Federal Archives in Washington D.C.
Schindler's List (1993) provided a template for the bystander who risks fortune and even life to protect (often inexplicably) the Jewish victims of Nazism. Sir Nicholas Winton has been termed the "British Schindler," as his transports rescued almost 700 Czech and Slovak children. The documentary Nicky's Family, directed by Matej Minac, offers heartening statistics: thanks to his efforts, their descendants now number over 6,000.
Marred only by staged reenactments and occasionally soaring music (often simultaneously), Nicky's Family deftly juxtaposes numerous stories via voice-over narration, interviews and archival footage. Our onscreen guide is Joe Schlesinger, a Canadian TV journalist who was one of the rescued children. Many scenes are of Schlesinger or Winton speaking to students, and it is clear by the end of the film that Nicky's Family is not merely a commemorative portrait: it is also a call to action for young people to engage in deeds of goodness. The film chronicles how thousands of children across the globe are following in his footsteps, organizing charity projects such as helping sick and undernourished youngsters in Africa and Cambodia.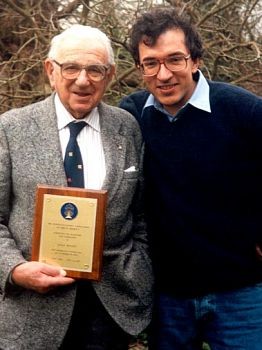 Nicholas Winton with the film's director Matej Minac
As a 29-yr-old London stockbroker, Winton followed a friend to Prague, where he saw desperate Jewish refugees trying to save their children. Perhaps they were more alert to the impending danger than residents of other European countries in 1938 because the Sudetenland was already occupied by Germany. He began a campaign of letter writing around the world in an effort to rescue them. Aside from an initial transport of 25 children to Sweden, only Britain would take them in, and he created a network of homes, children, and transports.

Winton never spoke of his exploits, and it was only when his wife found his scrapbook in an attic in 1988 that acknowledgment began. Dr. Elizabeth Maxwell wrote to the grown children, finding over 200 of the original group. The BBC TV show "That's a Life" managed to bring them into the audience alongside Winton, who finally saw the ripened fruits of his labor.
The most moving part of the film is towards the end, using footage from this 1988 program that revealed his heretofore-unknown feats. After being reunited on-camera with many of the adults whose lives he saved 50 years earlier, he became the subject of public acclaim, including knighthood. Nicky's Family includes such celebrated fellow humanitarians as Elie Wiesel and the Dalai Lama, who says we must carry Winton's spirit forward. This is literalized in an indelible image of kids waving their lit cellphones in a dark theater -- before the seated 100-year-old Winton -- in answer to whether anyone there has done a good deed.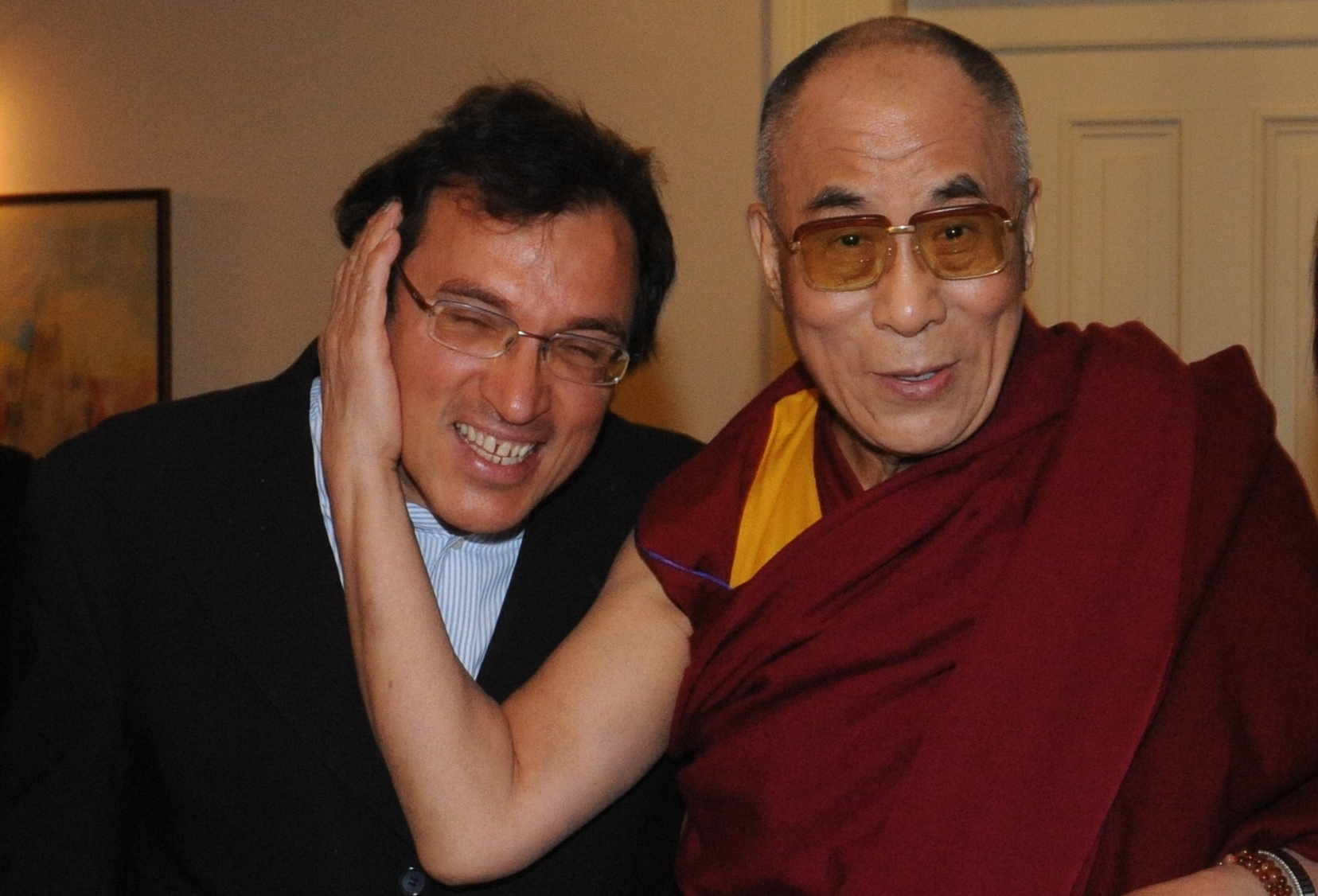 Director Matej Minac with the Dalai Lama
Holocaust films associate trains with death. In Nicky's Family we finally see one bound for life, the transport that departed on September 1, 1939 from Prague to Liverpool. Moreover, the now-aged survivors take a "memorial" train together again, 70 years later, with Winton at the age of 100 in 2009. We also get to see an aged "foster mother" in the present after hearing a survivor quote this woman's enthralling first words upon meeting the child, "You shall be loved." The heroic actions of Winton -- now 104 years old -- transformed the wartime reality of scared children into a process of sacred rescue.
_______
Annette Insdorf, Director of Undergraduate Film Studies at Columbia University, is the author of PHILIP KAUFMAN and Indelible Shadows: Film and the Holocaust.