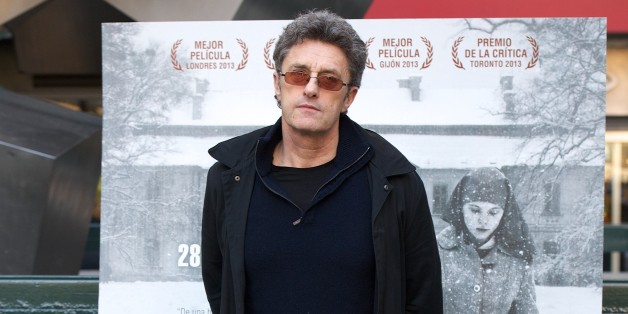 For many of the cinephiles who attended the Telluride Film Festival this past September, the great discovery was not necessarily 12 Years a Slave or Gravity but Ida, which opens tomorrow at New York's Film Forum and Lincoln Plaza. Of the notable world premieres at the prestigious Colorado festival, it was haunting precisely for its simplicity and subtlety. As Jean Renoir -- the great French director of Grand Illusion -- once proposed, "the more emotional the material, the less emotional the treatment."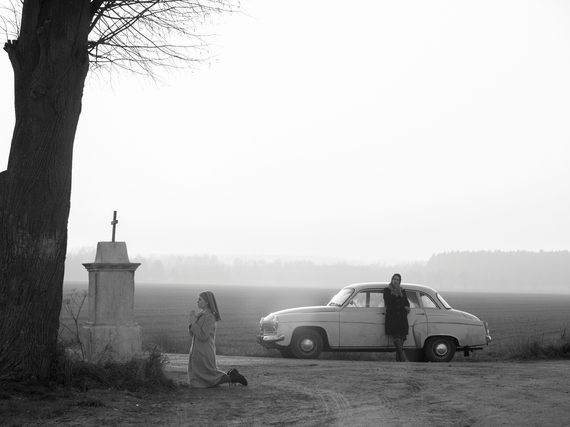 Ida (Agata Trzebuchowska) kneeling and Wanda (Agata Kulesza) background, in IDA. Courtesy of Music Box Films
Ida, directed by Pawel Pawlikowski from a screenplay he co-wrote with Rebecca Lenkiewicz, has a style appropriate to the character of the heroine, a novice about to take her vows. In 1962 Poland, she meets her sole relative, the hard and hard-drinking Aunt Wanda (Agata Kulesza), who bluntly reveals that Ida (Agata Trzebuchowska) is the daughter of Jews murdered during World War II. We soon learn that Wanda is a state judge with her own dramatic history. The two women embark on a journey to find where the family might be buried--a voyage that is also into the past.

On a panel I moderated in Telluride, Pawlikowski said, "I'm curious about paradoxical characters," and recalled meeting a "warm woman" at Oxford: "Ten years later, I heard a BBC news program about the Polish government recalling this lady: she had been a Stalinist state prosecutor."

Pawlikowski was born in Warsaw in 1957 and left Poland at the age of 14. He studied at Oxford, and began his career in British TV documentary. Like the Polish film master Krzysztof Kieslowski, he honed his craft as an observer and shaper of reality before making scripted stories. His first fiction feature, Last Resort (2000) was acclaimed at festivals such as Sundance and Toronto, and My Summer Of Love won the Alexander Korda Award for Best British Film at the 2005 BAFTA Awards.

Ida is the director's richest work to date. It's not the only film to address the growing number of Poles who discover, as adults, that they were born Jewish. Nor is it unique in exploring the culpability of some Poles towards their Jewish neighbors during the Holocaust. The recent release Aftermath, for example, stirred controversy in Poland for its depiction of wartime guilt. But if Aftermath could be considered a shout, Ida is a whisper, a series of revelations that are even more devastating for their quiet presentation. Events unfold in long, uninterrupted takes.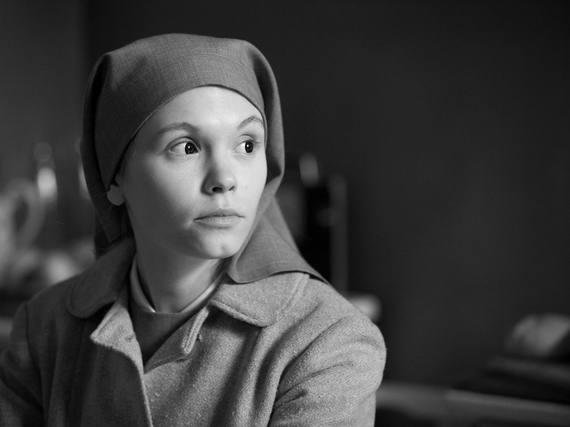 Ida/Anna (Agata Trzebuchowska) in IDA. Courtesy of Music Box Films
Even though the black-and-white cinematography has been universally hailed as magnificent, he confessed that he "cut out images that seemed too beautiful, or divorced from the emotional content of the scene. I get annoyed by pretty photography that's in love with itself." And he used a 1.37 aspect ratio that frames the image in a virtually square box reminiscent of early cinema.
The characters are consistently placed so low in the frame that the unpopulated space above them seems to weigh down. Is Pawlikowski suggesting how far they are from heaven? Or might this space represent murdered Jews, taking up more room than the living? "I wasn't thinking so literally," he replied during an interview in April.
"It was an intuitive choice -- the verticality, the space above, suggesting all kinds of associations. I like films to be precise but suggestive rather than literal and limited in meaning. But I'm happy with all sorts of associations. Films tend to be mirror for those who watch them. Sometimes a crooked mirror. That's the beauty of it."
He recalled that when he asked his cameraman to tilt up during shooting, he found "something forlorn about the characters with all that sky above them. Usually people get lost horizontally in landscapes, but here they look lost vertically."
On the road, Wanda stops to pick up a hitchhiking jazz saxophonist. He is played by David Ogrodnik, who also stars in Life Feels Good, a selection of the New York Polish Film Festival playing May 9 at Anthology Film Archives (with Ogrodnik in attendance). During a recent visit to New York, the actor confessed that he initially chafed at Pawlikowski's rigid framing.
He remembered being aware of the space above his head in the composition -- which bothered him -- and wanted to try different ways of filming to allow his character to move in and out of the frame. But the director stuck to his vision, and when Ogrodnik saw the final film with the cast and crew, they all realized they were part of a unique motion picture whose directorial choices had been necessary.
Agata Trzebuchowska, who plays Ida, had never acted before. This nonprofessional was chosen after Pawlikowski tested over 300 young actresses. Fellow director Malgorzata Szumowska knew he was still desperately searching for his heroine when she noticed the young woman in a Warsaw café. She phoned the director, who was in Paris and asked her to secretly take an IPhone photo.

Although she initially seemed "hardly material for a nun" because of her "striking hipster" look, he had Trzebuchowska remove all make-up and adornments when he auditioned her, and found "something timeless and authentic about her, as if untouched by the media and general narcissism of today."

Pawlikowski also expressed impatience with contemporary movies: "I wanted to make an anti-cinema film where there are no pointless camera moves or close-ups. I'm not excited by the power of cinema's tricks anymore." Instead, he found a style that enables the film to raise profound questions about guilt, faith and memory.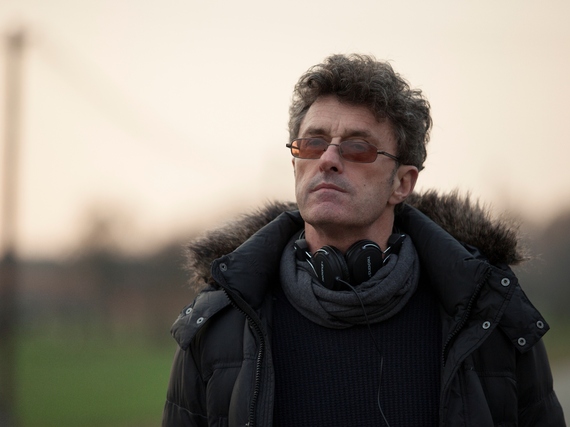 Director Pawel Pawlikowski
When asked if there was anything in his own background that drew him to this post-Holocaust story, he replied, "I don't see the film in these terms but as something more timeless and humanly universal.
"Nor is my film really about an issue. It may be set at a particular time and place, but I hope it's more universal than films that explain, educate, settle scores or illustrate issues. I hope it's universal and about the human condition -- about identity, faith, forgiveness, history, life 's paradoxes. 'Everyone has their reasons,' as Renoir said. I would add, 'Everyone has their demons.'"
_________
Annette Insdorf, Director of Undergraduate Film Studies at Columbia University, is the author of PHILIP KAUFMAN.