David is not in New York, I was told. He's at home in Hawaii and would like to do a phone interview.
When I dialed David's number 'Shawn' answered. "Hi Annie, would you mind calling back in fifteen minutes? The veterinarian is here. He and David are seeing to the goats."
Suddenly the scenario took on a quite a surreal aspect. There I was, sitting in my Manhattan apartment, a smidgen apprehensive about talking to the world famous photographer who is renowned for his extravagant fashion shots and glamorous portraits of every mega-celebrity you can think of. Yet this afternoon Mr. LaChapelle was somewhere in the Hawaiian rainforest, tending to his goats.
LaChapelle's life has been intense. It is punctuated with the drama, thrills and paradoxes that you see in his work. As a young kid growing up in Connecticut he felt "compelled to stand out and to dress differently." He was bullied at school. "It really makes you stronger... but it took years to learn that the world wasn't out to get me." Already, at fifteen he was living in a 'semi-squat' in the Lower East Side and partying at Studio 54.
After attending North Carolina School of the Arts where he fell in love with photography and with shooting friends in Renaissance poses in the dormitories, he returned to New York.
In the mid 1980's he began showing his work in New York galleries. But the shows weren't particularly well-received.
Andy Warhol, who he calls his 'American Jesus', hired him to work at Interview Magazine and David was determined to make an impact. Already a little disillusioned with the fine art world, he resolved to make magazines his 'gallery'.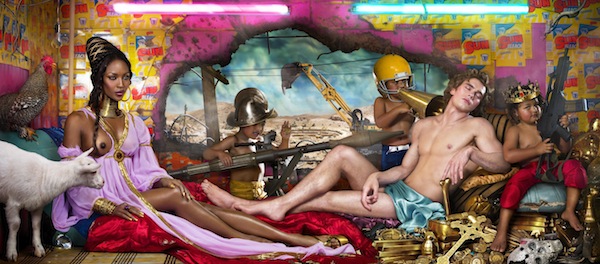 LaChapelle, 48, is said to spend exorbitant amounts of time and money creating his 'composed scenarios', which have been rated 'as compelling as a car crash.' They lure you in with their beauty, glamour, celebrity-models, Rennaissance-esque tableaux, pop imagery and surrealist playfulness drenched in super-saturated color. But imagery signalling violence and destruction, vice or vanity are artfully integrated into the compositions inviting a reflection upon contemporary society and our culture's propensity for consumerism.
"It's the paradox of my life," says LaChapelle wryly. "Here I am, questioning this idea of rampant consumerism and yet I'm working for magazines that are selling those same items... "
Eventually, his values, and his desire to explore the things that truly fascinated him, began to overpower his work.
"All these things were on my mind, and then it became obvious that my ideas were no longer fitting the format of the magazine; their needs weren't being met."
In 2006, just after filming his documentary, Rize, he realized he had worked for eleven months straight without a single day off. Overshadowing this was his conviction that he had AIDS, that he was going to die.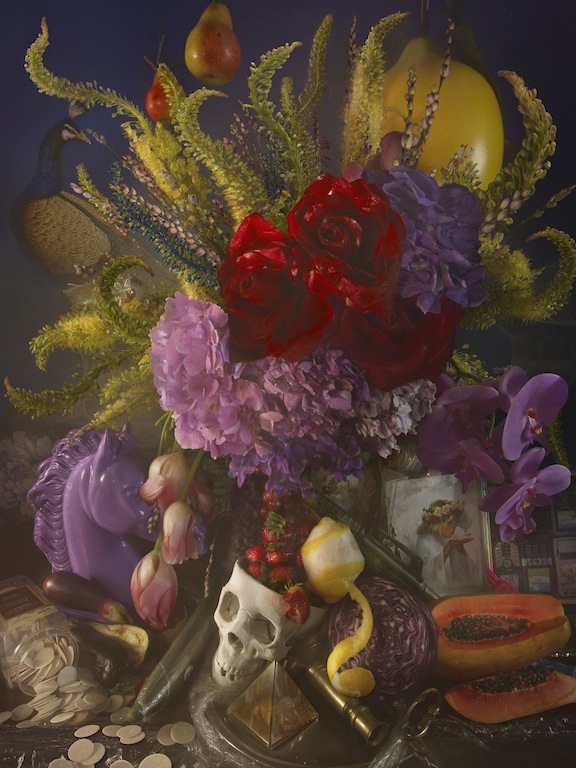 He walked away from his commercial photography career. "It was like an awakening, an intuitive feeling inside that was growing stronger and stronger, that I had to move on."
It was then that he bought his rainforest home far from civilization and directed his lens on fine art.
Next Thursday 23rd his series of photographs entitled Earth Laughs in Flowers will open at the Fred Torres gallery in New York.
The series consists of ten large-scale photographs wherein LaChapelle draws upon paintings from the Old Masters once again. However, this time he dispenses with figures completely, appropriating the traditional Baroque still life painting. He uses vanitas symbolism to great dramatic effect through juxtaposing traditional symbols such as flowers, skulls and rotting fruit with cheap everyday objects such as balloons, cigarette butts, and Cling-Wrap, to communicate both contemporary vanity and the transience of life.
The theme of death in his work harks back to when his friends were dying of AIDS. "I learned that life goes on, and to find beauty in all stages of life'.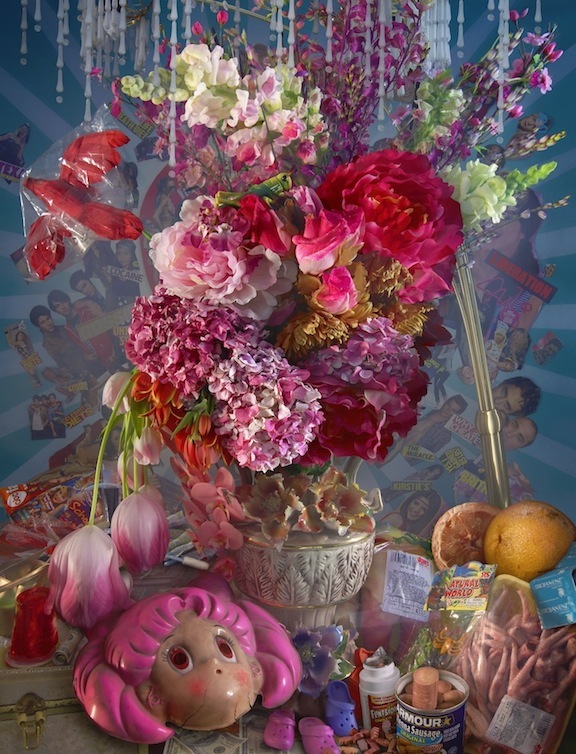 The title Earth Laughs in Flowers comes from the Ralph Waldo Emerson poem "Hamatreya" with which LaChapelle feels a strong connection. It explores the idea that Man feels like he is master of the earth, and then he dies -- he is ultimately buried in it -- and the earth laughs back at him in [the form of] flowers.
The photographs look incredibly painterly, which LaChapelle achieved through using a very slow shutter speed, smoke diffusion and low light sources.
I ask if with the Earth Laughs In Flowers series he is scoping out a new direction in his fine art career. "This wasn't a strategic career move... it was intuitive. Baroque still lifes were what happened to inspire me at that moment..As well as exploring the interplay between the medium of photography and the old master paintings."
'None of that, none of the money really matters to me. I've always had three prayers -- and they were answered: to make a living off my photography, to live in a cabin in the woods, and to be able to eat in Angelica whenever I wanted."
And he bursts out laughing.
PHOTO GALLERY
David LaChapelle: selected works