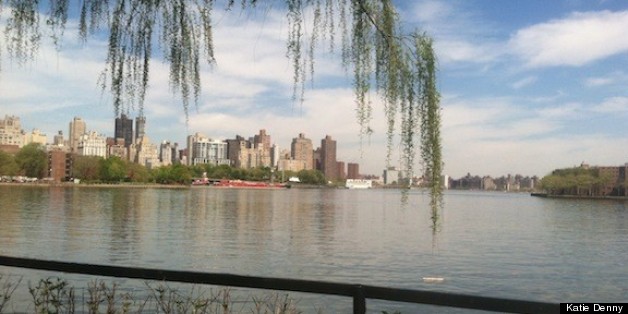 It is a bright spring morning in Brooklyn when I hop on my bicycle and head for Socrates Sculpture Park. Until last week I had never been there. It's not the easiest place to get to. Travelling by car or by bicycle affords the most direct route.
So, following the East River north to toward Queens, I journey over the Pulaski Bridge, past the high rises of Long Island City, past the warehouses and transmission shops along Vernon Boulevard until I reach the spot level with the northen tip of Rooosevelt Island, just south of Hell Gate, the juncture of the Harlem and East Rivers. There sits Socrates Sculpture Park, as peaceful at the lagoon-esque water that laps its rocky shoreline.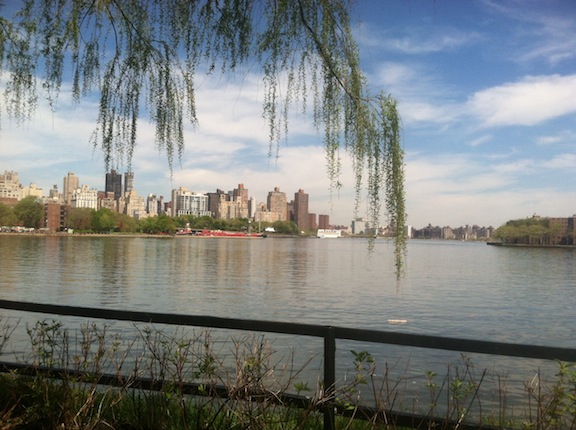 Lars [the studio manager], walking purposefully some distance ahead of me, turns to give a friendly wave and a gleaming smile. Children are playing joyfully under the blossom tree, a pair of artists are working together in the open air studio, another are attaching cloud swings to the 20 foot-high beams of the steel gazebo and another duo are mounting a large glass chandelier in a tree. Three larger than life figure sculptures are grouped along the edge of the manicured mini-garden.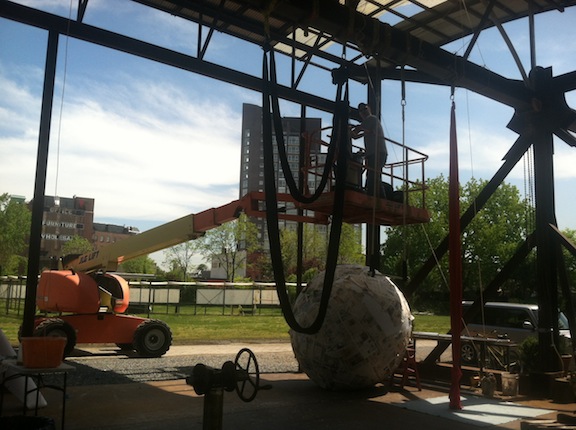 Just over twenty years ago this plot was an illegal dumping ground. But Mark di Suvero, an internationally renowned sculptor, had a vision. di Suvero, who's now 80 and whose waterfront studio was next door to the dumpsite, has an innate desire to give, share and inspire hope in others. He wondered if there was a better way to make use of the garbage-strewn space, and decided upon an outdoor sculpture park that would create opportunities for young artists and local residents. (di Suvero's resolute commitment to emerging artists is also evidenced by his Athena Foundation to award grants to artists, and La Vie des Formes foundation in France hosting artists in studio and exhibition spaces).

In 1960, the year after his first show, di Suvero had a near-fatal accident that sentenced him to a wheelchair-bound life as a paraplegic, or so the doctors thought. But the courageous and spirited 'man of steel' overcame this obstacle, as evidenced by his long illustrious career in the years since the accident to the present day. His strength of mind and his largesse are as powerful and far-reaching as his monumental steel sculptures.
"I think that there's a huge amount of current art that deals with the art market and that has absolutely no relation to social consciousness. I think that we are all related, all interconnected [...] and that this is part of our responsibility", di Suvero said in an interview in 2005.
At Socrates Sculpture Park the spirit of community, of giving and of hope seems to spread like osmosis. Indeed it was the local community -- unemployed workers who di Suvero hired, neighbors and local businesses who worked tirelessly, giving money, materials and physical effort, to create the park.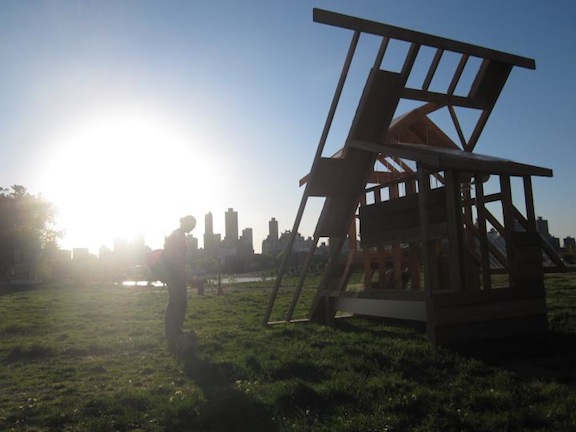 Today, and for the past 20 years, Socrates Sculpture Park is the only site in the New York Metropolitan area specifically dedicated to providing artists with opportunities to create and exhibit large-scale sculpture and multi-media installations. Moreover, with its comprehensive schedule of free public programs (from art classes for children to yoga sessions) the park has become a vital nucleus for the local community. Equally, the sculpture park is a destination for art aficionados and many established art world players, from the city and beyond.
Last Sunday May 12 Socrates, in collaboration with Independent Curators International (ICI), Socrates Sculpture Park opened do it (outside), an exhibition conceived of and curated by Hans Ulrich Obrist. Versions of do it have taken taken place all over the world. However, this is the first presentation of the exhibition in New York City, and the first to be presented entirely outdoors in a public art venue.
Twenty years ago Hans Ulrich Obrist and the artists Christian Boltanski and Bertrand Lavier met in a Parisian cafe and became excited about the prospect of 'an exhibition that would never stop.' The 'project,' which is influenced by conceptual avant-garde movements such as Dada and Fluxus, constitutes a selection of established artists commissioned to create a [written and/or drawn] instruction 'that someone else can use to make an artwork.'
For the do it (outside) exhibition at Socrates Sculpture Park, artists, performers and community groups have been asked to interpret the selection of 64 instructions from the do it compendium. do it (outside) , and the collective history of do it exhibitions, is interesting to analyse on many levels. It sparks questions such as What constitutes an artwork? To what extent is the artist or the artist's instruction, the artist-interpreter or the viewer the active agent who creates, or completes, the meaning and experience of the work? It's also interesting to contemplate how meaning is multiplied as the various interpretations of the texts accumulate at different times and at different locations across the world.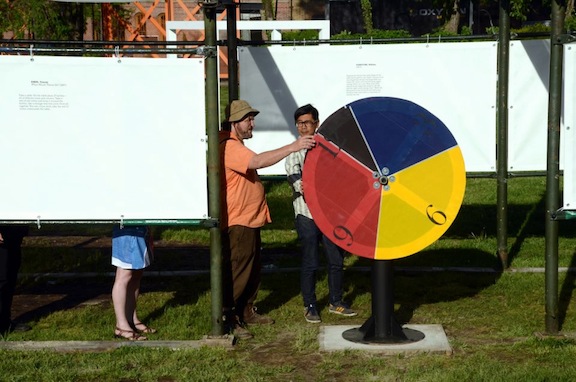 Rob Swainston stands by his interpretation of Koo Jeong-A's "It's OK for Lovers," which he created with Alison Dell.
However, two things in particular struck me when I learned about the do it (outside) show and made my first visit to Socrates Sculpture Park.
One was that Socrates Sculpture Park and do it are a marriage made in heaven. Their concept and ethos reflect each other perfectly. Both are about, crucuially, community and ongoing collaborations, about loosening and reshuffling common preconceived notions about the (hierarchal) roles of artist, curator, viewer and one's experience of an artwork. Just as Socrates Sculpture Park has an extremely diverse spectrum of visitors, the do it project mixes contributors from different generations, different cultural backgrounds, and different disciplines. Yet all contributors are left 'perfectly equal' in their use of instructions.
do it clearly focuses its lens on the making of an artwork, the performative element, the construction of meaning rather than meaning itself. At Socrates the work is made on site, in the open air, and the public are free to wander up and watch the artist working, touch the work, see it being installed and engage in dialogue. There is no filter between the artist and his audience. A genuine rawness and transparency characterizes the sculpture park.
The second thing that struck me was how timely this exhibition is. With its exploration of how we share authorship, its focus on the [trajectory of] an idea, how we engage with and build an ongoing conversation around art, do it is like a foil for the increasingly static nature of gallery shows and the art world moving online.
Jerry Saltz recently lamented on this shift in his article "The Death of the Gallery Show":
"The art world has become more of a virtual reality than an actual one, useful perhaps for conceptualizing in the abstract but otherwise illusory."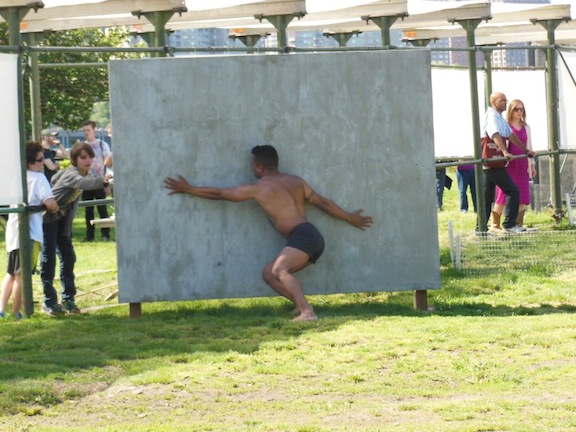 Shaun Leonardo performing Bruce Nauman's "Body Pressure," which says to "press as much of the front surface of your body (palms in or out, left or right cheek) against the wall as possible."
Galleries are fast losing their function as physical spaces where people can commune and engage with each other and the art. The big Chelsea ones in particular feel rather impersonal. Gallery owners and too many curators seem to have their eye firmly on the art market, publicity and competition. So often these days art exists as commerce, not as a conversation or discourse. When artists such as Haring and Basquiat painted on the NY subway and on public walls, art was democratised and drew a diverse audience, facilitating public engagement and infusing exhibitions with a communal function.
do it (outside) at Socrates -- the purest and most honest art institution of its kind in New York today -- is a refreshing opportunity to engage with art, make new discoveries and mingle with a diverse audience. A calm and leafy riverside haven, the park is also a welcome, and worthwhile respite from the vast glossy box -- shows of MoMa and David Zwirner.
Photos courtesy of Nate Dorr.
PHOTO GALLERY
Highlights from do it (outside) at Socrates Sculpture Park, Long Island City, NY