Hamlet. A play that has been performed countless times since it was written circa 1604, it is the Shakespearean tragedy that every discerning theatre-goer knows and loves.
So, as a theater maker, how do you generate toe-curling drama, excitement and intrigue for an audience whose hitherto experience of Hamlet is loaded with memories, associations and scrutiny?
It was this curiosity that propelled me, last Sunday, to venture out into the cold and windy night, and travel all the way down to Gowanus (an industrial area of Brooklyn -- rumored as a mafia burial ground) to see The Rub.
For $15 I got to see the most innovative, gripping and intriguing version of Hamlet that I've seen to date. This is a truly inspiring and thought-provoking piece of "experimental theater."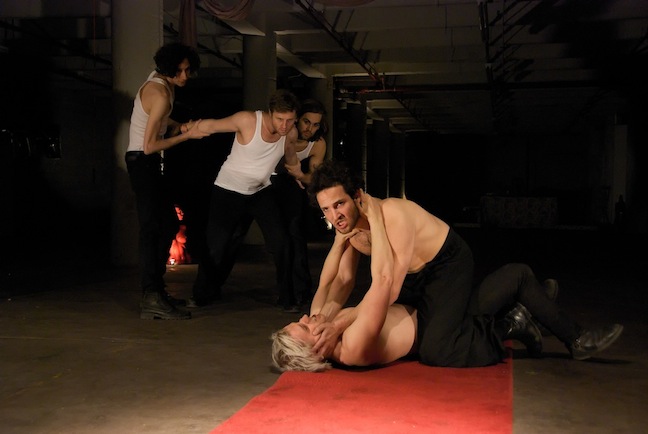 Inspired by the works of Young Jean Lee, and site-specific works such as Sleep No More, actress/theater director Nessa Norich -- and her actor/filmmaker friend David Henry Gerson -- came together to explore Hamlet. That this is one of the most dauntingly complex and analyzed plays ever written, that it is by now so "done," presented exactly the kinds of challenges that the pair were seeking.
"For me to do Hamlet was really me trying not to do Hamlet," explains Norich. "This epic text is public domain, there are no copyright rules... so we thought, 'What can we use from it to make something that is totally our own?'"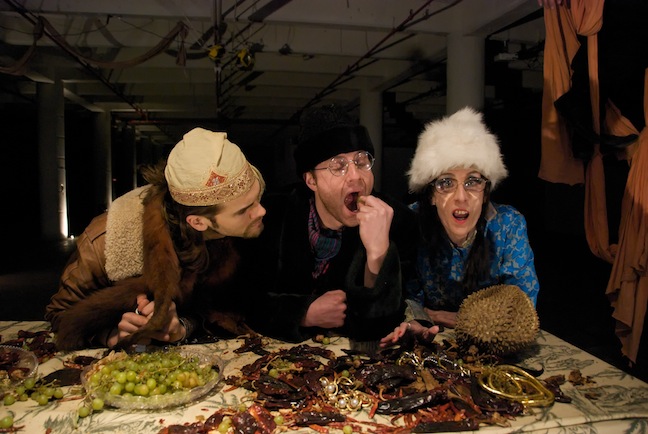 The collective of actors' collaborative process involved weaving together borrowed texts (such as news interviews relating to the Arab Spring uprisings, dialogues from Bunuel's The Discreet Charm of the Bourgeoisie, poetry by Rimbaud, and Machiavelli's treatise The Prince) that they felt related to the original material.
The creation of The Rub was acutely affected by the fact that the troupe related strongly to Hamlet. They too saw themselves as the heirs to a state rotting from the inside out. "We are in our twenties, we have everything before us. We are disillusioned. We are about to inherit a rotten world. It is epically daunting,"
explains Norich.
"We started rehearsing this just as Zucotti Park was raided. I think that those images of Occupy Wall Street, and the general uprisings and taking down of dictators that our times are wrought with, were major impetuses to how we put this together. We felt a need to use Shakespeare as a guide to creating something new of our own times," says Gerson.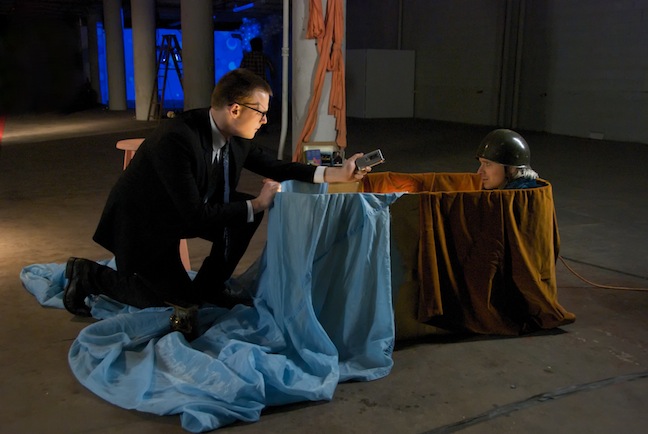 The innovative juxtaposition of contemporary and traditional Shakespearean styles, tones and imagery in the play intensifies the dramatic effect, adds humor, and the element of surprise, which keeps the audience gripped. In one emotionally charged scene, for example, Hamlet, played forcefully by Gerson, hisses at Gertrude "O Shame, where is thy blush!"
This is followed by a comedic interlude in which Gertrude, played by Marguerite Van Cook, (a former punk rocker who opened for The Clash) tells the reporter not to call her "Your Highness"...
"I don't go by that name anymore. Call me Queen of Pop." One scene later she sings the Die Antwoord song "Rich Bitch" with lyrics about her rotting state.
Equally impactful is the Magic FutureBox venue. Don't be fooled by the jazzy name. Situated in the bowels of Brooklyn, the 10,000 square foot raw warehouse space is imposing and ominous -- not unlike the setting of Shakespeare's Hamlet. And I was particularly impressed with the actors' resourceful and creative use of it.
How would seven actors fill such a large space with good theater in four weeks? was the first "overwhelming" challenge that the team faced. They resolved to simply embrace the huge-ness, and react to it. "We didn't impose a new architecture or build anything new at all. Instead we played with light and distance between the audience and the 'stage,'" says Norich.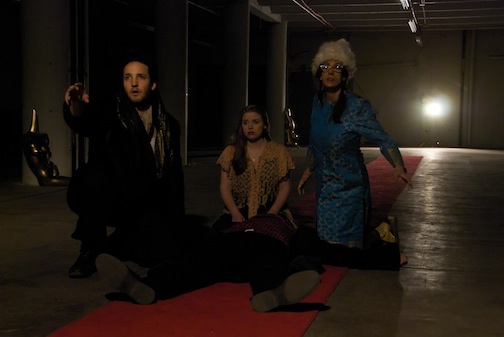 Last Sunday, it immediately became clear to me that this alternative venue, and the audience's journey to it, were integral to the interactive element in the show. The idea of "stepping into the unknown" is a "role" the spectators are urged to embrace, particularly during the second half when Ophelia beckons them to leave their chairs and to close in on the action.
"We want to encourage our audience to wake up! It is in the lack of light, outside the comfort of our chairs, that our under-used senses become reawakened," says Norich.
The collective plan to develop the production even further in the forthcoming month. "I find that devising theater is usually a process of peeling away layers until you get to the most essential language to express an idea or a story. I think there is more to explore," claims Norich.
They may return to the Magic Futurebox venue, or otherwise they will tackle another challenging space very soon.
Performances of "The Rub" will take place this Friday February 17 and Saturday 18 only, at 55 33rd Street, Brooklyn. (Take the D train to 36th Street, venue is 5 minute walk from subway). $15.
All photos by Beth Wexelman‏

PHOTO GALLERY
Shots from <i>The Rub</i>