On a balmy Sunday evening a few weeks back, I finally got up from my comfortable seat under the peachy Williamsburg sky, and headed to the Maysles Cinema in Harlem to attend Veteran Vérité: An Evening of Iraq and Afghanistan Veteran Readjustment Shorts.
First: An excerpt from John Huston's 1946 World War II documentary Let There Be Light showing a series of scenes which chronicle traumatized U.S. soldiers' entry into a psychiatric hospital. Then, Lauren Wolkstein's Cigarette Candy, Nicholas Brennan's A Marine's Guide to Fishing and David Henry Gerson's American Standard -- three 14-minute films about a young U.S. veteran returning home, suffering from post-traumatic stress and feeling alienated from friends, family and society.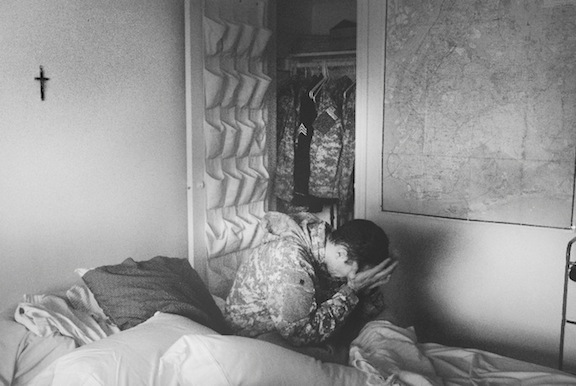 The films shook me to the core. When American Standard, the final short of the evening, ended, I took off for the bathroom and as I waited in line, I found myself staring one pointedly at a spot on the wall. My head a little feverish, my heart pumping, I felt the intensity of emotion reverberate throughout my body. It's incredible that a few 14-minute films can provoke such a powerful reaction.
In case you are not yet aware, these are this year's chilling statistics on veterans in this country: One active duty military man kills himself everyday. Every eighty minutes a veteran takes his own life. More veterans have died by their own hand than by enemy fire in Iraq or Afghanistan.
Why is this happening? What do we do about this? It would appear that activists, service organizations (such as the Department of Veteran Affairs), and mental health professionals need to take a more proactive approach to helping veterans who may be suffering in silence. But the core of the solution is to get civilians interested and engaged, generate an open national conversation on the topic, so that they acknowledge and understand what war does to the young men and women who fight it.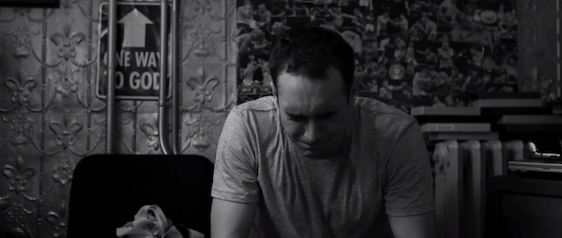 Film is extremely powerful in its capacity to educate, engage and impact the public mind. A compelling enough film, acting like a trigger, will elevate the issue, spark conversation, and, with some luck, induce social change.
All three shorts shown at the Veteran Vérité evening were collaborations between civilians and veterans: civilian filmmakers trying to know more about veterans, and trying to use that process of learning to make an artwork that represents that very learning process.
Cigarette Candy and A Marine's Guide to Fishing are both brilliant achievements. Both are engaging and eye-opening in their own ways, and deal intelligently with important issues, such as the brash labelling of veterans as American heroes, and how the support and understanding of individuals and communities can help returning soldiers in their healing process.
But American Standard, by the young and talented David Henry Gerson, affected me in a different way. It had an emotional intensity that took me out of my self, and made me uncomfortable.
And so, herein I shall share my appreciation of the film.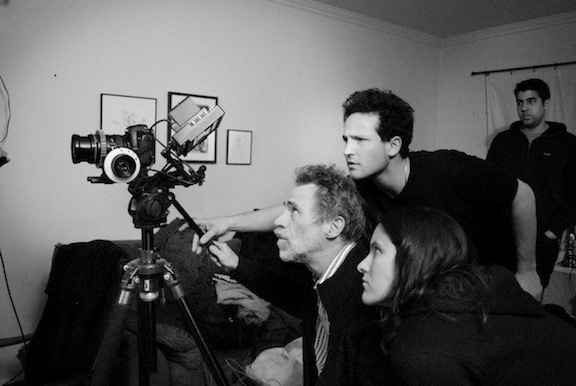 Gerson told me what prompted him to make a purposeful film about a veteran:
"Being 24 years old at the time, I was asking myself, What's the most meaningful thing I can be doing with my life? I didn't know any veterans. And I thought it to be a really big problem that I could grow up in this country, ten years at war, and know almost no veterans at all."
"I felt a responsibility as an artist to create something that would help people understand people in a better way, and make the world a little smaller."
American Standard delivers a taut, expertly-wrought and extremely powerful portrait of a young veteran waging a lonely and emotional struggle to resume a normal life. John, the troubled American soldier (Marco Reininger) has returned home to New York City from military service in Afghanistan and reunited with Cristina, his girlfriend (Alexandra Metz), an undocumented immigrant. John is struggling with post-traumatic stress. Having lost the ability to open up and trust, he becomes tormented by the idea that she might be using him as a means to gain citizenship, and the relationship disintegrates.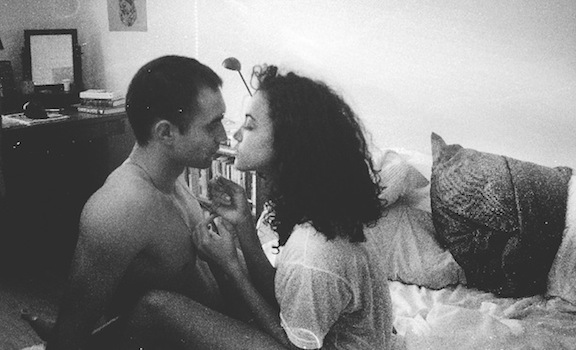 Presented in black and white, with raw, arresting cinematography (thanks to Pulitzer-Prize winner Edward Keating's brilliant eye for composition) the camera is steady throughout the film. There are almost no handheld shots, and each frame is as if it were a stunning black and white photograph. The lens never zooms in or out, and it is shot as if referencing movies of the 1940s, the polar opposite of today's Mumblecore handheld filmmaking style. There are no special effects, and the score is minimal and understated, by the team that did the score for 2012's Sundance winning short film Fishing Without Nets.
For the viewer, there is no cushioning crutch here. One emotionally-charged scene, interspersed with abrupt shots of real footage from Afghanistan, follows another. A thorough understanding of the psyche of both characters, and particularly a veteran with post-traumatic stress, is also reflected in the superb acting, taut script and artful cinematography.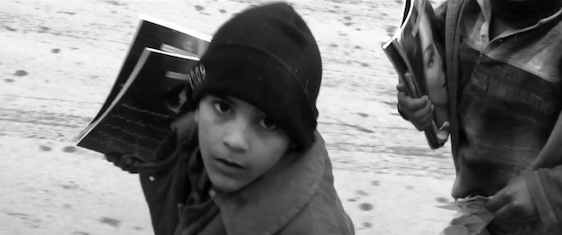 Much of the gravitas and emotive power that resonates both during and after watching American Standard lies in its authentic quality. The film stars, and is based in part on the experience of, Sgt. Marco Reininger, and features his personal footage of that war. He served one tour of duty in the U.S. Army in Afghanistan before training as an actor in New York. He opted to return to Afghanistan for a second tour last Fall.
American Standard is Reininger's first film, and by the same token, this was Gerson's first time working with a veteran-actor.
"Because I'm an actor myself, I want to know that if I were to play the role in his shoes, how would I do it? So I had to ask [Reininger] what are the things that might trigger him to recall things in Afghanistan. It could be the smell of the dust out there. I would tell him to focus on that one image, then tell the story. And then it's real," says Gerson.
In the hour-long phone conversation that I had with Reininger, he didn't give much away. He responded somewhat stoically to my gentle probing. Nevertheless, he identified some of the parallels with his character in the film:
"Rejecting help when it's offered. Being convinced that you don't need help. Being convinced that there's nothing wrong with you and that you're the exact same person. I found myself telling myself these things quite a bit."
Closely reflecting the story in the film, Reininger returned to his girlfriend and struggled to reconnect with her, and the relationship ended. His ability to open up, let himself go, rely on people and trust them, had greatly diminished. But, Reininger asked me to bear in mind that, a war-zone is a tense environment where you have to be on guard. You can't be vulnerable.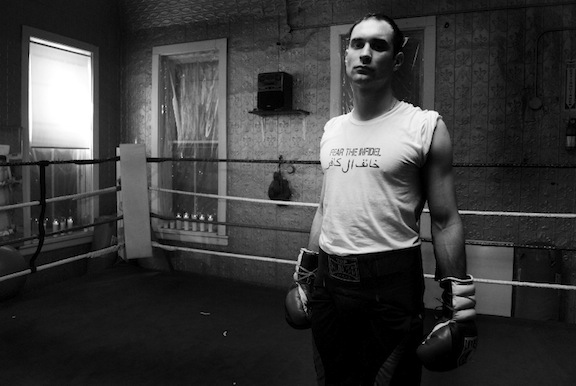 Gerson told me that Reininger called him at 7:00 a.m. on the day they were going to film the sequence of shots where John stands before his bathroom mirror.
"He said 'We need to shoot this movie right now', And I said, Why are you calling me this early and why do we need to shoot it right now?
And he said, 'One of my good friends from Afghanistan just shot himself in the head.'
Three hours later, Marco [Reininger] has his own gun, is looking in the mirror, and is taking it to his own head. That was very powerful. And I think it comes across in the film too."
And going through the motions that his friend just did, a few hours earlier, may have helped Reininger come to terms with the tragedy."
Indeed, the idea of acting as 'exposure therapy' for veterans has been flying around the news lately. Actualizing and articulating bad memories and buried feelings, telling their story, and thereby making it 'real', can have a healing effect.
In my conversation with him, Reininger told me that he found his time in Afghanistan rewarding; that, in many of the local people that he met, he saw innate wisdom and incredible inner strength. Hopefully these bright memories will help him get through the psychological obstacles that may lie ahead.
Upcoming screenings of American Standard will be announced here.
Production Stills By Wendy Strauss