Last night, we brought Buttercup home. She was a street dog that was fed by two separate women, one of who found her a foster home. Buttercup came up on an online search when I was incessantly looking for a second dog. I knew when I saw her she was the perfect one to complete our pack of two humans, a dog and a cat. She was the right size, the right mix. She had a kind face. We met her, fell in love, and then set a date to pick her up.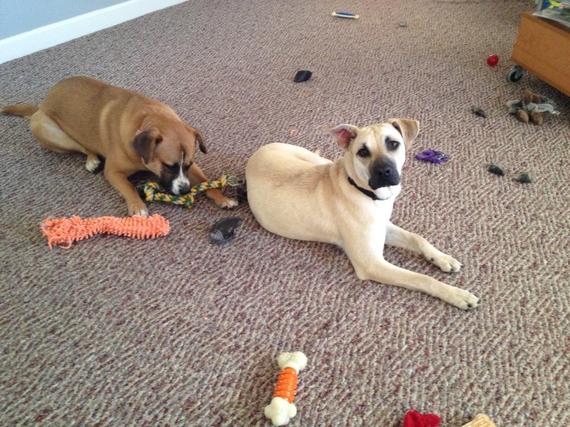 Last night was that night. All day I was like a kid on Christmas, anxiously waiting for 6 p.m. so we could go get her. At her foster home, Buttercup came to us immediately. But when we got her home, she jumped out of the car before I had hold of her leash and she was gone into the night.
We drove up and down the roads around our country home. We walked and walked and called her name. After searching for three hours, we called it a night. I did what I could, posting on Facebook, hoping beyond hope that someone would find her and call the number on her tag. I prayed she wouldn't get hit by a car, or tangled up in the woods, thanks to the six-foot leash she was dragging behind her. As much as I'm usually an optimistic person, I went to bed thinking we would never see her again.
This morning I got out of bed ready to make posters to take to the gas station down the road and to hand out to our neighbors. But first I decided to meditate. In my meditation it was clear to me that I was not to give up hope, that Buttercup was fine, just frightened. Just then my cell phone rang (I never have the ringer on during meditation) and it was my girlfriend. She was outside with our dog Bella. And she had Buttercup.
By the look of her and her brand-new leash, Buttercup hadn't gone far. We figure she must have turned around after her initial run down the road and then hung out in the tall grass that surrounds our property. She was shivering, but she was home.
Two years ago today, I left my native Iowa -- bolted, really, from those I love and from all I had ever known. I moved to Colorado and lived by myself for a year. I needed that time, needed that stillness, that silence to get back to -- or perhaps more accurately -- to find my Truth. It was a terrifying time, much like I imagine the past 12 hours were for little Buttercup. But it was necessary.
I am now home -- not a home I ever imagined for myself, not with a partner I had ever imagined for myself -- but home in the truest sense. Home within myself. At peace. Content. No longer running.
Buttercup and Bella are lying on the floor in the living room, like they've always been there together. I'm eating eggs and turkey bacon, breakfast made by my love.
Home.
This blog originally posted on www.anniescholl.com