I got married last Friday night. Our plan was to go to CVS to pick up prescriptions for my future mother-in-law, but instead we decided to go to the Register of Deeds office in Greensboro, N.C., to get hitched.
We wore t-shirts, tennis shoes, and jeans. Our new friend Karen called at just the right moment and offered to meet us there to be one of our witnesses. Our second witness was a stranger, a young woman named Amanda who had sat in her car crying with joy as she watched people file into the building to get married. She came inside, she said, because "I love love."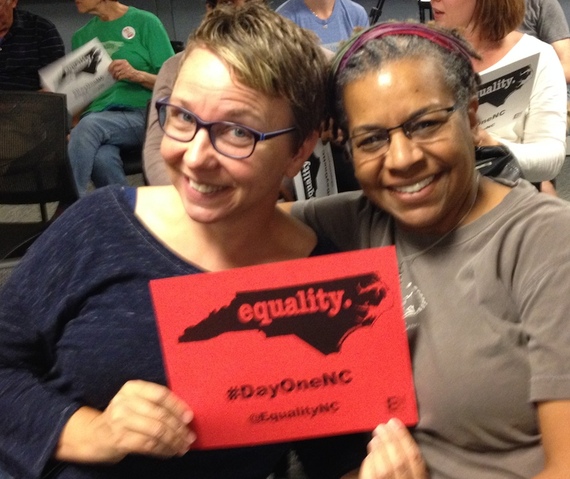 My fiancé filled out the "groom" portion of our application then I filled out the "bride." We could hear other weddings being conducted by two ministers who volunteered to be there--one, a man, who is from some place called the "Dinner Church" and the other, a woman who is the minister at the Congregational United Church of Christ in Greensboro. Occasionally applause would rise above the chatter as one couple after another got married. When we decided to not just register to get married but to actually get married, Karen sprung for the $20 so we could each get a copy of the marriage license--and an additional $3 so we could each (Karen, too) get a keepsake certificate.
The minute the minister began the ceremony I started to cry. Somehow I managed to choke out my vows. Trying to regain my composure, I looked down at my feet and smiled. I loved that I was getting married in my tennis shoes, a stark contrast to the first time I got married--in a traditional white gown at the Catholic Church I attended throughout my childhood. What I was wearing to get married wasn't important. What was important was that I was getting married.
When we got back home, we apologized to my now-mother-in-law for not getting her medication. Fortunately she didn't need it for another couple of days. We told her what we had done, and she said, "I knew it! I knew it!" She then wished us well and gave us advice that couples have received from their loved ones for all of time: Don't ever go to bed angry.
Perfect advice for two women, deeply in love, who could finally get married in North Carolina.
The congratulations poured in--over Facebook, over the phone, and via email and text. People were happy for us. Unity in Greensboro, our spiritual home for just three months, celebrated our marriage on Sunday, giving us a standing ovation along with a wedding cake and bottle of sparkling grape juice.
But while our friends and loved ones were celebrating us, people like Family Research Council President Tony Perkins were not.
"Marriage is not to affirm adults, it's for the protection of children," Perkins argued on Fox News Sunday, October 12. "And if love is the only factor, where do you draw the boundaries?"
In North Carolina, where I've lived for just 14 months, House Speaker Thom Tillis and Senate Leader Phil Barger both vowed to keep fighting to keep intact Amendment One, which had made it unconstitutional for the state to recognize or perform same-sex marriages or civil unions.
I wish I could understand their points of view, but I can't and I won't waste any more precious energy trying. Even Olson and Fox News host Chris Wallace weren't having any of Perkins' nonsense. They tried to get Perkins to explain how a same-sex couple living next door to him could possibly damage his marriage or his family. Perkins kept returning to his "boundaries" argument.
For people like Perkins, same-sex marriage will never make sense. And that's okay. I'm not asking him or anyone else to understand or approve of my marriage. I'm just asking for the right to marry whom I want to marry.
And on Friday, we were granted that right.