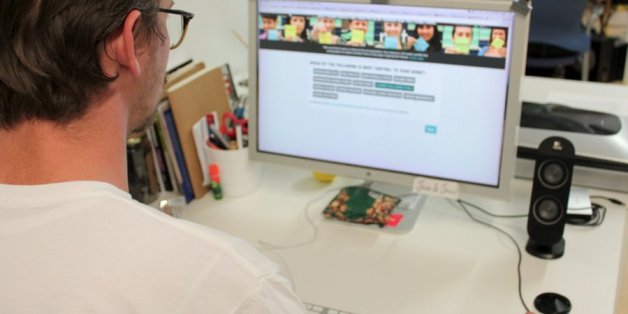 Photo: A professional digitally mentors students by sharing his insights on the career advice platform Share Your Road
Spend a minute thinking about the people who helped you get to where you are today--either in your career or life in general. Maybe it was that eighth grade history teacher who showed you pictures of exotic hummingbirds from her summer trip to Asia who made you believe you could travel the world just like her. Maybe it was the track coach who made you run until you almost threw up who helped instill a "it might not be pretty, but it will always be worth it" work ethic. Maybe the mischievous cousin who helped you take apart your mom's priceless antique clock as a kid helped you realize you should be majoring in engineering instead of business. Or maybe it was someone you didn't even know -- whose story you heard -- who inspired you to be "just like" him or her when you "grew up" (even if you're 30 and still trying to figure things out).
Regardless of who that person was for you, positive role models come in all shapes and forms, and they all provide young people a goalpost at which to aim their aspirations. Studies have substantiated the benefits of role models in influencing young people's trajectories, and we've all seen enough heartstring-pulling movies about Sandra Bullock helping a disadvantaged kid make the football team to know that mentors offer value. Yet when the call to action to become a mentor is lobbed on us, so many of us shy away from it.
The scarcity of mentors is so dire that in Civic Enterprise's 2013 report, The Mentoring Effect, one out of every three youths surveyed said that he or she has never had a mentor of any kind. To extrapolate this survey, this means that approximately 16 million young adults will reach the age of 19 without being able to name someone who influenced their lives. If we can look back at our own journey and see how many positive influences we have had, why is the mentor-mentee gap so wide?
Change Your Perspective on Mentorship
If you're anything like most people, the word "mentor" is loaded with about a thousand pounds of responsibility. To be someone's "experienced and trusted advisor" is serious business -- especially when we feel like we still haven't completed the puzzle of our own lives yet. This trepidation opens the door to excuses: "Who wants advice from who someone like me who doesn't have a white picket fence yet?" Or, "How can I be a mentor when I still wonder if I'm in the right field and think about going back to grad to school every time I get an obnoxious work email?"
All of these concerns might be valid if we looked at mentoring though a traditional lens: a job shadow; one-on-one weekly meetings with a child after school; a professional-novice relationship that guides someone through the early stages of job training. But what if the emphasis of mentorship was less about providing a benchmark of "perfection" for someone to work toward and more about kindling the inspiration generated by those pictures of hummingbirds in eighth grade? What if it was a concentrated effort to open a young person's eyes to what was possible in your life -- and therefore, theirs as well? What if it was about your inflection points, the rationale behind your life decisions, and the twists and turns you took to reach your current juncture? In other words, what if it was about you?
Over the years, the career exploration organization Roadtrip Nation has been on the road filming the personal stories of individuals from all walks of life for just this purpose: to show young people that life is rarely a straight path to success. Rather, it's a meandering journey full of wrong turns, backtracks, breakdowns -- and triumphant moments of clarity that make it all worth it. From zen masters and astrobiologists to lobster fisherman and vomit-flavored Jelly Belly manufacturers, Roadtrip Nation has made mentors out of everyday people who have trudged through life's obstacles - people who have simply shared their stories.
These stories are now curated in Roadtrip Nation's vast video library and are also accessible through an interactive tool called The Roadmap. There, anyone can watch CNN news anchor Soledad O'Brien talking about staying up late teaching herself how to write scripts or read about the self-doubt a marketing director had to overcome to get where he is today. These stories -- these admissions of highs and lows -- are what level the playing field. These are the common human experiences we all share that enable young people to envision their future selves in a way that a job shadow never could. These are stories that help young people to make relevant connections to their futures.
Share Your Road
So what about you? What story do you have to tell?
Maybe you're more of a Joe Smith from Regular Town, USA, than a Bill Gates; regardless, we are all on this roiling roller coaster trying to figure out who we are. No one has it all solved, not even those who've written books about it (trust us, we know firsthand!). So don't worry about projecting perfection. Maybe you switched careers three times, had a stint living on your friend's couch or dropped off the grid for a few years and backpacked around Indonesia with nothing but five shirts and a gnawing urge to "find yourself." These are the gritty, character-building details that get left out of the narrative, but what future generations need is for you to chuck the niceties and get real about life's fluctuations. Show young people you're a complicated human with mistakes and epiphanies from which they can learn.
Go to the career advice platform Share Your Road, kick back in your comfy chair, and take 20 minutes to pass on the lessons you've learned on this jagged journey we call life. Because the youth of this world have questions, need mentors and you have answers -- or, at the very least, some good stories.
Cisco funded initial development of a customized, online career exploration curriculum with Roadtrip Nation to help underserved youth define their own path in life. For more information on Cisco's focus on education, please visit: http://csr.cisco.com/pages/education