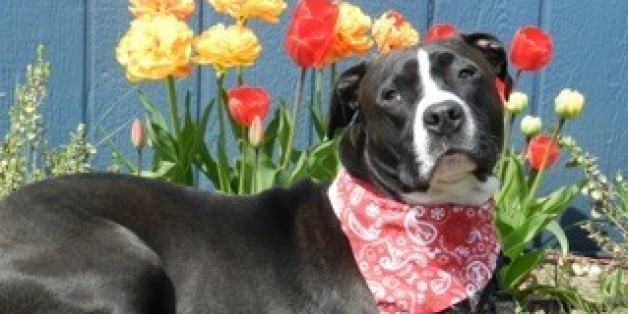 Pit Bull Week at The Huffington Post is an amazing campaign to educate the world about the wonderful group of dogs termed "pit bulls." Reading about hero dogs and examples of "rehabilitation gone right" will indeed help to show people that pit bulls can be wonderful dogs. However, there is a group of dogs not included -- the dogs, not just pit bulls, that even when raised properly can still have behavioral issues.
Memphis, a pit bull, came into my life just before Christmas 2012. He was 5-weeks-old and had just been rescued from certain death at a California shelter. His mother was not so lucky. A few days before I was to bring him home, he came down with pneumonia and I traveled to his foster mother's house to say goodbye. But he pulled through that night to recover and grow into the 65-pound lover that he is now.
When he was around six-months-old, he started to show aggression towards other dogs. As a veterinary student, I had socialized him well with my friends' dogs, but it wasn't enough. For the last year, we have been in and out of obedience classes and are making progress to make him an acceptable member of society.
I am becoming immune to the dirty looks. I am learning to not be embarrassed when Memphis reacts at a dog when we are on a walk. I know he is an amazing dog and that is all that matters.
Throughout the last year, I've asked myself, "Why me? Why couldn't I have gotten one of the 'hero dogs'?" The answer: I received Memphis so that I would become a fierce advocate for these dogs. Memphis is an example of the not-so-perfect pit bull, but does that mean he should be condemned to death? Even pit bulls with behavior issues deserve a chance -- they deserve life.
Memphis is now an only dog. He loves to zoom around the house, gives slobbery kisses to anyone who gets close enough, and snuggles every night before he goes to bed. Memphis has flaws like any other living being, but he has taught me what it means to love unconditionally. If given the chance to go back and adopt a different dog, a dog from a breed that is deemed acceptable in this society, I wouldn't do it.
Memphis is worth it. Pit bulls are worth it.