Globally, there is much to fear and this summer saw the escalation or re-ignition of a number of serious conflicts. Ceasefires between Israel and Gaza were set and broken, and thousands of people were killed. The conflict between Russia and the Ukraine stepped up drastically leading to international penalties and sanctions by and against Americans. The Syrian civil war has intensified the terrorist activities of ISIS (Islamic State of Iraq and Syria) resulting in threats to American soil.
These threats have changed the everyday priorities of people in the USA. Since April, our research has been monitoring what Americans say is their single most important issue. Early in the year, out of a list of nearly 30 items, the economy was chosen by 17 percent to 23 percent of people as their top issue. However, beginning in late July, the economy began to decline in importance, and only 12 percent of people chose it as their top issue in mid-August. Unemployment also lost some of its votes falling from an early year average of about 10% to a more recent trend of about 7 percent.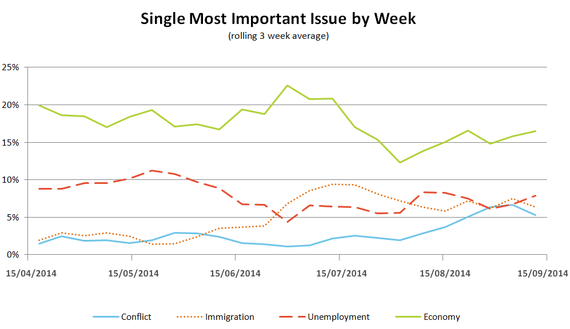 Where did the lost votes for the economy go instead? In just a few short weeks, unrest in Gaza, Ukraine, and Syria has caused the number of people stating that conflicts are their top concern to triple, an increase from 2 percent to 6 percent. A few comments from research participants include:
"ISIS is saying see you in New York. I'm worried about another attack on our homeland."
"We need to take care of and destroy terrorist groups like ISIS!!!!"
"Terrorism is a HUGE threat to our country and Obama and the Democrats are doing NOTHING about. ISIS is growing and we could see another event like 911 here in our country, but on a larger scale."
But, the rise in global conflicts doesn't fully explain the declining importance of the economy. In addition to conflicts, the percentage of people choosing immigration as their number one issue has more than tripled from about 2 percent early in the year to 7 percent now. A few research participants shared their very forthright and divisive views on the topic:
"I believe our biggest concern for the security of our nation is the number of male illegals entering at the present rate."
"Why does Obama keep playing games & calling them undocumented immigrants? They're Illegal, which means they became criminals the second they illegally entered our country. Kick them out or shoot them, I don't care, but get them out of here now."
"Millions of illegals need to be taken out of our jails and prisons and sent back to where ever they came from-however many times it takes them to get the point-kids and all. We cannot support our Veterans programs but we can spend trillions taking care of illegals-give me a break. This country needs to wake up."
"We need some way of getting illegal aliens out of our country. they are taking over. they think they own it now."
The economy appears to be making a slight comeback as the number one issue, and the immigration issue seems to have reached its peak. However, the increasing likelihood that global conflicts may have an impact on American soil may result in additional focus on conflicts as the number one issue. Stay tuned as we continue to monitor opinions.
--
N=3200 census representative adults residing in the USA, April-September 2014. Respondents for this survey were randomly selected according to US census demographics from among those who have volunteered to answer surveys as part of the Peanut Labs self-serve pre-screened panel. The data was weighted to reflect the demographic composition of the USA. Because the sample was based on those who self-selected for participation rather than a sample based on probabilities, estimates of sampling error cannot be calculated. All sample surveys and polls are subject to multiple sources of error including, but not limited to sampling error, coverage error, and measurement error.