Cynthia Oredugba was so late for the dinner at LA's Fig and Olive honoring her friend Lee Daniels, the director of Precious, The Butler and the creator/executive director of Empire, that she lost her place at the table. They had just sat down to dinner when she arrived, having been the keynote speaker at another event. Changing from business to cocktail attire while her husband drove the car, she was thrilled that she wasn't even later and happy to have a place set at the bar for her and her husband for the main course. The only problem was that she was far away from the action and didn't hear Lee calling her name over the microphone until he called her for the third time! "Cynthia I think Lee is calling your name," said her husband, Nigerian born kidney specialist, Dr. Olu Oredugba, the man blessed with caring for this force of nature, who, as usual, was deep in conversation with the woman to her left.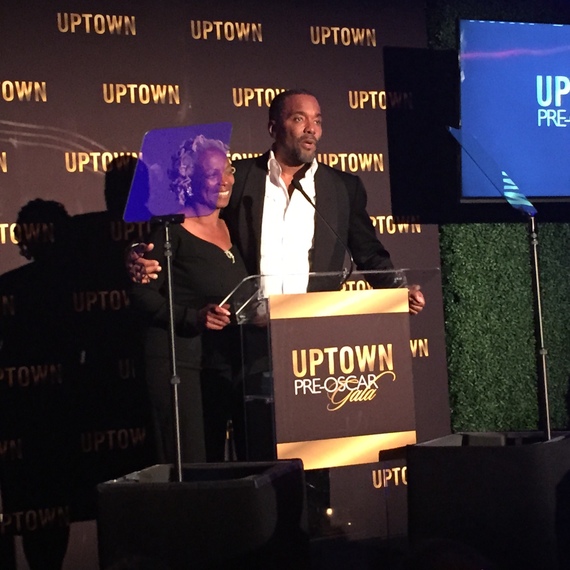 Ready to give up calling her name, the director saw her making her way through the crowd. Directing all eyes towards the breathless woman wearing blond dreds smiling from ear to ear, he introduced her, crediting his friend, Cynthia Robinson Oredugba, as the reason he was being honored that night. He told how she encouraged him when he was just starting out and the major impact it has had on his life. Encouraging, connecting and flashing her enormous smile all over town while saying his name, is how she rolled.
Cynthia is first and foremost a cheerleader. It is actually part of the mission statement of her Missing Piece Life Coaching practice. If she's on your team she will jump up and down, dancing and singing your praises from one end of the field to the other, no matter how big a field.
Hitting New York City straight out of college took chutzpah for a young black woman from Cleveland. She landed a job in the talent office at William Morris Talent Agency in the early '70s. But not only did she have chutzpah, she had brains and that sunshine smile. Her other secret ingredient was spirit. She is spirit walking, no, running! She is spirit running, talking and working it!
Five years later as a seasoned agent she joined the late '70s migration to LA and soon opened her own boutique talent agency. Within a couple of years she had a reputation as someone who really knew talent and had a select group of excellent actors. Her energy, aka, spirit, worked well for her and her clients. When Alex Haley read the last few chapters of Roots to her while sitting in his San Francisco living room, she encouraged him with her exuberant and passionate praise and then connected him to David Wolper the executive producer of the ground breaking miniseries. And the rest as they say, is history.
After taking time off to have her two sons, Cynthia was hired to work for the American Cancer Society of LA. For over 10 years she worked her magic raising cancer awareness, promoting health and well being, giving and going to seminars and workshops all over the world. When she began thinking about becoming a Life Coach, it was almost a natural blending of everything she's done in her adult life. Her experience managing talent, raising children and working in the field of health and wellness together with her spirit and cheerleading proclivity, makes Cynthia the quintessential Life Coach! Not one to do anything less than 100 percent, she may well be the most professionally trained as well, having thousands of hours of seminars, workshops and training before hanging out the shingle to Missing Piece Life Coaching.
True to her fashion, when she gave herself a goal to have a book out by a certain date, to go with her practice, her book It's Your Turn: Uncovering the Best You Now came in a dot before midnight on the chosen date. Like the author, the book is an upbeat direct approach to living a purposeful life. At 108 pages it is purposely an easy read so that even the non-readers among us could enjoy it. It is a workbook with 22 lessons or chapters with a few exercises at the end of each chapter. In all honesty, the information given in this book isn't new, but how Ms. Oredugba presents it, is. She tells stories and anecdotes in every chapter taking the reader on a lovely ride to the Ah Ha! moment.
In Chapter 5, "Dream Like a Child", she tells of one of her childhood dreams: to be Shirley Temple. She used to practice Shirley's smile so much as a child it is totally understandable where that huge sunshine smile of hers comes from. It seems like such a small thing in the scheme of things, but think about it for a second. Isn't it true that a huge authentic smile from someone can change your whole mood... if not your day! Once asked by a friend why she smiles and says hello to everyone they pass on their hike, her reply was that when she was a little girl, her grandmother smiled and said hello to everyone they passed. When Cynthia, like her friend, asked her grandmother why she did that, she said that you never know when someone could really use a smile and a friendly hello. Taking this to heart and then some, she feels it is her mission in life to uplift people.
The beauty of her book, besides its simplicity and practicality, is that it is all about commitment. Committing to ones self, ones goals and the betterment of one's life.
Though she has been honored many times (the NAACP Legal Defense Black Women of Achievement Award, City Club Women of The City Club ( LA) Award, Living Legends Award as a Community Leader for her work with American Cancer Society in South Los Angeles), instead of basking in her personal achievements, she is committed to living out her grandmother's saying, "Keep on Keeping On". Cynthia says her grandmother, whose birth name was Nonesuch Can Be Beat, seriously, was her cheerleader so that she in turn could be a cheerleader for others. That is exactly what It's Your Turn does and will do for anyone who reads it; both cheer and lead them as high as they want to go.