What's that saying, "as LA goes, so goes the nation"? Or something -- or so we think.
First we brought you pop-up restaurants where weekly, great chefs of the moment folded and unfolded their tents of knives and favorite frying pans moving from house to house all over town. We followed that with pop-up stores from Silverlake to Venice that still pop as I write. Pop-up art galleries? So obvious it's barely worth the mention, but now comes the best, the quintessential, the motherlode of pop-ups... Allow me to introduce our latest and coolest contribution, the concept of pop-up yoga!
It all began on a balmy night with a beautiful woman. Such is an LA tale of old, but this was no ordinary beautiful woman. Drinks in hand, we mulled around the lawn admiring the landscape of this property just slightly north of LA, smiling, making event conversation while we waited for the main event person, who in this case was the African wildlife conservationist Tony Fitzjohn, to emerge -- as he sometimes runs on Tanzanian time!
So after the "hello" and "nice to meet you" with this gorgeous, raven-haired young beauty that my husband had gravitated to, I was expecting to hear the words "I am an actress." Not only because of the afore-stated good looks, but because LA is rife with beautiful English actresses at the moment, or so I've been told by my friend Glynis Barber, herself a beautiful English actress. What I was ill prepared for was: "I teach yoga and am getting ready to go off to India to host a three-week women's spiritual retreat."
Hmmm, she had me there (shallow and spiritual, that's us). So I parked by my husband's side and spoke with Chandanni and her husband, Chris, who are both, as it turns out, wonderful people who in their own way are out to change the world for better. We may start out with the surface stuff, but we drop down deep pretty quickly. We are hyperaware, here in LA, that none of us have time to waste.
I liked Chandanni so much that I took her card and said I would absolutely try to get out to her Topanga Canyon studio. Try I did, but it was far and didn't happen, but much to my credit I was unwilling to let this Chandanni out of mind. I made her my birthday present to myself! My past birthday celebration was doing yoga in my living room with my family, then pizza and chocolate cake for dinner. It's the do-what-you-love-eat-your-favorite-foods birthday rule that I try to observe yearly as best I can. And that, my friends, is when the seed was planted.
At the end of January I got a call from Chandanni, just back from her three weeks in India. Her voice, with its lovely, English, Euro-tinged accent, ripped excitedly through the phone lines. She was so inspired, so rejuvenated, so fervent and on fire from India that I nearly smelled the pungent spices and saw the cascade of vibrant colors myself.
"I've given up teaching in that space. The environment wasn't right. I need to work on my goal, my vision of the center I want to create, but if you know of any interim places you think might work let me know," went the conversation -- until I heard myself say, without a nanosecond of a thought, "Oh, have class at my house." And that, my friends, is when the seed blossomed into what we have dubbed pop-up yoga!!
Miss Chandanni schleps the sheepskin she likes to sit on, her laptop (filled with the most awesome musical mix to soundtrack any yoga class ever), her incense and extra mats to my house now on Tuesday nights and Friday mornings. So in short, yoga is now being delivered to my house! How great is that? Seriously, I'm having delivery yoga.
Let me count the ways this pop-up yoga situation has added to the general well-being around the Ponderosa. First, and in keeping with the running theme -- shallow and surface -- let me shout hallelujah that my yoga arms are coming back! The chicken skin still rules, but tone and muscle definition are coming back weekly. This makes for a very happy mommy. More important is something my 17-year-old daughter said a few weeks ago.
After Tuesday night's class, whoever is there usually gathers around the island in my kitchen for tea and fruit, a little grounding before driving home. My daughter, who would probably join us for class had I not made the huge mistake of asking her to in the beginning, joins us then. It is an eclectic mix of a few of my friends and Chandanni's students comprised of actors, singers, doctors, lawyers, a real-estate maven, a hairstylist, a photographer, a model from Serbia and a writer or two. Relaxed and open from all of the down-dogs and "ohm"s, we sip tea and talk. This lasts no more than 15 minutes, but we seem to touch on many things. The Tuesday before last, after everyone left, my daughter spontaneously said, "I love this little community Chandanni's created here, Mom." OK, as hard to believe as this might be, that was the gold, right there. Forget the arms!
Chandanni said something during my birthday yoga class that unwittingly prompted my daughter's statement. My birthday is December 14 and this year, as we all know, it was a horrific day. It was the day of the Newtown shootings. During class, she talked about the violence that goes on in the world today and the crippling sadness and frustration we as individuals feel at not being able to effect change, to stop the violence. She asked us to imagine, to visualize all of the people around the world who were doing yoga, who were silently and gently changing their personal vibration and hence that of the world. Absolutely airy-fairy-hippie-dippy stuff. Not to mention sooo LA, but let me say here, so was health food 30 years ago, and now who among us wouldn't want a few shares of Whole Foods?
Creating a community, getting back to my daughter's word, was neither my intention nor even my conscious need. Now that I have it, feel it hovering around the limestone counter in my kitchen, I see so clearly how a sense of community is perhaps what we now need more than ever, as more of our time is spent plugged into some technological device or other and the world seems more unstable than ever.
So there you go -- the best from the west this week is find yourself a yoga teacher, there are plenty out there studio-less and willing. Invite a few friends who will invite a few friends, push the furniture off to the side, don't even need to roll up the carpet, everyone donate a little something for gas money, and there you'll have it, pop-up yoga.
Now just watch what happens around your house. And listen to what comes out of the mouths of your babes. I guarantee you, it'll be good. And who knows, maybe, just maybe, we can change things for the better, one down-dog at a time.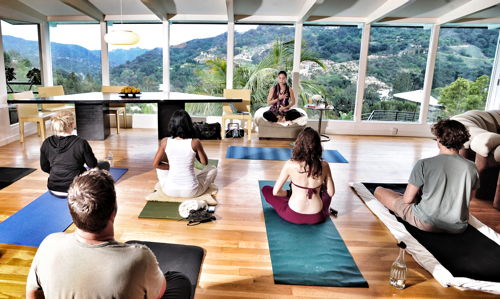 Chandanni Miglino facilitates retreats and festivals all over the world. She is the Founder of WeBeFree.com and creator of SUBMERGED YOGA AND MEDITATION, an infused and inspired yoga and mediation style. She was born and raised in London, England. She is of Iranian descent and lives in Los Angeles, California. Chandanni is also an artist, a public speaker, a certified Kundalini yoga teacher, an Ayurvedic Counselor (www.chandanni.com)
For more by Annie Stein, click here.
For more on yoga, click here.