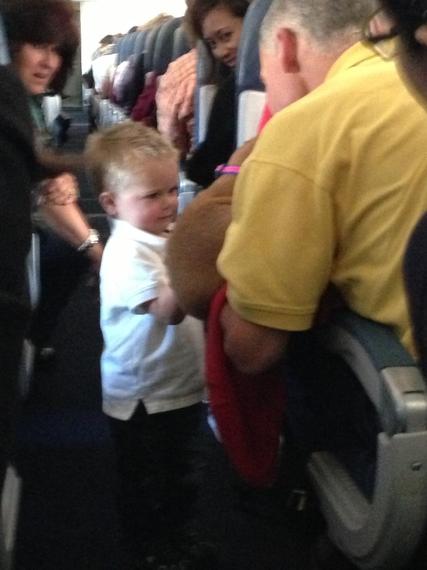 Yesterday I was on the last leg of a long trip home and was anxious to arrive at my final destination. About ten rows ahead of me was a toddler who had sat quietly on his mother's lap for the duration of the flight. Just after the announcement came that we had started our descent, the child started to wail.

I am not certain what caused the sudden change but the entire airplane was suddenly aware of this child's presence. The mother and grandmother were unsuccessfully utilizing every possible strategy to hush the unhappy child. You could sense the discomfort on the plane growing as the noise continued.
There was some movement about 5 rows in front of me and many of the passengers between me and the child turned to look at a woman who was holding something up and trying to catch the child's attention. After a few seconds I realized that she was holding a small dog. As soon as the child caught sight of the dog, his crying ceased.
All of the surrounding rows watched as the woman actually passed her dog to the man at the end of the row in order to give the child a better view. The child had also been passed to the end of his row and now there were just a few seats between him and the dog.
As soon as the plane touched down on the runway, the child got down into the aisle and toddled over to the man holding the dog. We all watched his tear-stained face as he reached out a hand to pet the small animal. It was a beautiful image. Certainly nothing horrible would have happened had the child continued to cry, but the efforts made by the woman with the dog touched many hearts on that plane.
Rebecca
Share your story at Anonymousthankyous.com
Like us on Facebook: https://www.facebook.com/pages/Anonymous-Thank-Yous/170096619779167?ref=br_tf