Beloved Gelson's employee Maniso Vongsavanh got a giant-sized "Get Well" card signed by shoppers, friends, and fellow employees this past Sunday.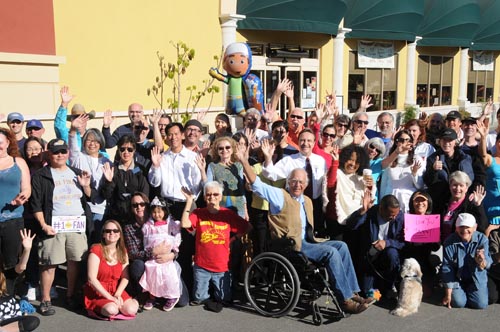 "Manny" has been struggling with cancer and last week was in intensive care at a Covina hospital. A manager at the Gelson's on Hyperion Avenue in Silver Lake, he is well-known for his sense of humor and courtesy.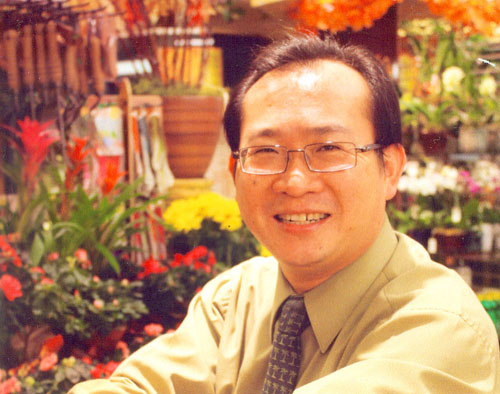 Gelson's checker Stephany Folliero delivered the card to "Manny" at the hospital.
"Manny has been a great friend," said Folliero. "When you are sad, he'll tell jokes and pull you out of a bad mood."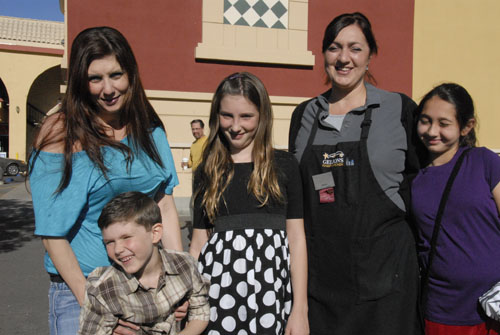 Gelson's co-workers and family: (from left) Stephany Folliero with son Angelo and daughter Valentina, and Maria Arellano with daughter Michelle
Local photographer Gary Leonard took the image on the card, this past Saturday morning, after a crowd gathered in the Gelson's parking lot
Silver Lake resident Gayle Anderson arranged to have it printed on large-size papers. Then, friends and co-workers signed the back.
Anderson also organized the photo shoot and the card signing. She said it was a chance "for all of us to connect with Manny one more time."
Councilmember Tom LaBonge also showed up for the shoot, along with about a hundred others.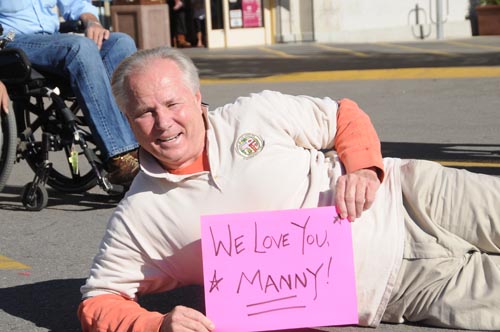 Manny, who lives in Covina, has a wife and one son, who were hoping he would be home from the hospital this week.