Folks around Miami love to talk about how much Miami is becoming a "world class city." New developments are proposed every day; the drumbeat of progress is heard all around the county, from the sprawling western suburbs, to the glittering towers of downtown. Even now in the aftermath of the Great Recession, mega-developments and downtown occupancy give every indication that Miami is ascending toward another of its boom-bust cycles. Shiny new glass towers are planned all around town, slowly replacing the last open spaces and historic resources we have left.
What of the rich architectural history laying fallow in the shadow of these glass monuments to progress you ask? The first-ring suburbs of Miami -- East Little Havana, Wynwood, Allapattah, etc. -- with their depression-era bungalows and central hall buildings, are quickly evolving as the city and property owners demolish these perceived "relics" from a day gone by; replacing them with new developments that are more dense, or simply leaving empty lots to blight these urban communities.
Miami needs to learn that development alone is not something that gives cities value.
Miami is at risk of losing some of its most important -- and humble -- residential structures. Bungalows from as early as the mid 1910's are some of the earliest architectural resources we have. It is their presence in Miami and her communities that give the city its character -- not the grandiose developments of Midtown and Brickell. Cities are made of fabric buildings -- not monuments. The more we destroy these charming structures, the more we render our metropolis a caricature of itself. A Miami Vice-inspired vision of what others think of Miami, with no real connection to a legacy that is being eviscerated.
One group of advocates is working tirelessly to save these structures -- but not as static museum pieces. The Little Havana Changemakers are working to show property owners and the city that the choice between historic preservation and economic development is a false one. As recently as today, the Changemakers were alerted to a planned demolition at 1260 SW 1 Street -- a perfect 1920's bungalow that is being demolished to become a parking lot.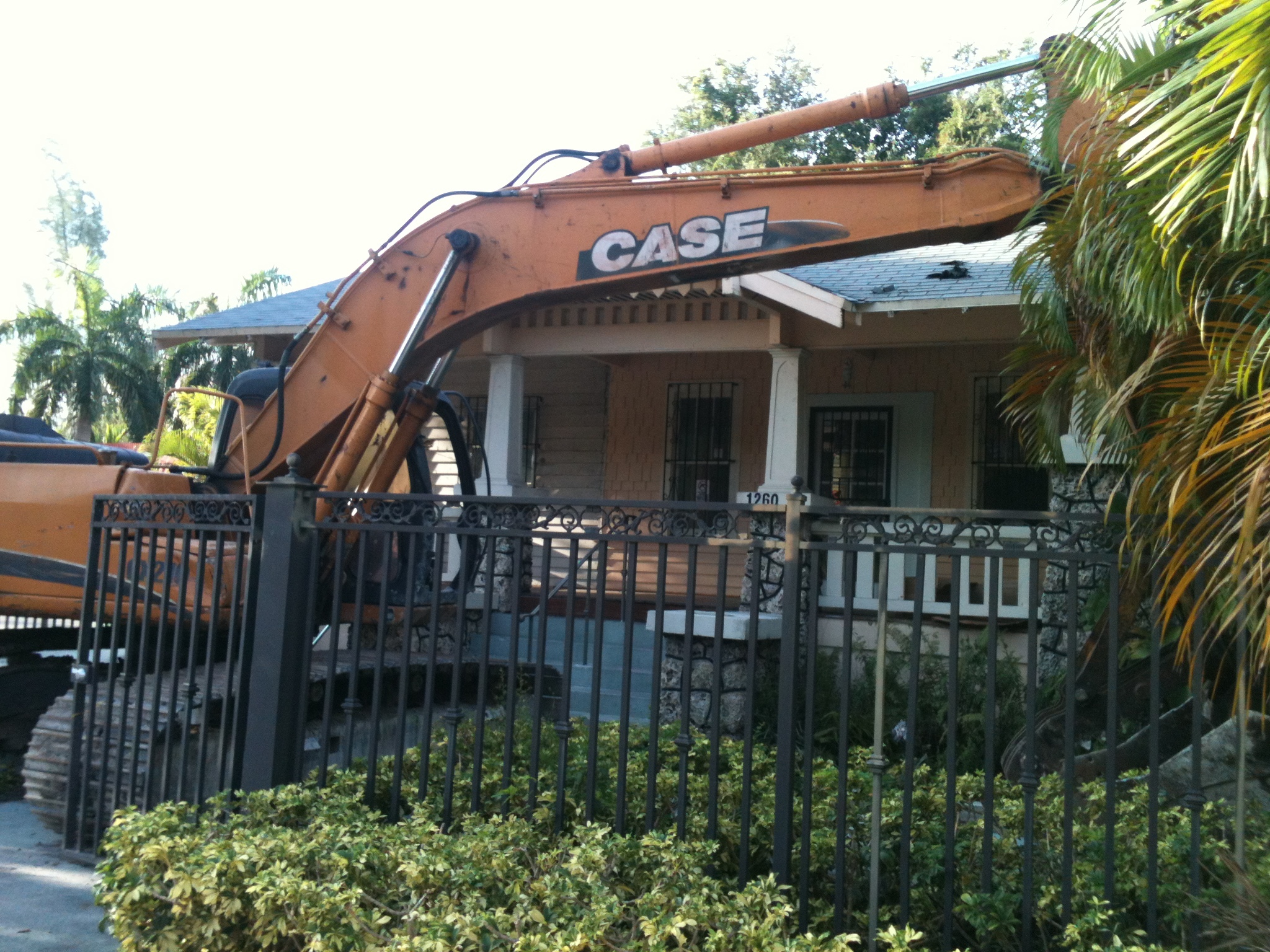 This Bungalow from 1926 was spotted by neighborhood advocates today, and is slated for demolition this week to become a parking lot.
Now a weekly occurrence, these demolitions are eroding a vital resource. Historic structures have a value beyond the wood and stones used to build them. I've been to many cities that I consider "world class" and they all proudly restore and revitalize their historic buildings. What would Paris be without four-story Mansard townhouses, or San Francisco without Victorian homes? They would probably look like some parts of Miami -- nondescript blocks of development; places where no one would want to visit, much less live. Can we really call Miami a "world class city" with no historic architecture? I doubt it.
In Miami, as everywhere else, all that glitters is not gold.