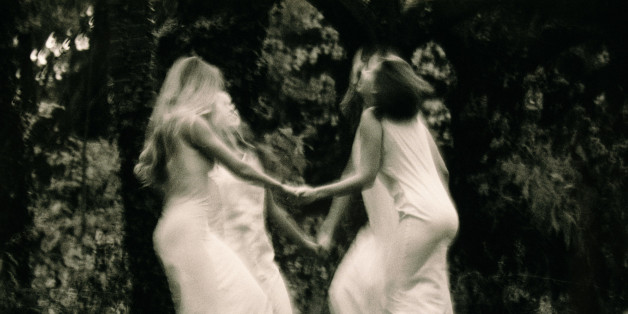 When Halloween season arrives, I love to be immersed in all things spooky and mysterious. The holiday coincides with Samhain, a pagan celebration honoring the ancestors and the onset of winter. It is the pagan New Year and a time in which, many say, the "veil between the worlds" is thin and magic runs high.
For me, experiencing the richness of this season entails brewing spicy teas, gathering with other nature spirituality practitioners, meditating and listening to lots of witchy music.
I'll say right off the bat that I can't qualify what makes these songs "witchy." None of the musicians are self-proclaimed witches, as far as I know, and nothing unites the songs other than a sense of mystery and excitement they engender in me. Many of them are playfully spooky, which real witches obviously don't have to be. But it's a quality I enjoy and feel inspired to make magic to.
Without further ado, here are 13 of my favorite witchy songs to get magical to this Samhain/Halloween:
"All Soul's Night" by Loreena McKennitt

Loreen McKennitt is a total goddess in my eyes. I grew up listening to her. Samhain and Halloween are both related historically to All Souls' Day, a Catholic holiday commemorating the dead.
"Gallows" by CocoRosie

There is always something that says "witchy" to me about CocoRosie. As it turns out, Bianca Casady's art magazine 'Girls Against God' just put out an issue all about witches and feminism. So maybe I'm on to something...
"Empty Bones" by The Growlers

This band is wonderfully spooky. They call their style "gothic surf," which I think is apt. The lyrics to this song in particular suggest a kind of dreamlike amnesia in which it's hard to tell what's what.
"Season of the Witch" by Donovan

This is probably the most obvious of all the songs in terms of witchy-ness, as Halloween time is quite literally the "season of the witch."
"Night Descending" by Iron & Wine

Typically a gooey-soft acoustic musician, Iron & Wine surprised me with this one. It has a funky, magical quality to it that I think could be turned into an entire mystery thriller unto itself.
"Pull Out the Pin" by Kate Bush

As I was about to start typing here, my boyfriend sent me a text out of the blue saying, "Kate Bush is perfect Samhain music!" So there you have it!
"Pagan Poetry" by Bjork

Bjork is a kind of musical magician, I think, and this song explores an important aspect of pagan spirituality, which is the power of sexuality. There's a long history of sex and the occult, which I won't get into here. But in this song Bjork describes being awakened by pleasure and by love, which is a kind of magic in my opinion.
"Mysterons" by Portishead

My fondness for Portishead comes from the grungy, 90s side of my personality, and this song is classic. It even has the same root as "mystery" in its title, so it has to have something witchy going on.
"All Tomorrow's Parties" by The Velvet Underground & Nico

Something about Nico always screams witch to me, and I mean that as a complement. In this song, she sings, "What costume shall the poor girl wear?" and I always imagine it's about a girl getting ready for Halloween.
"Are You Sitting Comfortably" by The Moody Blues

Magic potions, Merlin and the knights of Camelot. I love the Moody Blues and everything that this song, in particular, evokes.
"White Rabbit" by Jefferson Airplane

This classic song plays off the "Alice in Wonderland" tale - a narrative that captivated me as a child. I would watch the Disney movie over and over and always felt more and more drawn into its magical world. It's no wonder I love this song so much.
"Roses Blue" by Joni Mitchell

Joni Mitchell, another of my personal goddesses, explores the darker side of the occult in this song. She describes a friend getting lost in "tarot cards and potions" and being unreachable to those who knew her before. It accomplishes a bit of witch fear mongering, but I love the sound of it nonetheless.
"Acrobat" by Angel Olsen

"You are the crazy acrobat. You are the witch, I am your cat." Angel Olsen may not identify with any pagan traditions, but she certainly includes some wonderfully witchy themes into her extraordinary music.