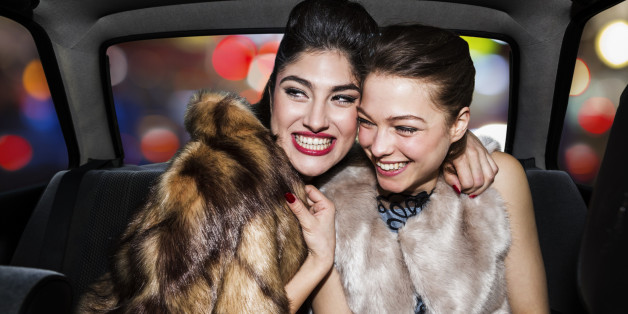 As a long time resident of New York, I became accustom to keeping an eye out for the hottest most exclusive new club on the block. But after a while, even keeping up with the glitterati became kind of boring. Lately, however, I've been hearing about intriguing new ways to go out.
Social Painting (The Paint & Sip Experience)
The great Picasso once said, "Every child is an artist. The problem is how to remain an artist once he grows up." Enter the experience known as social painting -- a growing trend that is quickly becoming a new kind of "night out" for people who want unique, fun, memorable, entertainment beyond dinner and drinks.
A Houston-based franchise called Pinot's Palette (one of the pioneers of the paint & sip concept) offers an upscale experience that is focused on fun, not precision. I've dabbled in painting under the influence, but in the comfort of my own home. I love the idea of doing it in a social setting and being able to meet new people and bond with friends. Pinot's Palette provides all the tools needed and guides guests step-by-step through a featured painting. Each event is a no-experience-required art class that allows locals to create beautiful works of art that they can take home and remember for years to come. Pinot's Palette currently has 65 locations. Find out if one's near you.

Quiet Clubbing (The Silent Disco)
Ever go to a party or event and hated the selection of music being played? Well, there's a new trend called quiet clubbing or (the silent disco) that gives dancing to the beat of your own drum new meaning.
The way it works, according to QuietEvents.com (just one of the many new companies popping up and riding this wave) is up to three live DJs spin tunes, each one playing a different genre and with the help of special headphones supplied by them, you're able to choose what to jam to with a simple flick of a switch. With more and more products and services becoming customized these days, I love the ingenuity behind this concept and the fact that it can be held virtually anywhere -- clubs, rooftops, outdoor parking lots -- the limits are endless. Talk about finding a way to please everyone.

ExerDating!
Ever heard of exerdating? Well if you're like me, I was quite intrigued to learn that people actually consider it a great way to meet a potential mate. It's pretty much what its name implies: combining your workout session with a night out on the town, only it involves slightly more perspiration. According to a recent NY Post article, it's THE ultimate form of multi-tasking for busy urban dwellers. It may be a little weird to some but it does seem to be catching on in New York City and I'm eager to see if it will become the next new thing in dating across the country. Remember what we thought when speed dating first burst onto the scene? Or what about the newest online dating site that promises to match gluten-free singles with their soul mates? Either way, it seems like people are coming up with new ways to get themselves out there, and working out seems like one of the most productive ways to do so.