Hello "Project Accessory" Recap Readers! You might be wondering what happened to your beloved Jessica, whose recaps you've called better than the show itself. Well, don't worry about Jessica; she'll be back next week. This week I'm guest-recapping because I happen to be in episode 4.
In other words, this week is all about me.
This past summer I was featured on eBay Style Stories, and a few weeks later their Creative Director Andrea Linnett emailed to ask if I, along with seven other Style Stories, would be a challenge on this new Project Runway-esque show about accessories. Duh.
We taped over a weekend back in August, and I've been getting butterflies over this episode ever since (but more on that later).
So, ohmygod, here we go, it's SHOWTIME!
Last week was this whole spandex debacle and two designers whose names I'm completely forgetting (and don't care to look up because they were before my time) were let go.
This week it appears the designers are still recovering from that experience, and we get to know a little bit more about Rich Sandomeno, a former diesel mechanic turned fashion accessories designer. I'll just say it right now: a few of us girls were seriously crushing on Mr. Sandomeno.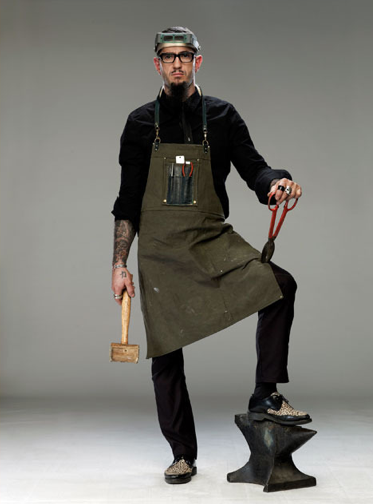 What's not to love about this?
So in the beginning host Molly Sims walks out on the runway and tells the designers their challenge is waiting for them in the workroom. They all scurry to the workroom. Why is there always so much running in these shows?
There the lovely Andrea Linnett greets them with a bunch of plastic bins. She explains what eBay Style Stories are, saying "each week we feature someone"--and I LOVE THIS PART-- "who is chic, who loves eBay and we love their style."
In those plastic bins lie the contents of our bags, and the designers are instructed to choose one that speaks to them because they will be matched with the woman behind it. There's a close-up on my wallet! Weird how that almost makes me feel violated.
In an interview, shoe designer James Sommerfeldt points out "We are blindly choosing our boxes and it's hard to judge a book based on its cover." True that, James! If I were judged on the basis of my bag contents then please just shoot me right now. My contents couldn't be more depressing: a wallet, my laptop, a fan (to combat the August humidity), and Listerine Strips. The end.
(But, in my defense, those are just the contents I was willing to share on national television. Wink.)
Alas, my bin is the second to last to be chosen and it goes to Shea Curry, who almost lost last week. Shea very graciously says, as though she had a lot of choice, "I picked the one that seemed to be more me. She has an Apple laptop...I can identify with this chick."
When mentor Eva Jeanbart-Lorenzotti tells them they need to make a new bag for the belongings, the camera cuts to Shea's freaked out facial expression. "Oh my god, I didn't realize everything's got to fit in the bag. That laptop is as long as my thigh!" But, yeah, that's why they now make laptop bags.
That said, I do not envy Shea's task. It's hard to make a laptop bag look sexy.
Enter us "clients." Shea asks me how tall I am (5'2" and 3/4), and we immediately bond over...being short?
All the designers discuss their clients' likes and dislikes and Dreamy Rich and his client Sharon are possibly soul mates. Stylistically speaking, of course, as I believe he has a fiancee back home.
The designers hit Mood Fabrics (where else?) with 20 minutes to spend $100. Already Brian Burkhardt is all "I'm not so concerned with what my client likes as much as I am with what I like." But here's the thing: this challenge is all about the client!
Back at the workspace, Shea kicks off her stilettos and gets to work...freaking out over how big my laptop is. "There must be a sign on my forehead: Give Shea the hardest challenge."
Rich is stumped by his bag. "I'm a man of fire and metal. I just feel kind of out of my element." You're killing me, Rich.
The clock is ticking and tensions are riding high. We clients come back to check on the progress of the bags, and I innocently suggest an extra pocket in the bag if Shea has time. Shea does not like this one bit.
Marni is thrilled with handbag designer Diego Rocha's progress on her bag. Leigh is not really happy with Brian, which is fine because, as we now know, he doesn't give a flying fuck. And Roz requests a braided strap from James.
(Incidentally, Roz and I go way back. She's the maitre d' at Lure Fishbar, one of my favorite New York City eating establishments. She is also one of my favorite people on earth. I LOVE YOU, ROZ!)
And then comes the twist! We give the designers our old handbags so they can make a SECOND accessory. They all gasp. In the words of Rich: "Everyone was like, WTF?"
Christina Caruso meanwhile is looking pretty pleased with herself as Diego, whom everyone strives to beat in a bag competition, goes into a tizzy. Allow me to interject that I have been girl crushing on Christina's style since the taping of that episode. Girl's got style!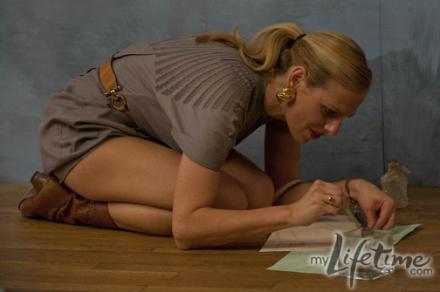 Shea is now possibly going to vomit over the size of my laptop, and Rich has had enough. "I'm just ready to shove a piece of leather in her mouth and shut her up. Maybe sew her lips shut."
On day two, we come back to see the finishing touches on our bags. Then it's off to hair and makeup for the runway. If I can be vain for a second, this is why I was nervous about this episode. I hate wearing too much makeup and that's exactly what ended up happening. Too much bronzer, fake eyelashes. I felt like an alien. The hair was crazy, but I was okay with that.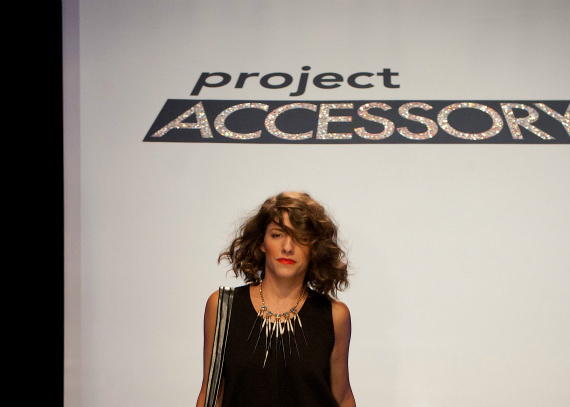 Molly, in a fabulous gold sweater, introduces the judges: Ariel Foxman, editor-in-chief of InStyle, designer Rebecca Minkoff (swoon) and jewelry and handbag designer Kara Ross, an--OMG--Michelle Obama favorite.
And, in the words of Miss Piggy, there moi is! Curls bouncing down the runway. This is the first time I'm seeing the bag on me (there were no mirrors backstage) and HOLY HUGENESS. Shea agrees.
Diego, Nina, Brian and Christina get the highest scores. Shea and the others are at the bottom.
Rich meanwhile is worried, but of course he's man enough to own it. "The work that I submitted is garbage, so it's time for me to take my medicine like a man and move on. It's the next challenge or home."
Ariel Foxman felt bad about my back. "To me that doesn't look like a bag, it looks like a carry-on. I think she would have chiropractic issues if she carried that bag through an entire season."
Kara Ross thinks the bag, because it goes east-west, makes me look hip-y. "You would never think a bag would make you look fat." Wait, did Michelle Obama Jewelry Designer Kara Ross just say my bag made me look fat? I'm okay with that.
James gets in trouble for having an impractical bag and for not finishing his second accessory.
Rebecca Minkoff can't "get past the execution" on Rich's bag. "I think it just looks like something...I can't..." she trails off.
The judges confer and back to moi: Rebecca Minkoff loves Shea's personal style, but thought the bag looked manly and "didn't enhance her client's assets." Kara Ross thinks I'm "a petite skinny woman and [the bag] made her look quite large."
And Diego wins! Shea is also safe, much to her shock and my relief (at the taping I was sent home after judging so I didn't learn the results until tonight). So is Rich. And, alas, it's James who goes home and I start to cry a little because a) he seems so sweet and genuinely talented and b) I've just had five glasses of wine.
Anyway, this recapping thing is exhausting! Back to you, Jessica.