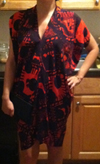 This past Saturday I bought my first Zero + Maria Cornejo dress (at left, in a blurry picture taken to show my mom), on Sunday I wore it, so by Monday I was really pumped to see her show.
As a designer who sits in the Michelle Obama arsenal, Cornejo has become a semi-household name, but I hope to see her star rise more. At the showing of her Fall 2011 collection, I had the same reaction I always have to the Michael Kors collections: I would wear everything that came down the runway.
Below are some Zero + Maria Cornejo pieces the first lady has worn, then tell us which Fall 2011 designs you'd like to see her in.