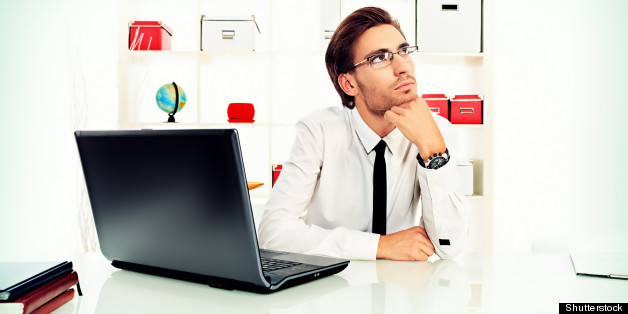 Jet-setting around the globe, meeting clients left, right and center, attending breakfasts, lunches, dinners and any number of conferences in a given month -- as a speaker, an attendee or usually both. Who am I? The CEO of a New York-based financial services marketing firm. Impressed? Well, that was the "upside." Who am I really? A small business owner and entrepreneur, with no cushy corner office, corporate health care, vacation days and other "perks" that are part of having a "job."
Most of the time I have mixed feelings on the lifestyle and commitment to that of a business owner instead of an employee. I had many happy years as a corporate nine-to-fiver (more eight-to-11er) at the global world headquarters of Kelly Services -- inventors of the temporary help industry (Kelly Girl).
Today it's all different. I am the CEO. And not only have a learned how to cope with being on almost literally 24-7, I have also learned that it is almost completely on-the-job training. While I know that many colleges and universities offer degrees in entrepreneurship and have packed audiences of eager young guys and gals learning what they figure are all the tricks of the trade, I find it difficult to "learn" the myriad of skills that are required to lean in, juggle and give back.
Interestingly enough, in this 'start-up" era, especially in certain markets like New York City, I find that when I introduce myself as either an entrepreneur or small business owner (in either a business or party setting) people's ears prick up. Almost all "corporate types" express curiosity, jealousy, and many times express their desire to run their own businesses. It's interesting that the mere mention that I am a small business owner makes some people immediately sigh. Then, they will lament, confess or even "apologize" for not having the fortitude to quit their jobs.
Some say they envy me, but they need to walk in my high heels for one day in Manhattan.
My own story transition from corporate worker to entrepreneur has certainly not been smooth -- all entrepreneurs hit rocks and potholes and dead ends along the way to figuring out what works. I have had many ups/downs and downs/ups over the past five years, and I expect many more in the future. In fact, to grow your business, you must know that part of running a small business is the three steps forward and one step back rule. And if you expect to scale your business, you had better plan, seek professional advice, and more.
My hope is that this blog will be the start of an ongoing dialogue for those readers who already run a small business - a place for them to post their most important lessons learned which I most likely have neglected. For those considering starting a business, grab a glass of wine before reading forward! As we all know, there is no "perfect job," and each existence has its pluses and minuses.
So here are some things to consider:
Title = CEO. Begin at the beginning: what does your title exactly mean? There is no caste system in small business related to "title." When I had a corporate job, I spent a substantial amount of time in the ladies room (and elsewhere) discussing titles, promotions, salary grades (manager vs. director-sized office, for example) and other underpinnings of institutional success. Title doesn't equal dollars in small business.
Multi-tasking. When you're running your own small business, there is no such thing as multi-tasking. Multi-tasking requires the "tasker" to make an effort to take on many tasks at once. I have performed each and every task that anyone who works for me is currently assigned to do. I have typed, answered the phone, copied, scanned, and provided written notes, designed/executed client marketing campaigns -- all simultaneously. When you are an entrepreneur, you must be ready for anything at anytime -- at least in the beginning.
Benefits. It's easy to figure out that if you're going to start up your own business you're not going to get a lot of time off. Actually, you're not going to get any time off. But there is a small silver lining; if you want to take four months off or work remotely, you can certainly do that. The benefit of entrepreneurship is that the decision of how much or how little you want to work ultimately rests with you. The secret, which frankly I haven't figured out yet, is finding a balance.
Mental Health. I would say this is the most critical element to sustaining a small business. In a corporate environment, there is always the suspicion that people are not helpful or friendly. For a small business, it's a "skill" to ascertain what is truly a good meeting vs. who is just being polite. Who thinks you have a good idea vs. who will pay you. Many proposals, meetings, conversations that lead nowhere (meaning to the bank...) Ego strength is critical here.
Stamina. A friend recently told me that he was thinking of starting a small business to spend more time with his family. I almost choked. Of course do have some time and flexibility, assuming that your client work doesn't suffer, so that may be more appealing for some than the typical corporate schedule. But if you are looking to scale your business that increasingly becomes less of an option, at least to start. The quality for life is a boundary with which I still struggle a bit. Here is what I mean: people who work in an "office" environment almost totally are not "prompted" to work outside of that environment. For me, I am always working, thinking and doing. As a small business owner, one of the most challenging things is to turn off the lights in the office while your smartphone is knocking and your laptop is blinking.
One thing I will humbly say is that I am always grateful when people compliment my firm's work, or mention something I have written. There is not one day that I don't feel proud of the nothing/something accomplishment -- The Rudin Group was something that didn't even exist on a paper napkin five years ago. As we all know, it takes a village, but only you can decide for yourself: To be or not to be an entrepreneur. That is the question.