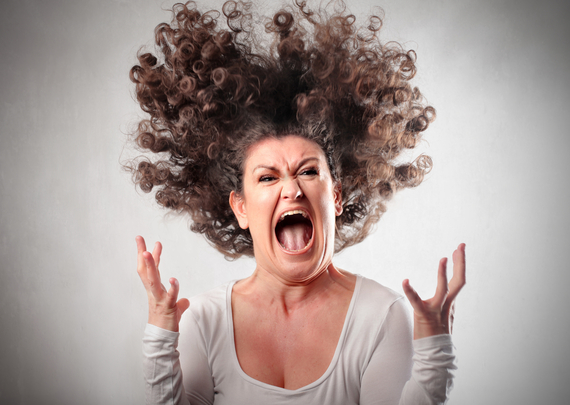 Want to know what sucks the most when writing for your business? That there's no "perfect" formula, writing template or magical potion that guarantees people will download, buy, subscribe or otherwise do what you're asking of them.
So what should you do?
You can either smash your computer to tiny, little pieces or you can learn to write in a way that gets people to do all sorts of dirty things to you -- like smack the "buy" button and whip out their credit cards. Yeah baby!
You've spent your hard-earned coins on that snazzy MacBook or PC, so let's go with option No. 2. If you're anything like most folks, you learn very well from examples, so I've got some Qs from hustling entrepreneurs like you and some A's to help you sling seductive sentences that capture hearts, minds and dollar bills.
1. Frustrated Fran
Fran is an online relationship coach. She's been busting her butt posting videos on YouTube, writing blog posts and sharing them on Facebook, Twitter and Instagram. The only problem is no one watches her videos or comments on her posts. So she's frustrated and wondering what she's doing wrong.
Real Talk: Kudos to Fran for putting herself out there. It's not easy creating and sharing videos and blog posts every week. Trust me. Here's what I told frustrated Fran:
Dear Fran,

Writing is hard. You have to consider so many things -- your writing voice, the voice your audience prefers, toning down the sales talk, being relatable, and so on. Thinking about all this stuff every time you write something is enough to drive you nuts!

But here's the thing, it all comes down to being you. Selling is a pretty critical part of running a business, but you cannot and will not sell one thing until you're comfortable with your writing voice. There's a method to this crazy we all call copywriting, which I share with clients in my Copy Clinic. But beyond that, you've got to be able to show prospects what I call the "promised land" and write in a way that makes your ideal client trust that you're the right person to get her there.

So for instance, let's say you're sharing a new Facebook post and you add the link and hit send. But no one likes or comments. Try spicing up your post with a little teaser text:

Raise your hand if your man has ... I'm right there with you and have had my heart ripped outta my chest a time or two -- and it ain't fun. I put together this little video to, "_____" to help you see the signs early. BTW -- you're going to love, love, LOVE #5.

See how I added emotion, piqued curiosity and made the post more relatable? You're not selling directly. Instead you're letting your ideal client inside your world and telling her how you can solve her problem.
2. Confused Candice
Candice is an online business coach who loves to write but can't craft an engaging headline to save her life. Because of this, her ideal clients are missing out on all the goodness she has to offer since they're not intrigued enough to click on her articles and blog posts. She's stuck and confused about how to write killer headlines?
Real talk: Writing a few words is so much more difficult than crafting a whole article. Heck, I still test my own headlines. Here's what I shared with Candice:
Dear Candice,

Writing headlines is hard and takes trial, error and testing. With that being said, as a copywriter I have several tried and tested plug-in headlines that work like a dream when used appropriately.

I spill the tea on those when I coach clients because copy is no good without a great headline. For now, here are a few headlines you can play with:

Who Else Wants To.../Raise Your Hand If ...
The X# Early Warning Signs Of ...
Get Rid of (Insert Problem) Once and For All
The Lazy Entrepreneur's Way to (Desired Result, i.e. Write Website Copy)
3. Terrified Thomas
Terrified Thomas is a marketing guru. He can plan a marketing strategy like nobody's business but when it comes to writing sales copy ... he's not confident. He's terrified that he'll use the wrong words and won't produce "quality copy." Thomas is left wondering how to know what quality copy even looks like.
Real talk: Bravo to Thomas for being a marketing guru. Having analytical expertise is important in our world of movers and shakers. Here's my advice for Thomas:
Dear Thomas,

Quality copy sounds like you're chatting with a friend about your problems and your discussing a way to overcome the issue. It's engaging and should make you blush from the realness (**think: did she REALLY just say that?**).

It should make you feel like you know the person and can trust his words. And most importantly, it moves you to want more from this person -- buy his products, download his freebie, jump on a call, follow on Twitter ... build a relationship.

When you get folks loving you and your brand simply from reading words on a page, you've written quality copy.
These are just a few of the questions I get asked about writing website copy that converts. Do you have any others to add? Let me know in the comments.
Passionate creatives, business coaches and authors turn to Apryl Beverly, MBA, the boss lady at BAAB Writing and Marketing Services, to STOP hustling for that "yes" and START capturing the hearts, minds + pockets of their ideal clients. Together, they sling seductive sentences that make people want to do all sorts of dirty things -- like whip out their credit cards and smack the BUY button! Get the Write Like a Boss! Guide and finally get the attention your writing deserves.