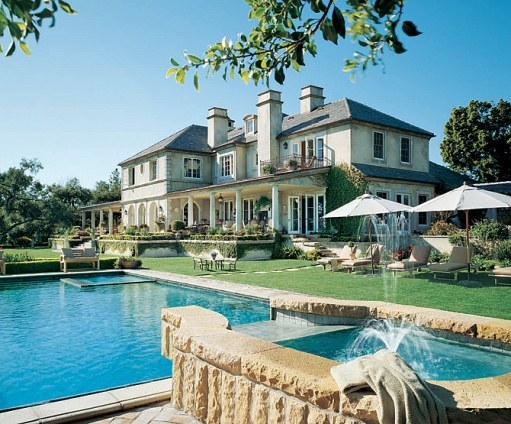 (photo: Mary E. Nichols)
The house that actor Rob Lowe shares with his wife, Sheryl, in southern California is "a visual feast," says interior designer Monique Lafia. It is situated on six acres wtih citrus groves and has views of the ocean and the mountains. The rear, or south facade, shows the Neo-classical architecture style that was inspired by the Lowes' love of late-18th-century English manors.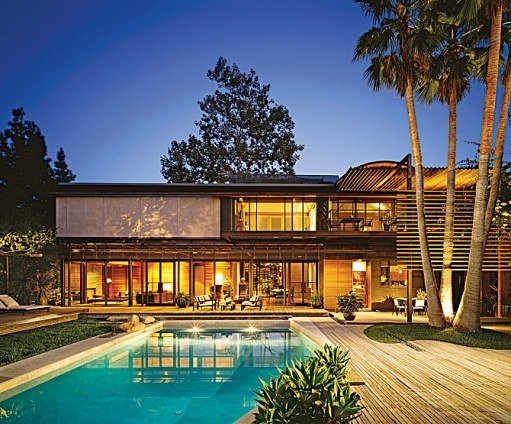 (photo: Erhard Pfeiffer)
"This was a definite joint effort," actress Demi Moore says of the 1950s canyonside house in Beverly Hills she renovated with her husband, actor Ashton Kutcher. For their renovation, the couple asked for help from Los Angeles interior designer Brad Dunning. "It's their love nest," says Dunning, "and they collaborated on it. They counterbalance each other very nicely. Both have tons of style and both wanted a stylish house. His strong input was functionality and comfort. Hers was style and design." Above: the rear garden includes a spacious deck and pool.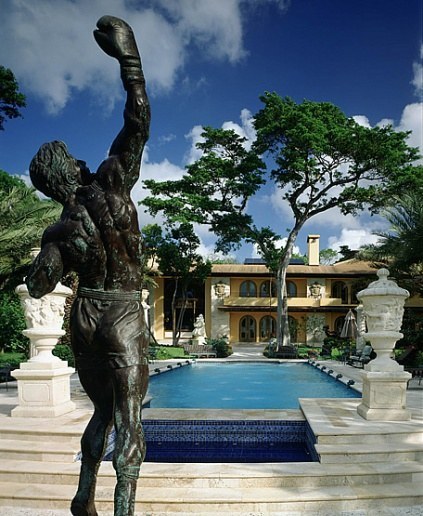 (photo: Dan Forer)
"Now tell me, do you think this place is pretentious?" asks actor Sylvester Stallone about his Miami home. "Because I've always hated those Palm Beach piles with a forty-foot dome over an Olympic swimming pool lived in by some four-foot bald guy." Set on 14 acres, the house, a Neoclassical-style villa he shares with his wife, Jennifer Flavin, and his daughter, Sophia Rose, was in a state of disrepair when the actor purchased it in 1993. A bronze of Rocky Balboa is at one end of the pool behind the house.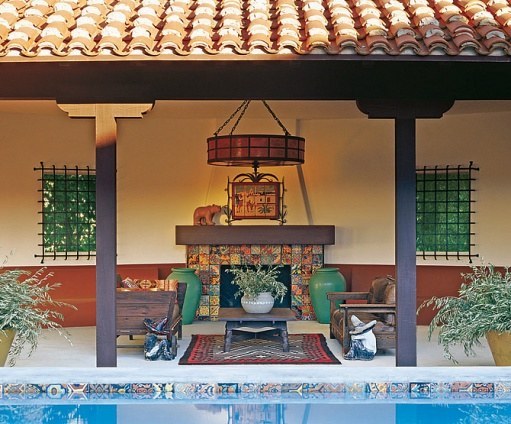 (photo: Tim Street-Porter)
The pool and cabana of actress Diane Keaton's circa 1927 Spanish Colonial Revival house in Bel-Air. "I'd always steered clear of color," she says, "because I don't know how to utilize it--until, one day at a swap meet, eyeing the ubiquitous California tile tables, going for $200 a pop. I thought, wouldn't it be interesting to tear them apart and make a huge bar in the kitchen--which extended itself to the fireplace, cabana and pool tiles." Keaton, who shares her home with daughter Dexter, eight, and son Duke, four, says, "Frankly, what the children like best is the swimming pool. They spend a tremendous amount of time in the water, even in winter."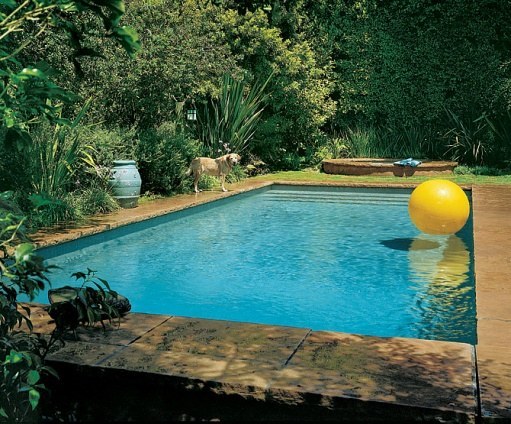 (photo: Mary E. Nichols)
"That I get to raise my kids nearish the ocean, in a home not dissimilar to the one I grew up in, surrounded by eucalyptus trees and big dogs and a pool--an almost mirror environment of my childhood--is something I'm truly grateful for," says actress Jamie Lee Curtis of her 1920s Spanish Colonial Revival in Los Angeles. "My goal for the house was to bridge something old and tired with a much more contemporary aesthetic, which is the way we live. Since we've lived in this place, we've done every inch of the landscape and every inch of the hardscape as well as the interiors," says Curtis, who collaborated on the grounds and the new pool with landscape architect Mia Lehrer. Her husband, Christopher Guest, was first attracted to the residence because of its parklike setting.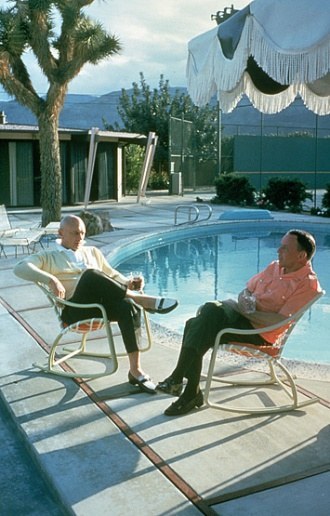 (photo: John Bryson)
The Rancho Mirage home of Frank Sinatra, located along the 17th fairway of the Tamarisk Country Club, included 18 bedrooms, 23 baths and an oval swimming pool open to the golf course. "Sometimes golfers actually walked in," Nancy Sinatra writes. "One clown drove a golf cart right into the pool." Above, Sinatra sits poolside with actor Yul Brynner, a close friend and frequent houseguest.
See more: Inside Ellen DeGeneres' Amazing California Estate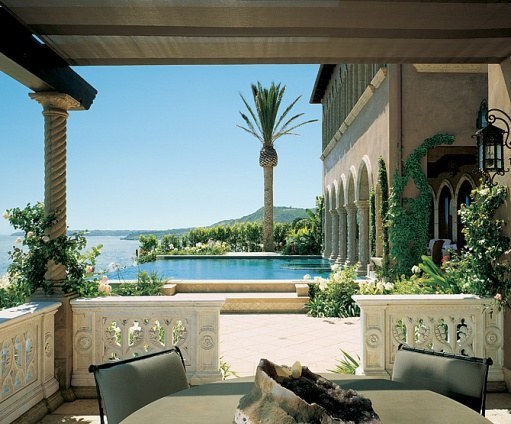 (photo: Mary E. Nichols)
Cher commissioned designer and longtime friend Ron Wilson to decorate an Italian Renaissance--style residence in Malibu. "I'm comfortable here," says the singer-actress. "This house ... this house wraps its arms around me. The infinity-edge pool is where I spend all of my time in the summer," says Cher.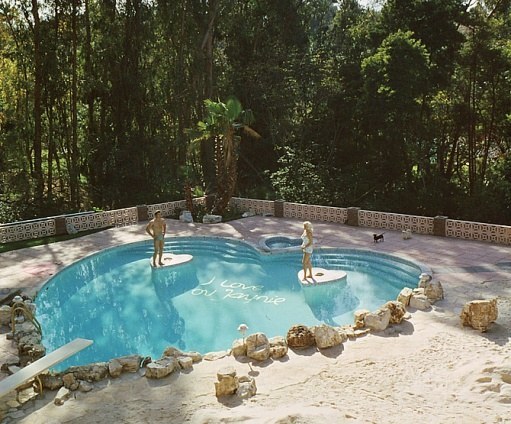 (photo: Allan Grant)
Actress Jayne Mansfield announced her ambition to have a house in Beverly Hills and a million dollars--and to be a star. She demanded "a heart-shaped house with a heart-shaped pool" as a a precondition for her marriage to Mickey Hargitay. Though Mansfield bought it, she told reporters that the house, behind its iron gate with J and M entwined in a grillwork heart, had been a gift from her fiancé.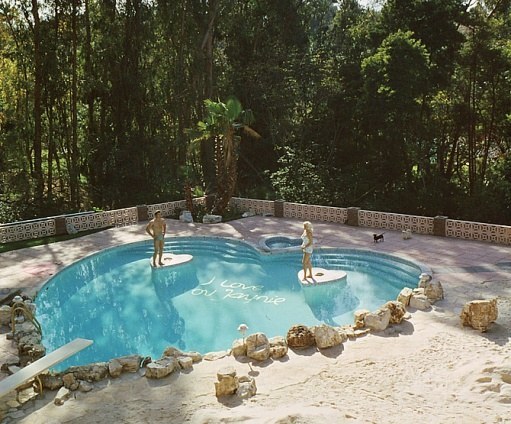 (photo: Durston Saylor)
"I can't call it modern--it's really a mid-century-style home," actor John Travolta says of the Florida house he shares with his wife, actress Kelly Preston. "Building a home might be the most difficult challenge anyone encounters, and I'm not making light of how hard this was,"admits Travolta. "It took me eight years to get it going." "The pool cabana is a grownup playroom," says designer Sherri James. "John wanted to use it for dancing, which is why it has a big open space and stone flooring." A 1989 painting shows his Learjet. John Adams, of Land Design Group, used tropical vegetation by the pool.
More from Architectural Digest:
Inside Jennifer Aniston's Gorgeous Beverly Hills Home
An Exclusive Tour of Caitlyn Jenner's Malibu Home
Gisele Bündchen and Tom Brady's Incredible L.A. Home
10 Hotels with Unbelievably High-End Amenities
Also on HuffPost:
PHOTO GALLERY
Celebrity Kitchens