Mayer Rus for Architectural Digest.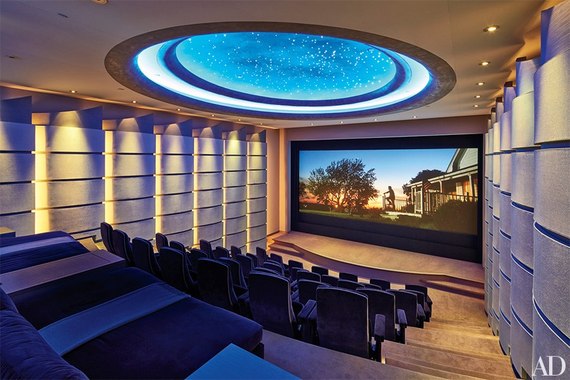 (photo: Roger Davies)
Forget about red velvet seats and old-timey popcorn machines. In terms of picture and sound quality, there are few home theaters in the world that rival the one installed in director Michael Bay's new Los Angeles retreat. The state-of-the-art screening room was conceived by theater architect and acoustical engineer Jeff Cooper, a mandarin of modern theater design whose client list includes Francis Ford Coppola, Martin Scorsese, Steven Spielberg, and Robert Zemeckis. For the tech-savvy as well as the Luddites among our readership, Architectural Digest asked Cooper to explain what makes Bay's screening room so extraordinary.
The 40-seat digital theater is designed "with steeply inclined, curved rows of stadium seating to maximize sight lines and assure optimum hearing lines," Cooper says. The Stewart MicroPerf screen, which measures 12 feet by 24 feet, has thousands of minuscule perforations to allow for what he calls "acoustic transparency" from the five front speakers and two subwoofers mounted directly behind the screen. A 4K Barco digital video projector, mounted in the projection room, delivers image brightness and clarity that are nothing short of breathtaking.
Bay's theater is also outfitted with Dolby's avant-garde Atmos surround-sound system, which operates on a network of independent amplification channels. In addition to the seven units placed behind the screen, the room has 18 powerful speakers hidden in the side walls, ceiling, and rear wall--the sound comes from everywhere except the floor. The entire sound and video system can be operated by a projectionist or by Bay himself using a wireless Crestron system. Furthermore, the system is integrated with Bay's home editing suites and postproduction facilities to enable viewing of dailies and other material.
Click here for all the details of Michael Bay's Home Digital Theater.
More from Architectural Digest: