By Jacqueline Terrebonne for Architectural Digest
Architects and decorators offer expert advice and inspiration for creating gorgeous entertaining spaces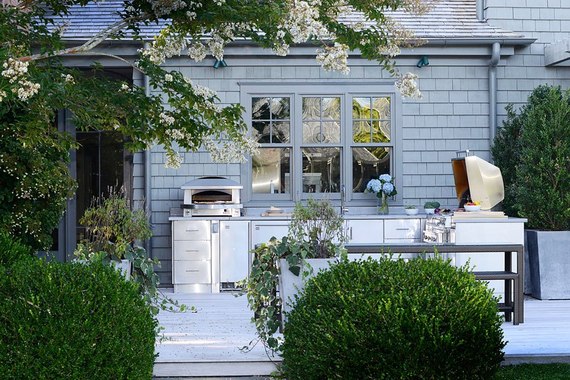 A Hamptons estate is outfitted with stainless-steel appliances by Kalamazoo. | PHOTO COURTESY OF KALAMAZOO OUTDOOR GOURMET
1. Nate Berkus
Interior Designer
"Indoors or outdoors, it's all about easy entertaining--having everything at your fingertips. To understand what you want your kitchen to be, you must know how you plan to use it."
2. Marc Turkel, Leroy Street Studio
Architect
"Outdoor kitchens are becoming increasingly well equipped and more and more of a focal point for outdoor activities. Humble stand-alone grills have morphed into complete built-in environments with every major appliance--even flat-screen televisions. Handle things right and you won't ever have to go back indoors."
3. Richard Beard, Bar Architects
Architect
"Lighting is key to an outside setting. Devote the same attention and sensibility to it as you would any inside room. Otherwise you'll be running around with flashlights."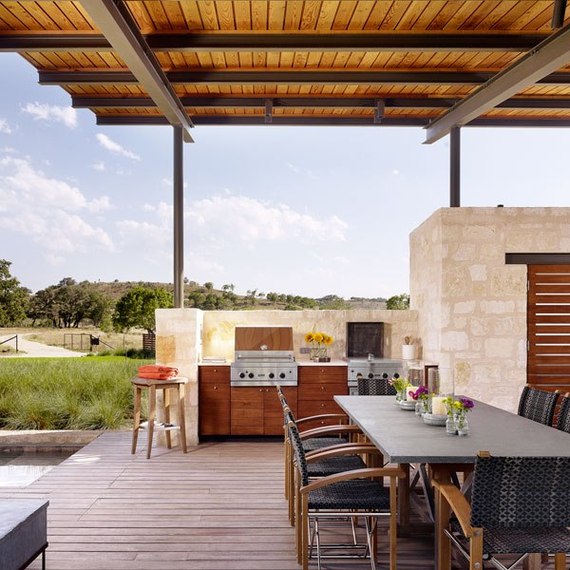 A Texas Hill Country pavilion designed by Lake|Flato. | PHOTO: CASEY DUNN
4. Karla Greer, Lake|Flato
Architect
"For the ranch compound of a family of accomplished cooks, I designed a pavilion with a gently sloping steel-and-timber roof that shelters a full working kitchen. Viking appliances are hidden behind slatted wood doors, and there's also a fire pit, which allows for more rustic cooking opportunities."
5. Richard Landry
Architect
"Two important things to consider are safety and layout. As children may be running around, you always need to make sure that the barbecue is not on a main path of traffic. And if the hosts are planning on doing their own cooking, you need to situate the barbecue so they can face their guests while grilling."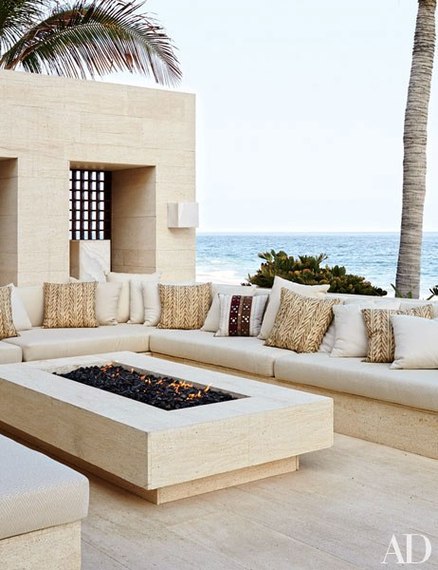 Cindy Crawford and Rande Gerber's poolside fire-pit lounge in Los Cabos, Mexico. | PHOTO: BJÖRN WALLANDER
6. Elissa Cullman, Cullman & Kravis
Interior Designer
"A space should be integrated into the overall aesthetic of a residence--the outside seeming like an organic extension of the inside. One key development has been the explosion of new weather-resistant fabrics. These have totally revolutionized outdoor decorating."
7. Juergen Riehm, 1100 Architect
Architect
"We advise marine-grade finishes for their greater resistance to weather. Our priority is durability."
8. Celerie Kemble
Interior Designer
"To break up the endless sea of matching metal and teak furniture, I often use poured concrete for counters and tabletops. It can take the abuse of the elements but adds an earthy softness."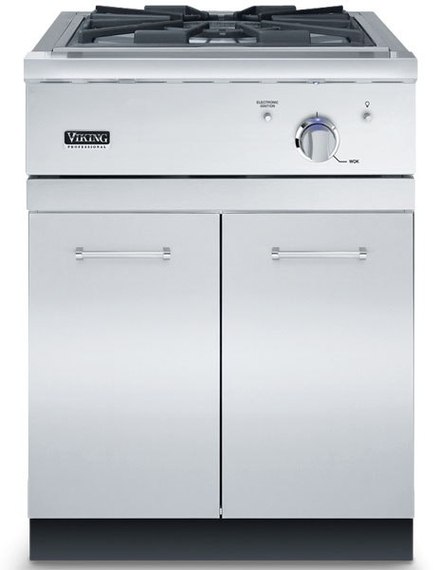 Viking outdoor cooktop | PHOTO COURTESY OF VIKING
9. Joel Barkley, Ike Kligerman Barkley
Architect
"I always study how an outdoor kitchen looks from within a home. No matter how well it's designed, you still don't want it to be on permanent display."
10. Jerry Hupy, Shope Reno Wharton
Architect
"The best outdoor kitchens are self-contained. They should account for everything: cooking, refrigeration, dishwashing, and cabinetry."
See the rest of ultimate outdoor kitchen tips on architecturaldigest.com
More from Architectural Digest: