Champagne is for Lovers -- and Everyone Else
They say Valentine's Day is for lovers. It's a romantic day where people feel the need to express their love for each other. Me? I'm cynical and really don't care when I can say "I love you" any day of the year. That said, while many couples will fawn over each other across the table and give each other expensive jewelry or cheap heart-shaped chocolate treats, we'll be having fun with friends at a dinner party. Will we drink Champagne? Likely. Will we have wine and scotch? Definitely. But for those of you who want to toast your love and want to do it with a bottle of bubbly, here are suggestions of some of my favorites. They won't break the bank, but they will tickle your nose and make you happy -- even if you, too, are a cynic.
Piper-Heidsieck Brut Cuvée, N.V. and "Baby Piper"


With its bright red and gold label, this is one of the most easily recognized Champagnes around. This pale gold, fresh sparkling wine comprises Pinot Noir (55 percent), Pinot Meunier (30 percent) and Chardonnay (15 percent). The result leads to a palate of tart apples and ripe pear with hints of sharp citrus and pineapple. You can drink this bottle on a special occasion or just sitting around the house on a Sunday morning at brunch (mimosas!) with good friends. It also comes in handy individual sizes, so you can take it on a picnic, to a tailgate or sneak it into your nephew's piano recital. The 750ml size is available at Trader Joe's (3745 N. Lincoln), $34.99; the "Baby Piper" is at World Market (2844 N. Broadway), $9.99 each.
Saint-Hilaire Blanquette de Limoux Blanc de Blancs Extra Dry 2004


If the length of the name has you exhausted, you'll be happy when you finally get to kick back with a glass of this delightful sparkling wine. Produced from the fairly obscure Mauzac grape (which is blended with about 10 percent Chardonnay and five percent Chenin Blanc), this is a dry but slightly sweet wine that goes great with dessert, especially rich fruit tarts and sorbet. However, because it's a complex bottle, it can be enjoyed with fish or even chicken. Not only is this smooth and not overpowering, it has a great history -- Benedictine monks first started making Blanquette de Limoux in 1544, more than a century before Dom Pérignon first made Champagne -- laying its claim to possibly being the oldest sparkling wine in the world. Available at Sam's Wines & Spirits (1720 N. Marcey), $11.99.

Duval-Leroy Rosé de Saignée, N.V.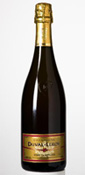 Duval-Leroy has become one of the most respected Champagne houses, especially since Carol Duval-Leroy took the helm more than 15 years ago. The care that goes into her wine is obvious the moment it touches your lips. Produced in the traditional saignée method, the grapes are left to soak in the juice for 16-24 hours during the maceration period, allowing for just a bit of the color to blend with the wine. The result is a gorgeous pink hue erupting with bubbles, with a nose offering delicious red fruit and a taste combining berries and vanilla. This is truly a celebratory Champagne that's worth the splurge -- and it's one of my favorites around. Available at Sam's, $55.99.