A Wine Column For Regular People
Who wants wine? The better question: who doesn't want wine? With the number of wine shops that have opened in the city in the last few years, we have endless options for great grapes from around the world. So why not patronize them and get yourself some great wine?
With that, I kick off a new wine column here on HuffPo offering wine options for everyday drinking and occasional splurging. A lot of people tell me they like wine but don't necessarily know what to look for. They're intimidated when discussing grapes, vineyards, Old World vs. New. And that's OK. Sure, I'm writing a column about wine, but do I claim to be an expert? Am I a certified sommelier? Absolutely not. I'm just a guy who likes wine and doesn't think you have to spend a fortune to get something delicious.
In each column, I'll discuss a few affordable wines in a way that's easy to understand. Wine should be drunk, not necessarily over-analyzed and picked apart. You want to know what's good (and sometimes what to steer clear of) and what food the wine pairs well with -- so let's not worry about climate notes and terroir and when the grapes were harvested and under what conditions. Sure, sometimes that helps, but let's just get right to the wine.
Jacob's Creek Reserve Shiraz 2005



When you hear Shiraz you may think of Australia and when you think of Australian Shiraz many people first think of Jacob's Creek and Penfolds, two big wineries that really helped boost Australia's wine image to mainstream America (but also allow people to overlook the other amazing wineries Down Under). This is a wine I might normally pass by but seeing it at the Wine Discount Center (which I wholeheartedly trust), I decided to take a chance. And I'm glad I did. Since the wine is under $10, the "reserve" name was a little surprising, but the wine speaks for itself. It's a great buy -- and you shouldn't be put off by the seemingly low price. This medium-bodied red is drinkable now, although you can probably keep it for a bit, but why bother? It's so cheap you can just get more -- 90,000 cases were produced. Its crimson color takes over the glass and gives off some nice blackberry, allspice and green pepper scents. It's fairly light in your mouth at first but gets bolder the longer it's open and offers solid blueberry and bright cherry notes. Its soft tannins make it a great, everyday drinking wine but can definitely hold its own against a good steak. The Reserve Shiraz is available at the Wine Discount Center for $9.99.
Stellar Winery's "Live-a-Little" Rather Ravishing Red 2007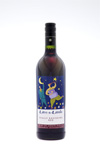 The name is a little bit of a mouthful but fortunately the wine, a South African Shiraz, isn't as overwhelming. In fact, the wine is pretty innocuous. As my partner said, "it's like drinking juice." It's very clean and smooth, with nice raisin, blackberry and black cherry notes. It's a good entry-level, everyday red at a great price point: $9.99. While it's not a knock-your-socks-off wine, one of the reasons I like it is that it's Fair Trade Certified. Stellar Winery is employee owned -- its workers have a 26 percent stake in the cellar and 50 percent in one of the winery's farming operations. Stellar workers are given free housing, electricity and water -- and schooling and childcare are subsidized. Profits from the wine's sales go into Fair Trade projects, like a computer center at a local school and a vineyard adjacent to the school where the kids can learn organic farming skills. But the wine is also truly organic, meaning there are no added sulfites or sulfur dioxide -- leading to the clean taste. This wine pairs well with red meats and burgers -- or even just a good TV veg-out after work with some cheese. Overall, it's a decent wine, but by buying it, you're supporting good people who are doing good things. Live-a-Little wines are available at Whole Foods for $9.99.
Albert Bichot Pinot Noir Bourgogne Vieilles Vignes 2006



I was at Sam's Wines in the South Loop looking for a bottle of 2005 Joseph Faiveley Pinot Noir -- a great Burgundian wine at a fairly reasonable price (if you do want to pick up a bottle of this Faiveley, you can find it online). Sadly, I was told they didn't have any and didn't think any of their other stores did either. That said, the guy helping me suggested another bottle from the same region, Bourgogne. Great choice. It's a lovely wine with a light garnet color and hints of vanilla and cherry on the nose. The wine is so easy in the mouth, that it was somewhat hard to not drink the whole bottle. We had it with some red pepper and sweet onion chicken sausage (from Trader Joe's), organic tomato soup and a whipped-up batch of roasted pearl onions, potatoes, garlic and apples. The bright fruit and cranberry tartness of the wine surprisingly went well with the meal. It has a smooth yet slightly dry finish that balanced well with the sausage's spice. And when dinner was over, we kept drinking. Did I mention it was hard to not drink the whole bottle? Available at Sam's Wines for $15.99.