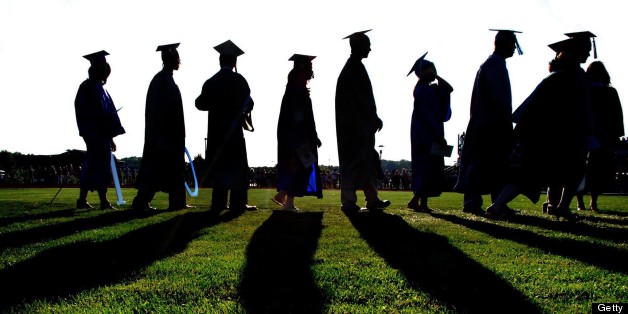 Upon graduating, you have presumably spent four years in an environment where there is a strong emphasis on getting into college and graduating, but not usually a blueprint for when you get out. Okay, now what?! It's a simple phrase that can be applied to almost any situation and all graduates. In college, once you receive your diploma, you are at the end of one journey, but also at the beginning of another. In high school, you were encouraged to play sports, do community service, run for student council, play an instrument, and take the SATs, all to look better for colleges. College acts as a giant umbrella when you transition from high school. There are majors to declare, dorms to live in, and peers to bond with. Not only can you can rely on older students, family members, and the college's staff to assist you, guide you, and answer questions, but all of the options are presented to you. However, when you graduate from college, there is little to no structure about what comes next. So what are you supposed to do?
Before I even collected my paycheck from the first job I had out of college, I started a blog to document my post-graduation struggles. It wasn't funny at the time, but I convinced myself that one day, I would look back on my situation -- ramen noodles, sleeping on couches, the overall thought of, "Why the hell am I in New York City?!"-- and laugh. A few entries piqued my interest as to what my friends and peers were up to. I would send emails or call friends to check in, see how their job interviews went, or just shoot the shit. I soon realized that I wasn't the only one who was unsure and wondering what would come next, especially since I, along with most of my friends, had graduated in the spring of 2009, one of the worst times to graduate in decades.
After spending that first summer at home in California, I moved to New York. I didn't have a job or an apartment, and even though the economy was bad, New York seemed to provide the best opportunity for a college graduate. It offered different industries as well as high turnover in hospitality positions in restaurants, bars, and hotels. I stayed with a friend who was a senior at New York University at the time, along with his five roommates. My days consisted of waking up extremely early not because my alarm went off, but because of the smell of stale beer in the air, August humidity, and overall discomfort from sleeping on a couch that had been handed down from college student to college student. I would go onto Craigslist knowing a migraine was not too far away and look for jobs under every category from "Government" and "Education" to "Russian-speaking Nanny" and "Security Guard."
I came up with the idea for this book after thinking about how there are guidebooks to cities that would list where to eat and what to do, and that there should be something comparable for those who are finishing college. College graduation is, to some extent, similar to going somewhere you have never been before, except it isn't a vacation or business trip. I wanted to get as many stories and as much advice as possible; I was just as eager to hear what it was like to get a job with a big company like Google or Goldman Sachs as I was for the person living at home, working as a babysitter, and trying to build their photography portfolio. About four months into my endeavor, I wanted to go a little bit further and thought it might be interesting to get the stories of older, more established graduates, so they, too, could recount their senior year and what they did during their "first year out."
I sought out as many different industries and professions as I could in order to better relate to college graduates and people in general. While most books for those out of college tend to focus on tips and strategies for landing the perfect job, or how to network properly and correctly tailor your résumé, few, if any, books are centered on the feelings, thoughts, and sense of unknown that recent graduates experience. If you are a biology major who wants to go to medical school, or a music major who is now interested in becoming a writer, you will be able to find multiple stories that are informational, inspiring, and full of practical advice.
A significant number of graduates featured in this book started off with a job unrelated to what they studied in college, let alone one they had an interest in. Others were doing exactly what they planned for while they were in college, while some were taking a circuitous path as they navigated their post-college lives; the chapters in this book reflect such a variety of paths. The first part of each story or interview gives some back story on the individual: their thoughts and feelings during senior year, what ideas they had for after graduation and how and why they changed, and the steps they took while planning their first year out. The latter half consists of points that the reader can take away from each story: senior year regrets, what they learned through college, thoughts on living in the real world, and advice for graduates.
Everyone has a story to tell about their senior year in college and the first year out. For some, it was a struggle capped with anxiety, doubt, questions, and feelings of failure. For others, it was a year spent traveling, preparing for graduate school, working a random job, and dealing with the unknown as to what would come next. No matter what your story is, and whether or not you think it is interesting, you still have one.
Visit Ari King's website www.ariking.com and order Ari's book here (if Amazon says 'temporarily sold out,' one may still purchase the book and go through with the ordering process and the book will be shipped).