Every day, along with 40 other daily givers, I have the privilege of making seed grants to up and coming social change leaders around the world. Our team at The Pollination Project is happy to share the extraordinary people and projects that our community of daily givers is honored to support this week.
Accessibility in Chicago. Students at Jane A. Neil Elementary school on Chicago's south side, remarked that their school did not have an accessible play area, even though more than 30% of the students who attend the school have physical disabilities. Teacher Valerie Hardy, along with an after school club, are building the Eagles Nest Enabling Garden. This outside garden area and outdoor classroom will be accessible for all the students in the school. The garden will be used for recreation and as an outdoor learning area.
Dance in Florida.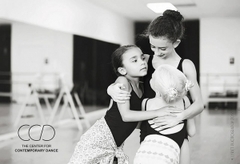 Eleven-year-old dancer Georgia Bernbaum wanted a way to provide dance lessons to local homeless youth. With support of the Center for Contemporary Dance and her dance teacher, Dario J. Moore, Georgia created The Dance Happy Project which brings dance to children at the Coalition for the Homeless of Central Florida. Dance will be taught by a professional dancer and educator who has more than 15 years of experience teaching. Georgia shared, "I started this project because I want other children to have the experience I do when I dance. I am very lucky because my parents can send me to dance class, but many children are not as lucky. Therefore, I want to give the opportunity to take dance lessons to the homeless children in my city."
Parrots in Italy. Alicia Andrews is president of a rescue and rehab association for parrots in Trieste, Italy. She created SOS Pappagalli (SOS Parrots), to address the dire circumstances that most parrots face after being sold by breeders. Alicia explains that, "Many of our parrots come in a bad way, both physically and mentally, and they are all given the chance to fly, to bathe, to interact with other parrots and to eat fresh foods." SOS Pappagalli will both educate people that parrots belong in the wild, while also providing a place to rehabilitate parrots which their owners no longer want to keep.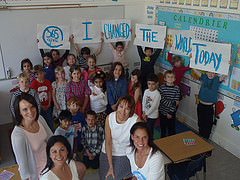 Teaching Generosity in Vancouver. Jacqueline Way believes that teaching children altruism at a young age will cause a ripple effect through schools, communities, and the world. Jacqueline and co-founder Sarah Donaher created the 365give Challenge to help teachers develop a culture of giving in their classrooms, deepening students' empathy and social responsibility beyond the school and into their communities. Starting out as a simple project between a mother and her young son, 365give has now been introduced to over 275 students, in 13 classrooms, and aims to become a global movement that helps children change the world one 'give' and one day at a time.
Students in California, Building a School in Kenya. Abigail Hjelmstad is a middle school student in Marin County California who, as part of her Community Service Class, and with the support of School Superintendent Chi Kim, helped to create the Building a School in Kenya project to raise money for kids who don't have the same luxuries and privileges as she and her fellow students do. Currently, in Kenya it costs $10,000 to build a school. The California students have led efforts to collect coins and sell lemonade at their school to help raise money. "We are starting this project because we believe that we are extremely lucky to have the resources and privileges we have access to," they said.
Community Garden in California.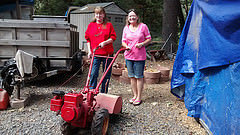 Jenny Lowrey remarks that nutritional education saved her life. At one point, she weighed 270 pounds, took 15 medications and survived seven heart attacks and a stroke. She is now 130 pounds and takes four heart medications. Jenny feels that through her non-profit, From the Ground Up Farms, Inc., she can save someone else from the same fate. Living in Chico, California, Jenny realized that her community has a serious food security issue and she doesn't believe healthy organic food should be a luxury that only the wealthy can afford. "I'm starting community gardens on empty lots, beginning in our poorest neighborhoods, with residents of all ethnicities and backgrounds learning to garden. As a by-product, these gardens will bring neighborhoods together by building bridges between cultures as they work hand in hand feeding their families," explains Jenny.
Water Bird Sanctuary in California. Last year when someone brought her a duckling who had been dumped at a park in Felton, California right after Easter, Ariana Huemer became aware of the dire situation involving pets purchased for holidays. In collaboration with Hen Harbor Sanctuary, Ariana is creating the Build a Duck Pond project to help waterfowl who come to the sanctuary after escaping abusive situations. Hen Harbor is a non-profit organization started to provide permanent sanctuary to hens rescued from the factory farming. Currently they have 100 permanent residents at the sanctuary. "Right now, the sanctuary is set up mostly for chickens. Having the sanctuary properly set up with a waterfowl habitat will help facilitate public education and awareness of the plight of domestic fowl and the commitment involved in caring for them. Basically, sanctuary visitors interacting with the waterfowl in a natural environment will learn that ducks and geese are not toys to be purchased on a whim and dumped," said Ariana.
Want to be part of the joy of giving? Join our Daily Giving Community, or simply create your own giving practice. It will change your life!