In 2013, I began giving a seed grant every single day of the year to a social change visionary with a practical plan to make their community and the world a better place. Now nearly 40 others have joined me, each of them giving $1 or more a day to inspiring projects led by extraordinary individuals all over the world.
Please consider joining our Pollination Project's Daily Giving Community, or simply create your own giving practice. It will change your life!
Here are the extraordinary people and projects that we are honored to support this week.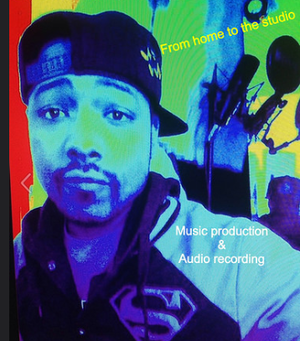 Hip Hop in Minnesota: Cashmere Hagbourne spent 18 years in foster care and music was his escape. Now he's giving other youth a chance to express themselves and their struggles by starting a music production and audio recording program in his hometown of Duluth, Minnesota. "The history and culture of hip hop and rap represents the struggle minorities are currently facing. The minority kids identify with the culture of the program I'm currently doing and I also believe they identify with me because I can relate, which also helps to make the program successful," Cashmere explained. "...I was able to express myself and also look back and listen to the struggles I was facing at the time. Music is a tool of empowerment. I want to empower the youth."
Mushrooms in Maryland: Robin Gunkel believes in the power of mushrooms for environmental restoration and health. Her project, the Mushroom City Art Festival, is both an art exhibition and lecture/workshop series that focuses on how mushrooms can bioremediate damaged ecosystems. As recent scientific research shows, certain mushroom species possess the ability to eat oil and plastics, treat irradiated soil, and may be used in place of insecticides. Robin says, "I think Baltimore could benefit hugely from the development of a radical mycological community. Baltimore is a city that's in a process of both decay and new growth. Mushrooms embody this space as well- breaking down organic materials on the molecular level to usher forth new life."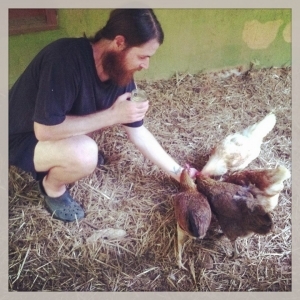 Saving Farmed Animals in North Carolina: Justin and Rosemary Van Kleeck are the organizers of a new animal rescue model -- the Microsanctuary Movement -- where just the space you have, plus a big heart, can save farmed animals from a lifetime of suffering. Our flow fund partner, The Thinking Vegan, identified Justin and Rosemary's innovative approach to animal sanctuaries worldwide. "In every rural, urban, and suburban shelter in North America, you'll find abandoned and escaped farmed animals..." writes the Thinking Vegan, "Unless sprung by a vegan, most will be 'adopted' for a per-pound cost that's less than the local market and killed for food in someone's backyard. Micro-sanctuaries - and thinking differently about how humans can rescue and provide care to farmed animals on a smaller scale and within a smaller real estate footprint - has real potential to change this cycle." Justin and Rosemary plan to create an online sharing space for those who want to join the Microsanctuary Movement and provide loving homes to rescued farm animals.
Bully Proofing in Tennessee: Having trained in Aikido and Brazilian Jiu Jitsu, Blair Presson believes in the positive power of the martial arts to develop character and boost confidence. His project, Bully Proof Kids, uses Jiu jitsu to empower elementary and middle school students in Tennessee to avoid become targets of bullies or the bullies themselves. "Jiu jitsu focuses not on fighting, but on developing technique in order to accept force yet maintaining your own balance and control a situation while using minimum amount of physical strength," Blair said. "Bully Proof Kids seeks to end the cycle of bullying before it has a chance to develop in a child's life." The program will reach 360 children in the first year, and focus on communication to empower kids to speak out about bullying.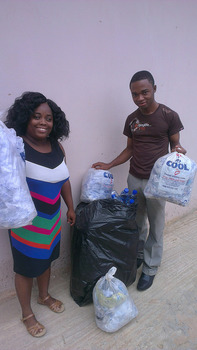 Recycling in Ghana: Stephany Lawson is a social entrepreneur and one of the few female software programmers in Ghana. She explains her passion is to solve problems with software. Stephany learned that because local people did not know where to bring their recyclables, most recyclable items were being thrown in landfills. In fact, the recycling plants in Ghana operate under capacity, even though plastics are the bulk of refuse in Ghana. Plastics end up in huge, mosquito-infested rubbish dumps in neighborhoods, creating breeding grounds for malaria and cholera. In response to this crisis, Stephany and her partner, Frank Adibi, created TrashCash to make recycling easier for people. It is an app that helps people to find the locations for recycling drop off, as well as to determine what is recyclable. Working with local recycling companies to create permanent collection points, they estimate the app will help eliminate plastic waste in Ghana by an average of 2 metric tons per week.
Educating Girls in Kenya: Tracy Geist and Wanja Ogongi'sprogram "Ahadi Zetu (translates to "Our Promise") supports students in Kiangai, Kenya to get their high school diploma despite the many obstacles. During the program's first year, Tracy and Wanja secured sponsors for seven students who were unable to continue going to school because of financial hardships, poor health or parenting duties to siblings. Some of the students had even resorted to prostitution to try to keep going to school. The sponsors promised to pay tuition for these students until they graduated with their high school diploma. "Without the ability to achieve education, these students would be lost to a harsh world of violence and prostitution," they said. "One student who was homeless now lives in the gym of the school and cuts the grass. For many of the students the meals at school are the only meals they receive and the school uniform is their only set of clothes. The whole village of Kiangai is being transformed by our mission as evident by the reports we receive from the Head Mistress of the school, and our local Kenyan representatives. With better education, opportunities open up."
Pollinators in South Dakota: David Jastram is a beekeeper in rural Dell City, South Dakota. He recognizes the importance of honeybees in local agriculture, as they are responsible for pollinating more than a third of our food. David builds artificial beehives to help the environment while bolstering the local bee population. "With the continuing loss of habitat, the bees are in serious decline," David explains, "I have discovered a large amount of interest from rural land owners who would like to have bees on their property, but are fearful of them, so they are looking to others to place hives for them. That's where I can help."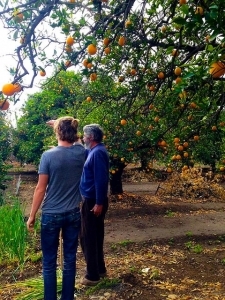 Food Access in California: Belmont Pinger is a proponent of sustainable food systems. He has worked in farm-to-table restaurants, on organic vegetable farms, and in educational gardens, and is passionate about how people interact with each other and the environment. "The prevailing system of agriculture in the United States relies on methods that are harmful to the environment and creates a market that is unhealthy and unjust. Supermarkets have historically eliminated the markets that small family farms once relied on, and have made healthy chemical- free food an expensive luxury. In many cases low-income communities have been systematically denied access to affordable healthy food through a variety of socio-economic factors." Claremont Market Shares is a student-initiated and student-run food distribution program in Claremont, California that connects college students, staff, and faculty with affordable weekly shares of locally and sustainably grown produce.
Congratulations to our grantees this week for their outstanding work to bring justice, peace, health and compassion to their communities. These are just a few examples of what a little seed money can do when put in the hands of someone with a vision and a plan to change the world.
Are you our next grantee? Please go to our website at www.thepollinationproject.org for funding guidelines and application.