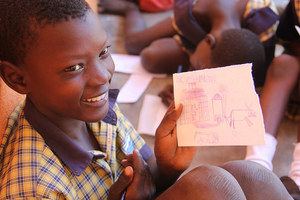 From the people to the environment, East Africa embodies a rich culture and natural landscape. Even more inspiring is that there are individuals on the ground seeking to empower, restore, and birth new life into even the most underserved communities -- giving the region hope, life, and economic vitality. The Pollination Project is proud to plant seeds that support homegrown East African projects. From supplying corrective lenses to the impoverished to building schools for orphans or promoting environmental awareness to creating an art movement focused on addressing societal ills -- our East African grantees are busy building resilient, strong communities.
Congratulations to our most recent grantees:
Violet Matiru, Community Ecotourism at Thogoto Forest, Kikuyu Town, Kenya. Brings sustainable activities that will enhance conservation efforts, train youth as guardians of the forest, reintroduce indigenous vegetation and construct water storage and structural frames for an outdoor market.
Simon Oullo, Focus on Vision, Pallisa, Uganda. Aims to improve eye care facilities and deliver affordable and quality glasses to the less fortunate.
Kabugho Joviah, Accelerated Spring Soap Project, Uganda. The project will train community members in soap-making with the goal of improving employment and income.
Beatrice Achieng Nas, Behavior Change Materials for Portland School, Tororo, Uganda. Creates communication material that promotes best practices in the area of hygiene, sex education, child abuse, and environmental management.
Purity Wanjohi, Mazingira Safi Initiative: Community Based Litter Management System, Nairobi, Kenya. Inspires communities to love the environment by loving where they live through environmental awareness and communal responsibility.
Kizito Geofrey, Green Hill Education Centre, Mityana District, Uganda. Focuses on renovating a temporary school structure for orphans.
Moses Oyat Odama, Construction of a Mini Market, Lamwo, Uganda. Project seeks to complete the construction of a mini-market in the community of Pobura in Lamwo district.
Robert Munuku, Mau Mau Arts, Nairobi, Kenya. Seeks to unite creatives in Kenya, East Africa and Africa in showcasing art that addresses a number of social issues.
Barbara Allimadi, New Uganda Training and Organizing Working Group, Uganda. Trains individuals in community organizing, movement-building, and nonviolence.
John Magiro, Magiro Mini Hydro-Electric Power Plant, Nairobi, Kenya. Generates hydro-power as a source of energy through the use of a small scale water fall.
Francis Kabuka Wairegi and Samuel Nderitu, Sustainable Agriculture and Rural Development Initiative, Thika, Kenya. Teaches impoverished farmers organic, bio-intensive methods to restore and maintain the fertility of their depleted soil.
Caroline Auma Otswele, Matungu Sub-county Grain Bank Initiative, Nairobi, Kenya. Helps rural subsistence farmers get value for their produce through access to technology and education.
Raymond Mwega, Creative Arts for Empowerment, Nairobi, Kenya. A theatre group that uses variety of performing arts to address community issues on sexual and gender-based violence and create awareness on sexual reproductive health and rights among young people.
Helena Okiring, New Uganda Movement Identity Group, Uganda. Empowers people to think outside of box while placing great emphasis on youth, well being, generosity and community as a way to entice and excite individuals and institutions for systemic change.
Do you have a project to change the world for the better? We accept grant applications for Pollination Project seed grants, every day of the year. We love learning about new changemakers and all they are doing to spread compassion, peace, environmental sustainability, generosity and justice all over the globe.