The Pollination Project believes in the power of ordinary people to do extraordinary things. To support this belief, we give $1,000 away, every day, to change-makers all over the world who have committed to a more peaceful and sustainable existence. Here are this week's individuals changing the world, one inspiring project at a time.
Kim Ponce, an educator in Seminole County, Florida, founded Beyond the 5 Senses, a program to serve children with autism and other sensory integration disorders. She will install an activity room at the school where she works to allow children the space and tools to improve their academic readiness, peer socialization, social emotional development, self-awareness and self-esteem. The typical classroom can be overwhelming to an individual with sensory integration disorder and the distractions from bright lights, sounds, and interruptions can prevent them from achieving a successful educational experience. Kim believes these children will have a greater chance at success by supplying them with the tools they need at a younger age.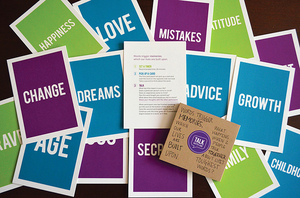 With Christine Valerio's combined passion for graphic design and creating positive change in people's lives, she developed With Me, a system of interactive and conversational games that encourage meaningful interaction between people of all ages with the intention of integrating oder adults deeper in the fabric of society. With Me encompasses 3 games that are intended to slow people down and be present with each other in one space. Christine aims to build a bridge between generations to provide a means of connection and an outlet to learn from one another in order to diminish the stereotypes and fears that are all too often associated with aging.
When Sarah Prager came out as a lesbian at age fourteen, she turned to stories from other Lesbian, Gay, Bisexual, Transgender and Queer (LGBTQ) people for validation and inspiration. To bring this valuable and embracing history to the current generation, she developed Quist, a free mobile app that shares LGBTQ history. Available for both iOS and Android, Quist brings queer history to the world in an interesting and interactive way for the next generation. Sarah's mission is to educate the world about the roots of the LGBTQ community and let the today's youth know that others have shared their struggle. Quist uplifts its users with showing them the big picture: that things get better over time, that LGBTQ people have made important contributions to society, and have shown courage over time. Elevating these stories is important for the motivation, inspiration, and support of the LGBTQ community.
Kangue Koule Abel launched the Youth Aware Football Association (YAFA), a vegan youth football (soccer) project based in Nkongsamba, Cameroon. YAFA uses the power of soccer to educate, inspire and empower these children's local communities to make positive impact on the environment by going vegan. Kangue is a retired professional soccer player who is passionate about the environment and animal rights. By creating ties between soccer, communities and the vegan movement, he is able to utilize his soccer club to spread the vegan message during each match they play -- 90 matches a year! Kangue notes, "It takes an immense amount of grain to produce a pound of meat, but that grain could simply be consumed for more nutrition and less waste." With this type of conservation and messaging through the YAFA Football Association, he will be able to address deforestation, pollution, water and food waste.
After years of her own personal medical struggles, Barbara Gray discovered the healing power of Physical Therapy and wanted to share this healing gift with those that lack access to such care. Along with John Gray, Dan Jones and Yousef Ghandor, she founded Physical Therapy For All, a brand new nonprofit organization located in San Diego, California. PT For All is dedicated to acknowledging all persons, regardless of their income level or economic status, deserve to receive physical rehabilitation services. Physical Therapy For All collects recycled medical devices and equipment to distribute to those who can't afford them, as well as provides discounted PT services. They have already established relationships with dozens of organizations, equipment vendors, senior centers and individuals who are capable of donating a steady stream of rehabilitation equipment to the organization.
Alhassan Musah grew up as an orphan living in Ghana. He is self-taught and self-supporting, and his ability tonnect via computers, to a larger world, has helped him put himself through school and now he seeks to bring computer access to his remote village. His project, Wisdom of Knowledge Computer Services, provides computers and education to the local community at minimal to no cost. Alhassan's village, Tamale, is located far away from any internet services, limiting access to key resources and furthering the digital divide. The Wisdom of Knowledge Computer Services program will lessen this divide by bringing these essential tools to this remote village.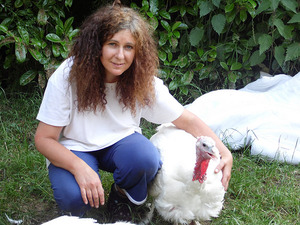 Sandra Higgins is a passionate vegan and has been working with rescued farm animals with the Eden Farmed Animal Sanctuary in Meath, Ireland. Through this compassionate work, combined with her profession as a psychologist, she carries a great insight into the process of behavioral change and the skills needed to motivate that change, and is ready to share this power of change through her Compassionate Eating & Vegan Education Program. Sandra's program brings a multi-tiered approach to educating populations about the health, compassionate benefit and long term reward of the vegan lifestyle. The program will include educational materials, hands-on cooking demonstrations, and a qualified plant based dietitian to provide consultation.
Congratulations to our grantees this week for their outstanding work.
These are just a few examples of what a little seed money can do when put in the hands of someone with a vision and a plan to change the world.
2014 is our second year of daily giving, a practice we recommend to everyone who seeks to change their lives and change the world. To learn more about starting your own daily giving practice, visit The Pollination Project website.

The Pollination Project makes $1,000 grants every day, 365 days a year, to individual changemakers. Please go to our website at www.thepollinationproject.org for funding guidelines and application.