Changing ourselves changes the world. In 2013, a group of daily givers, myself included, committed to provide seed funding to a fledgling social change project, 365 days a year. At the Pollination Project, we are continuing this practice of daily giving every single day of 2014 and welcome you to join us in your own way.
Here are the extraordinary people and projects that the Pollination Project Daily Giving Community supported this week.
Growing up in the inner city, Gerald Wyble watched his community struggle to escape poverty. In response to the hardship he saw, Gerald, along with Antwuan Bradshaw, founded The Millionaire's Club, a youth-directed Hip Hop program in Omaha, Nebraska. With mentor-structured teaching and complete family engagement, The Millionaire's Club allows participants to see past their immediate surroundings and gives them the chance to discover who they are and what they can be through the powerful medium of dance. In their words, the founders of the Millionaire's Club picked the name "...because we feel that given the opportunity anyone can rise above their surroundings, and can be worth more than they ever thought possible."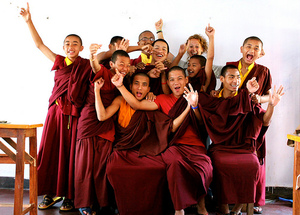 After volunteering in a monastic school in Western Nepal, Michelle Welsch became an ally to the students there and looked for ways to encourage their education and development. Her current project sponsors a hybrid solar system to equip classrooms and common areas with reliable electricity in an area where power outages are routine. But the project goes beyond keeping the lights on for the students, as the money saved on energy bills, generator rentals, candles and flashlights can then be put toward better salaries for the school's teachers. Alongside community leaders and forward-thinking monastic elders, a local team will spearhead this environmentally friendly and sustainable project. Michelle's intent and passion shines as she seeks to promote "education and leadership within the Matepani community."
Dan Rademacher is a member of the all-volunteer group Nerds for Nature and has started a series of grassroots bioblitzes in urban nature parks, where anyone with a smartphone can become a citizen scientist for a day. In Nerds for Nature's Bioblitz 2014 campaign, Dan will work with a wide range of co-organizers to host eight different events at San Francisco Bay Area parks. With 15 years of experience working at the intersection of nature and technology, Dan has seen how ineffective the "broadcast" tradition of guided nature hikes can be. By utilizing technology, and involving people at a contributor level, he aims to "help people discover their own power as full participants in the life of the parks they love."
Tina Koral has a strong background in nutrition, public health, and horticulture, and she brought all these skills together to launch The GardenWorks Project in Chicago's west suburbs. The GardenWorks Project is a grassroots, volunteer-led project working to relieve hunger by providing home vegetable gardens to families in need. The project is also launching a fruit gleaning program, where volunteers work with community fruit tree owners to harvest their crop and donate it to a local food pantry.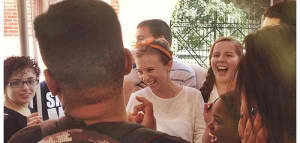 Performers and writers Jessica London-Shields and Meredith Montgomery founded She Crew, a multi-disciplinary journaling workshop for 12 to 14 year-old girls in Chicago. She Crew participants go on a six-week summertime journey, investigating what it means to be a woman, what womanhood is and how we all see ourselves in relation to it. Questions and writing topics include: womanhood and identity, women in relation to family and community, career, and the physical body. She Crew's purpose is to bring empowerment tools to the next generation of women through journaling and performance exercises that foster deep introspection, the embracing of new perspectives, inclusion and the investigation of all female identities. The program culminates in a performance written entirely by the girls of She Crew.
Sasha Perry is a Los Angeles, Calif. based filmmaker who, along with Matt Ruscigno, is making Strongest Hearts, a documentary web-series focusing on the active lives of the biggest vegan competitors in professional and amateur sports. Each show follows these athletes for a week, highlighting their training process, nutrition plan and general lifestyle. The host, Matt Ruscigno, a Registered Dietitian and accomplished endurance athlete himself, breaks down myths about vegan diets while he cooks and trains alongside the athletes. Strongest Hearts is a volunteer-contributed project, utilizing all their resources to connect with these top-tier competitors. Each episode will feature a new adventure, from Death Valley for a 135-mile ultramarathon to Norway for the hardest Ironman competition in the world. Sasha points out, "If these athletes can succeed while eating plants, anyone can."
Ronnie E. Mackey, Jr and Tyshane Francisco are Florida A&M ("FAMU") students with the drive and heart to bring the environmental needs of their community to a public medium. They were selected to receive a grant through our our partnership with Green For All. Tyshane and Ronnie are working with Dream Defenders to establish and maintain the FAMU Community Garden and plan to use the garden both to teach students and residents about healthy food options and to provide food for the weekly campus market. All the fruits and vegetables grown in the the FAMU Community Garden will be distributed freely in the community. Ronnie and Tyshane's project will not only provide the FAMU students with an opportunity to live a healthier lifestyle, but will also provide parents in the community with better choices to feed their children, aside from the current offerings of fast food. "With a little effort and determination, we can make the world a better place," Tyshane says.
Congratulations to our grantees this week for their outstanding work to bring justice, peace, health and compassion to their communities. These are just a few examples of what a little seed money can do when put in the hands of someone with a vision and a plan to change the world.
Are you our next grantee? Please go to our website at www.thepollinationproject.org for funding guidelines and application.