Two years ago, The Pollination Project started a daily giving practice, making daily $1000 grants to social change visionaries around the world. Since we began, 50 more individuals and families have joined in, each giving $1 or more a day to support the grantees. Here are the extraordinary people we supported this week.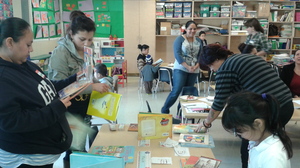 Literacy in Richmond, California. Cristal Branagan is the founder of the Learning Out Loud Educational Community, a non-profit working to improve the quality of education for elementary-school children in the historically underserved and low income areas of Richmond, CA. Most recently, Cristal and the LOL Community have been addressing the low levels of student literacy at Verde Elementary School through the Literacy at Home Project. With the help of local educators, Cristal and her team are organizing workshops at Verde in order to provide families with the tips and strategies they need to promote reading at home. The Literacy at Home Project is even providing Spanish-speaking families with bi-lingual books to encourage families' involvement in their children's education and to help children maintain their valuable language skills.
Student Artists in Fairfax, Virginia. Jieru Shi is a high school student living in Fairfax, Virginia. Jieru has always been passionate and driven when it comes to art, but she also knows that many young students are discouraged from pursuing their artistic passions. This is why she started Sparks of Creativity, a youth-run organization dedicated to promoting student creativity and individuality. Sparks of Creativity hosts monthly contests on their website where students are given the opportunity to share artistic interpretations of monthly themes with an international audience. However, rather than solely judging a work on its aesthetic qualities, works of art are judged on their originality and creativity with the winning pieces being published in Sparks of Creativity's magazine. Jieru has even begun organizing art instruction in disadvantaged schools and communities by donating materials like as art supplies and musical instruments.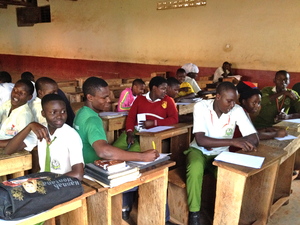 Peer-to-Peer Student Health Clubs in Uganda. Meghan Miller is using her skills in Public Health and Education to promote healthy student lifestyles at secondary schools in Mukono, Uganda. Meghan, who holds a Masters of Public Health, is currently working as a community health volunteer with the Peace Corps. Working with a local team, Meghan started the Peer Health Education Program in order to educate Ugandan youth about the importance of mental and physical health in academics. In conjunction with this initiative, Meghan is organizing student-directed health clubs at educational institutions throughout Mukono to offer life-skills and coping strategies, as well as sexual and reproductive health. Additionally, Meghan is training students to act as peer counselors who can provide social support and guidance to others in their communities.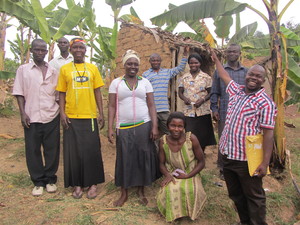 Sanitation for Special Needs Children in Uganda. Hands of Action Uganda, a previous Pollination Project grantee, is a grassroots NGO dedicated to empowering impoverished rural communities in the Bududa District of Eastern Uganda. Their current project, the School Hygiene and Sanitation Education Initiative, addresses the health of students, faculty, and the surrounding community at the Shikhuyu Needy Primary School for orphans and special needs children. At present, the institution provides basic education for approximately 450 children, however, the only waste facilities accessible to students are a few dilapidated pit-latrines. Not only is there no running water for washing, but these open pits pose a significant health hazard to young students and the surrounding community. This is why Hands of Action Uganda is building sanitation facilities for the students and educators at the school in an effort to ensure both the health of the school and the surrounding residences.
Gender Equality in Nairobi, Kenya. Over a year ago, Samson Ouma earned his baking certificate and he subsequently launched Hot Lips Confectioneries as a bakery job training program for women in Nairobi, Kenya. Samson's primary motivation was addressing the lack of female employment in the formal sector of the economy, with a particular focus on promoting gender equity in traditionally male-dominated professions like baking. At his confectionery, Samson shares his skills and knowledge with women in his community in order to help them improve their living conditions through opportunities in the baking industry. Samson even offers entrepreneurial training to women with the intent of encouraging them to one day launch their own bakery businesses.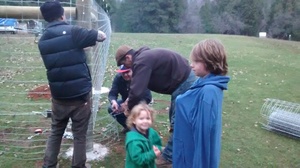 Planting the Seeds of Change in Butte County, California. The surprising levels of food insecurity in the U.S. over the past decade remain a stark reminder of the social inequalities and injustices that pervade even the most modern of societies. However, projects like Jason Romer's Konkow Partners Community Farm and Education Program aim to remedy this problem in their local community by producing food for those most in need. Jason and the Konkow Partners are the caretakers of a 1.5 acre garden in the Concow area of Butte County, California, a region historically marred by rampant poverty and food insecurity. Through their Community Farm and Education Program Jason and the Konkow Partners are producing food for donation to local food programs and school kitchens, as well as supplying produce for a community Farmers Market Education program.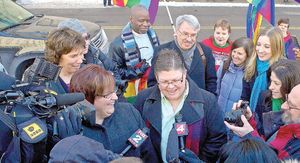 Winning Marriage Equality in the United States. Same-sex couples across the U.S. are denied the rights and benefits that marriage gives to male-female couples and their families. Luckily, there are organizations like National Marriage Challenge (NMC), a non-profit that is working to help support the rights of April DeBoer and Jayne Rowse. April and Jayne are a lesbian couple who foster four special needs children in Michigan. Recently, April and Jayne were denied the right to adopt their foster children due to Michigan's same-sex marriage ban. As a result, April and Jayne filed suit against the state of Michigan in an attempt to challenge the legal statute. April and Jayne's case is scheduled to be heard by the U.S. Supreme Court in April 2015. In the meantime, National Marriage Challenge is helping the devoted parents with case-related expenses, providing social support, and helping to drum up publicity. This landmark case may win marriage equality in the U.S.!
Want to be part of the joy of giving? Join our Daily Giving Community, or simply create your own giving practice. It will change your life!