In 2013, I began giving a seed grant every single day of the year to a social change visionary with a practical plan to make their community and the world a better place. Now nearly 40 others have joined me, each of them giving $1 or more a day to inspiring projects led by extraordinary individuals all over the world.
You are welcome to join our Daily Giving Community, or simply create your own giving practice. It will change your life!
Here are the extraordinary people and projects that we are honored to support this week.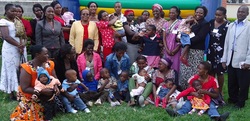 Caring for Children with Special Needs in Kenya. Alex Omondi, a parent of a child with special needs, wants to see that every child in Kenya has the opportunity to realize their full potential, no matter what. That's why he founded the Child Destiny Foundation, which serves children with special needs and their parents in the Kibera slum of Nairobi. "Here, many people struggle to meet their basic human needs, but worse off are the children with special needs and their families. They cannot afford the special attention that their children deserve," Alex explains. The organization has a clinic which provides occupational, speech and physical therapy to children at no cost, as well as opportunities for just plain fun.
Nature's Positive Impact on Youth in California. Susan Silber has spent more than 20 years witnessing nature's powerful impact on young people. Susan explains that the impact of working with children in nature is that, "some programs improved academic performances; others calmed students down through direct experiences into nature; others improved children's health and reduced obesity rates." Her initiative, Nature's Voices Project, captures young people's vision of a healthy planet and the impact of environmental programs through digital storytelling.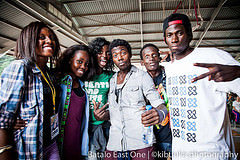 Preserving Culture through Dance in Uganda. In collaboration with members of Breakdance Project Uganda and the Tabu Flo Dance Company, Abdul Kinyenya is committed to bringing traditional and urban dances together in order to develop and preserve African culture. Through the creative integration of these two worlds, Abdul's project, Batalo East, fosters the growth of globally-aware young people who are in touch with their culture, and dancers who are bringing Afro-fusion dance to Kampala, and the international dance stage. It connects young people and aspiring professional dancers in the East African region. Abdul says, "Batalo East is driving positive social change. In an open, constructive and encouraging environment, we are speaking to young people who are growing up in a globalized world where their traditional roots are increasingly eroded."
A Unique Food Pantry in Oregon. With the decimation of the local logging industry, families in Mapleton, Oregon are struggling to fulfill their basic needs. For two years, Karen Harden and volunteers worked to help fill families' kitchens with the Mapleton Food Share, an organization that has become a model for rural food pantries. They soon discovered that the need in the community was far greater than just food, and were moved to create Mapleton Resource Center, a place that recycles usable clothing, household goods and furniture that families can receive for a nominal donation and by completing volunteer hours. Mapleton Resource Center has been operating off of community donations and volunteer support. They even have a licensed social worker who offers counseling on a pro bono basis.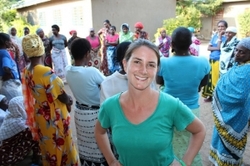 Creating Gender Equality in Tanzania. Amanda Filipczuk, a social justice activist and academic, hopes to foster a cohesive grassroots women's movement in Tanzania. The The Tusaidiane Gender Equality Office will provide residents with gender and social justice classes, consultation and referral services. Led by Tusaidiane Women's Group, The Tusaidiane Gender Equality Office will provide community-wide gender equality and women's rights seminars as well as information and referral services to individuals seeking personalized guidance. "The presence of a women-led gender and social justice institution is unprecedented and will represent a concrete vehicle of grassroots women's empowerment," Amanda said.
Training the Power of the Sun in Kenya. Henry Alobo, a farmer in Kakamega County, Nairobi, is training community farmers on planting and drying fruits and vegetables, a very cost-effective, simple and useful process. The aim of the project is to harness the sun to dry the produce and then sell the dried fruits and vegetables, while educating farmers, improving community health and employing the underserved. Henry explains, "Communities have maintained a tradition of preference for indigenous leafy vegetables, however, this knowledge is slowly disappearing, especially among the younger generation who have developed a taste for exotic vegetables and processed foods." When farmers are supported to grow more food and earn more income, they are better able feed to their families, send their children to school, provide for their family's health and invest in their farms. The project has already trained farmers on indigenous vegetable growing, the preparation of seeds and storage, and has also maintained seed banks where new farmers can buy seeds and start production.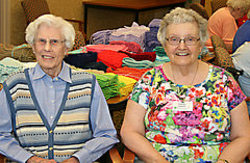 Showing Love through Knitting in Massachusetts. Roberta Gosselin wants people in need in her Massachusetts community to know that they are loved. She and her fellow knitters show that support by hand stitching, knitting and crocheting Afghans. The group of seniors, called the Brooksby Afghan Project, warm people's hearts with their lovingly-crafted blankets. "Working through local organizations, the Brooksby Afghan Project donates handmade afghans to abused and at risk families and families 'graduating' from homelessness," she said. "These women, children and families matter, and we hope our help makes them feel better while also benefiting us. Our knitting, sewing, crocheting volunteers are all more than seventy years old, and through volunteering they realize that although they are elderly, they are still useful members of a larger community."
Americans Serving Abroad in Ghana. Pediatric nurse Lauri Rupracht visited Ghana two times with medical mission trips over the past couple years, bringing care to more than 2,000 people. She decided to start the Americans Serving Abroad Project in order to reach villages with extremely limited access to healthcare, providing everything from dental exams to medications. The program provides volunteers from North America an opportunity to share their skills while expanding their knowledge of other cultures. The positive cultural exchanges are life changing for both volunteers and those whom they serve. The project also distributes medical supplies to local clinics and holds educational classes for children.
Congratulations to our grantees this week for their outstanding work to bring justice, peace, health and compassion to their communities. These are just a few examples of what a little seed money can do when put in the hands of someone with a vision and a plan to change the world.
Are you our next grantee? Please go to our website at www.thepollinationproject.org for funding guidelines and application.