What is it like to make a financial investment in a social change leader, every single day of the year? Since January 1, 2013, through the Pollination Project, I've been giving daily micro grants to emerging projects and inspiring people all over the world. Now over 40 people have joined me, each of them giving at least $1 every day to our awe-inspiring grantees.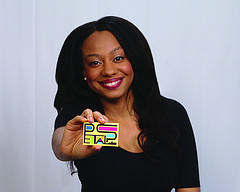 Revitalizing Urban Spaces in NYC. Alicia White is looking to bring beauty, revitalization and community engagement to low-income neighborhoods in New York City. With her project, Project Petals, Alicia is starting with Railroad Park, a neglected piece of wooded land in Jamaica Queens. "Project Petals will restore the park, create a garden, assemble a team of volunteers to clean up and create a path for the area to turn Railroad Park into a space that can be utilized by all," Alicia explains. The park will also have a community garden and eventually a wooded area which will serve as a nature trail. The project plans to expand from Railroad Park to other urban or low-income neighborhoods, providing beautification, environmental education and even an app that will direct users to volunteer opportunities in their own communities.
Creating Food Security in Maasailand, Kenya. Arushani Kindergarten is located in the small village of Engaruka, Maasailand, Kenya. Education for its vulnerable students is anything but secure, simply because sometimes there isn't enough food to feed children their one meal for the day. Karah Germroth and the non-profit, Moyo wa Afrika, wants to create a base level of food security by creating a garden and rain harvesting system at the school, which will be used to provide more diverse food options for the students while they are at school.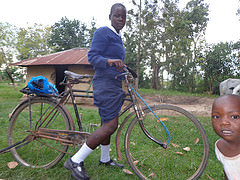 Transportation to School for Girls in Kenya. Evans Okumu explains that girls have to walk up to three miles to school each day in Kenya, leaving them vulnerable to abuse, rape, kidnapping and harassment along the way. Because of these risks, many girls simply don't go to school, especially those who live in poor, rural areas. This educational void then cascades into social issues such as domestic violence, teen pregnancy and child marriage to name just a few. Evans plans to open up freedom and opportunities to these young women by giving girls what has been traditionally reserved for boys and men - bicycles. Evans explained, "the project will work together with school teachers, parents, local women groups, community leaders to change the attitudes towards girls." So far volunteers have been trained, bicycles parts have been purchased and 30 girls have learned and are ready to ride bikes.
A Reading Culture in Uganda. Rebecca Mol, a Peace Corps Volunteer at the Kibingo Primary School in Mbarara, Uganda, is focused on improving literacy for children. Alongside co-leader Kim Koeven, the project will supply furnishings for the school library, and help the teachers organize the library and plan how to use it. Although Kibingo Primary School has some books, they are currently stacked in the back of one of the classrooms and are not easily accessible to teachers or students. The school is in the process of constructing a library for the books, using discarded plastic bottles to fill the walls of the building. The goal of this project is to help children gain access to books for reading for fun and to help promote a reading culture.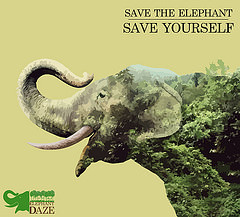 Documentary about Saving Elephants. For the past two months Phyllis Stuart has been filming Elephant Daze, her fourth documentary. This film illustrates the wide impact of poaching and the illegal trade of ivory, showing how essential elephants are to human survival, and therefore how vital it is to protect them. "Wildlife crime is no longer just a conservation issue. Ivory poaching and illegal ivory trade fuels terrorism, and is driven by high profit margins and killers face little prosecution," Phyllis said. "Elephant Daze will serve as tool in a movement to show the unvarnished truth about this complex environmental issue. The documentary features rangers, poachers, top conservationists, and grassroots activists to help educate and encourage people to save the elephant and protect our planet's imperiled biodiversity."
Conserving Coconut Trees in India. Praseeda Sanu works with CREDSO, a non-profit located in Kanyakumari District, Tamil Nadu, India. After seeing numerous trees cut down, Praseeda, fueled by her passion for agriculture, created a project to train women in coconut tree climbing and cultivation. With its tropical climate, coconut tree cultivation is widespread in India. In recent years however, these trees have been cut because construction work tends to pay more, leading male harvesters to switch to construction jobs. This project will train 20 women and equip them with knowledge on the management of the trees. "This will create a source of alternate income for the family, thereby addressing economic empowerment, and also involves them in helping to sustain the environment," Praseeda said.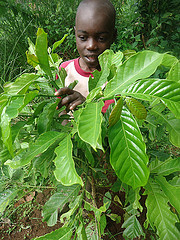 Environmental Stewards in Uganda. Monica Kituyi uses her study of environmental health to fuel her passion for environmental conservation. She created the program, "Empowering Kids to be Environmental and Green Stewards", to engage students living in Jinja, Uganda, to work together to create a better environment. Despite their potential for changing lives and preserving the environment, fruit growing and agro-forestry practices are not currently a vibrant part of the Jinja District's economy. Empowering Kids to be Environmental and Green Stewards will promote fruit tree growing and agro-forestry systems, with the aim of halting and reversing the trend of forest loss and related environmental degradation. The project also addresses their livelihood needs for income generation, fruit, timber, fodder and other non-timber forest products.
Educating Tech Professionals in Kenya. Miriam Wambui graduated from Design School in Nairobi, Kenya and is enthusiastic about community development through information and communications technology ("ICT"). Miriam's project, Maendeleo Mtaa, comes from a Swahili word for "developing the community." It is a training program to develop skills in ICT, entrepreneurship and other basic life skills. The core participants are non-formal students in Dandora and Kariobangi, Nairobi, who were unable to continue with their studies due to lack of finances or family support. As a result, these youth are at risk for early pregnancy and crime, contributing to the cycle of poverty in the community. "The project is a platform to transform their lives through the skills they acquire, while tapping into their immense potential and talents to create social change," said Miriam.
Harvesting Food for All in Massachusetts. With the Giving Garden, Russell Moody is committed to making sustainably-grown produce freely available to people in his Massachusetts community who wouldn't be able to otherwise afford those fruits and vegetables. "We operate on the notion of loving our neighbor," Russell said. "Sustainable practices help the earth, impact people that need a helping hand and is considerate of our earth moving forward." Their main target population is local seniors, plus families who need the extra support. In the past two years, this volunteer garden has given away 8,000 pounds of food. "We help everyone regardless of faith practice, race, gender or sexual orientation," Russell said. "If you're hungry, you qualify."
Congratulations to our grantees this week for their outstanding work to bring justice, peace, health and compassion to their communities. These are just a few examples of what a little seed money can do when put in the hands of someone with a vision and a plan to change the world.
Want to be part of the joy of giving? Join our Daily Giving Community, or simply create your own giving practice. It will change your life!