In Summer, 2015, one of The Pollination Project's East Africa Team Members, Fraide "Fremma" Emmanuel, visited over 20 of our grantee projects across Uganda. In the spirit of democratizing philanthropy- grants that are "by the people for the people" -- we offered Fremma a flow fund to give his favorite projects additional small grants. In this guest blog, Fremma shares who he selected for these grants and why.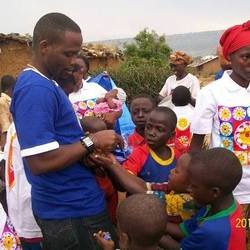 My name is Fremma but I'm also known as Papa. I am a peace activist and humanitarian. I have been working with refugees in Uganda's Nakivale and Rwamwanja refuge camps for more than 8 years. The refugees are from Democratic Republic of the Congo (DRC), Burundi, Somalia, South Sudan and Rwanda and have fled conflicts in their countries to settle in Uganda.
I have been volunteering to aid the refugees doing social support, peer-counseling, teaching meditation and helping to empower less privileged children, singles mothers and widows. I do this hand-in-hand with few volunteers who help me mobilize core relief items such as clothing, food and cooking equipment. My core objectives are to create peace, happiness, love and empowerments for marginalized people in this world.
I'm also a volunteer Grant advisor and Ambassador for The Pollination Project within their East Africa Program. I evaluate the progress of projects through site visits and offer advice to the team in the USA. I supervise site visits in East Africa, and follow up with grantees whenever needed.
On one of the site visit trips in Uganda, I felt so touched to see the impact TPP was making in the community and how they were changing peoples lives that had been left out by government and other aid. The Pollination Project became the only hope for such people and I thought, if given opportunity, I would recommend them for more funding since the initial small grant already made a great difference and made massive change to more people even though it was small. These people were very connected to their work and a lot of zeal to help themselves move from poverty to help others in this community. Their work surely shows the mission of TPP and how their grants are impacting and changing lives of the poor to live a better and hopeful life.
With that, I was happy to help bring more funding to these projects: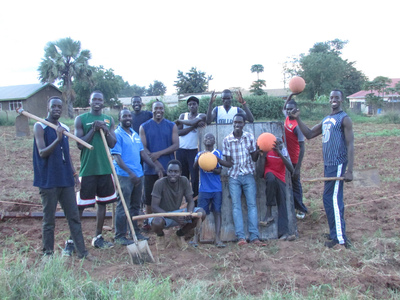 Jimmy Amone, is the founder of the Kitgum Basketball Association in Northern Uganda. This project is comprised of young people who were affected by the long struggles of wars in Northern Uganda and now they bring social change and peace to the society they live in through the game of basketball. They need more funds to help them level the court, buy more balls, train more youth and plant trees around the court.
I also recommended Joseph Mbusa for additional funding. Joseph is the chairman of farmers in Kasese and he has strived to share his skills with his people. He started a project called Light to the Child where he provides solar lamps to local people who had never had the opportunity to use electricity. The project's goal moved me. It provides energy saving solar lights to the rural children and poor men and women who can not afford to install electricity for their children. The lack of light prevents many children from studying and from getting an education.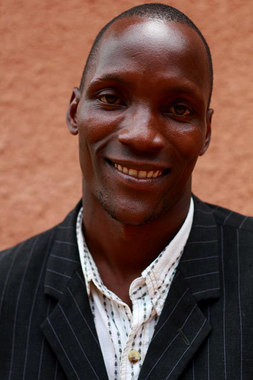 Fred Batale is physically disabled, but has not take it as a problem and showed me that disability is not inability. Fred is the Coordinator of Disability Art Project. The additional funding will help them get proper place to do more work. They plan to use the money to make more recycled wall clocks, jewelry making, books binding and help train people with disabilities on streets and in the slum.
Mukhobeh Moses Khaukha started the construction of a wash room. This project helps thousands of local people who had started experienced lots of disease due to lack of proper hygiene. This area is one of the most affected by landslides in Uganda where many people suffered of water related diseases forcing many students to miss school due to illness. When I went to see their project, they had just and completed the wash room which has helped the community to live in better safer environment. The additional funds offered will be used to plant trees to prevent land slides around the class rooms and to buy doors for the wash room.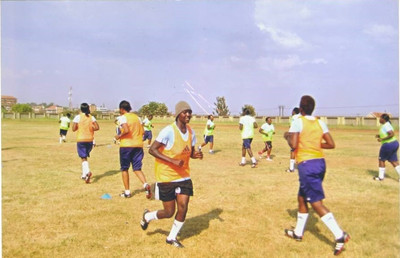 Ruth Ayugi is one lady that has proved to most Ugandans that females can also participate in sports. She is the co-founder of Female Sports Access Initiative. This Academy is helping women start an all women's league, the first of its kind in Lira. Their work involves training ladies in the games of soccer taking an opportunity to educate them about the HIV and how to be better citizens. Our additional funds would help them train more women by creating radio talk shows for sensitizing the community about the activity they are doing.
Kabugho Joviah is director of Nyakasanga Development Community Foundation (NYAKU) who launched a project that creates and provides smokeless charcoal. Our original grant helped Joviah train more than 90 women to make smokeless charcoal briquettes. These women earn a small income from selling it to hotels and their community, which has also helped them to network, help each other domestically and provide for their families. The use of charcoal prevents the cutting down of trees for firewood, and it prevents air pollution. This project is spreading compassion and helping many disadvantaged women who do not have much income, earn a decent livelihood and pay their children's schools fees. Most of these women widows, therefore our additional funding helps them buy more materials and help in the transportation and training of more women.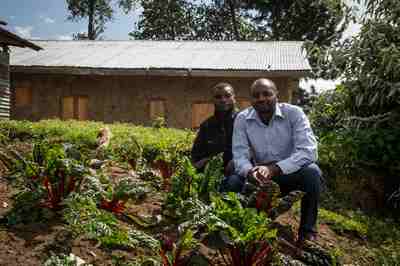 Anthony Ayebare is co founder of Global Batwa Outreach and is training 35 Batwa farmers in organic manure and fertilizer making and application. The Batwa people are among the most vulnerable populations in the world and have limited access to essential social determinants of healthful living including food and security. Their work involves vegetable and crop gardening. Our first grant they were able to acquire knowledge, resources and tools to start their project but it was not enough for the entire group. The additional funding will give them more seeds and tools which will not not only help them cultivate, but fulfills their wishes. Our fund will be used to help them to buy fast maturing vegetables of cabbages, spinach, pumpkins, fruit trees and farm tools of hoes and fork hoes, and buy fruit trees of bananas.
This trip was like no any other for me, it put me face to face with change soldiers and the battles they fight, the victories they win and the losses they encounter. Most importantly it put to my face that these change makers don't win for themselves but for the people they help and touch, the communities they empower and the environment they protect. Meeting them was heart warming, the embraces and hugs I received re-affirmed the importance of what pollination is all about: a greater and better world for every one to live and cherish.