Every day of the week, The Pollination Project provides $1,000 in seed funding to an individual who is working to make the world -- or just their own community -- a better, more peaceful and more sustainable place.
Here are the extraordinary people and ideas changing the world this week:
Genesis Etali and The Association for Sustainable Development Livelihoods Initiatives (SUSTAIN) are addressing problems associated with poverty in Cameroon, while promoting health, micro-credit loans and business management skills. A group of 30 disadvantaged women and girls in the Ngie Subdivision in the northwest region of Cameroon are receiving training on income-generating activities and startup seed capital for small business ventures to foster their economic independence.
Brihannala Morgan has worked on rainforest conservation, climate justice, anti-war and other issues for more than a decade and has struggled with her own burnout, including exhaustion, despair, and lack of motivation. Her upcoming book, Tales and Tools for Surviving Activist Burnout, offers concrete tools to help activists overcome the challenges of long-term work on social issues. She notes that burnout is stigmatized within activist communities.
Osvaldo Ferrari is like Johnny Appleseed on a bike. Osvaldo and his wife, Maria Jimena Maciel, started Dos Ruedas Por Mi Gente (Two Wheels For My People), a program to teach ecology and sustainable living in communities throughout Latin America. Traveling by bicycle through remote areas, Osvaldo and Maria Jimena connect with young people and offer talks, lectures, and educational materials on recycling, organic gardens, and healthy living in schools, organizations and social groups.
Alexandria White combines her lifelong passions for youth empowerment and aerial arts through Crescent City Aerial Arts (CCAA) in New Orleans, Louisiana. In her program, young people learn to integrate body, mind, and spirit through creative self-expression and personal strength. By nearly defying gravity, participants can overcome preconceived notions of their own limitations and challenge themselves emotionally, mentally, and physically, to foster learning, empowerment, and transformation.
Antoinette Mugwaneza grew up in the urban center of Kampala surrounded by wetlands, but today, the wetlands are no more, having been filled in, reclaimed or developed for commercial use. Poor communities are disproportionally affected by flooding, including its resulting impact on infrastructure. Antoinette founded Young Wetlands Defenders of Uganda to mobilize more than 1500 young adults through awareness campaigns, advocacy and political action.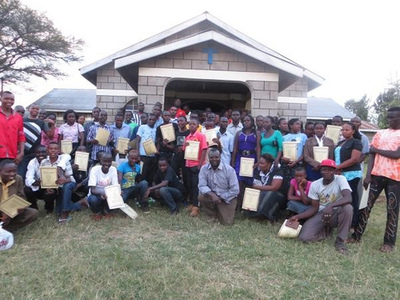 Paul Kanyi and Carlo Chege created the group Shaggz Connect in Kitale, Kenya to mobilize communities to use local resources and expertise to solve local challenges. Shaggz Connect helps through community initiatives and events that teach peaceful, successful collaboration, resource pooling, and creativity. The organization currently focuses on improving the quality of education and long-term economic stability through agriculture and entrepreneurship.
In addition to grants, we provide startup loans to help for-profit social change ventures. Our latest recipient, Poornima B. Joshi, is a bio-energy consultant working on technologies to convert waste biomass into biogas: clean, green fuel. Poornima works with small businesses as well as schools, hospitals, and other organizations to implement renewable energy. Her company ThInc, an abbreviation for "thoughts incorporated," provides financial and technical support so these clients can install biomass-based renewable energy projects. Clients then pay back the project costs through the savings they achieve.
Congratulations to our grantees this week for their outstanding work.
These are just a few examples of what a little seed money can do when put in the hands of someone with a vision and a plan to change the world.
2014 is our second year of daily giving, a practice we recommend you take on in your own way. You'll understand how the simple practice of daily giving has the power to transform.
The Pollination Project makes $1000 grants every day, 365 days a year to individual changemakers. Please go to our website at www.thepollinationproject.org for funding guidelines and application.