Changing ourselves changes the world. In 2013, a group of daily givers, myself included, committed to provide seed funding to a fledgling social change project every single day of the year. At the Pollination Project, we continue this practice of daily giving by making seed grants every day in 2014. We welcome you to join us. Here are the extraordinary people and projects that we supported this week.
Community Health in Nicaragua: After completing her Master's thesis research in the indigenous village of Goyena, Nicaragua, Emily Sheffield has become a champion for Moringa trees. Emily has facilitated the planting of 13,000 trees and trained 150-200 local people in seed planting, transplanting, and caring for the trees. With food scarcity being a major concern in Goyena, Emily is focusing specifically on planting the Moringa tree because it will provide supplemental nutrition, and also improve the soil. In addition to utilizing the Moringa tree for cooking and eating, local community members will be making tea from the leaves that can be packaged and distributed to families in need.
Ugandan Kids Go Green: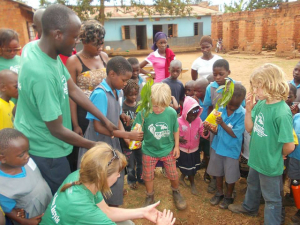 Isaac Ssamba is the founder of Beacon of Hope, a group that implements tree-planting projects in local schools in Mukono, Uganda. In association with Beacon of Hope, Isaac has developed the Mukono Kids Go Green Project, an educational program focused on conservation and prudent management of natural resources. The Mukono Kids Go Green Project is also proposing to plant 9000 mango, jackfruit, and moringa oleifera trees to not only provide a learning opportunity for the youth, but also create a self-sustaining source of income to finance future crops, growth and program funding. Isaac's hopes for the project are to "empower kids to inspire and motivate all Ugandans to demand a greener and healthier nation by taking charge" and intends to "kick start a district-wide frenzy of tree planting in all schools in Mukono." He is already off to a great start having planted 1,000 trees last year, and is on track to plant an additional 3500 this year, with the remaining 4500 being planned for 2015.
Vegan Animal Rescue in Colorado: When Erin Nissen drove through the Native American reservations of Colorado's Four Corners area, she often saw animals roving the dry, desert land. The dogs and cats were often abandoned, hungry and sick. In response, she started Durango Animal Connection, a vegan animal rescue that takes in cats and dogs from the area. She feeds the animals nutritious vegan kibble, gets them medical care and eventually finds them forever homes. "In the past I have often found it strange that I would save the lives of abandoned puppies or kittens only to feed them a diet consisting of dead animals that suffered miserable lives because of our existing food systems," Erin said. "I have begun to see that it is possible to do my work of rescuing dogs and cats from sickness and death, while still holding a space of respect for all animal species."
Nutrition for those with HIV/AIDS in Cameroon: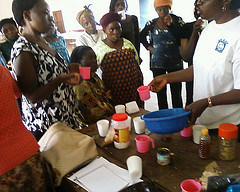 Vigaho Phuombuh Marcel and his organization Mother Care CIG is helping to provide better nutrition to people living with HIV and AIDS in northwest Cameroon. The project will be providing seedlings of the Moringa Oleifera tree, which has edible, nutritious pods, roots and flowers, to children and adults in the Belo and Njinikom communities. The project will also provide workshops on how to care for the plant.
Potting it Forward in North Carolina: Maggie Bailey is helping offset her community's carbon footprint one tree at a time. Her project, WE PLANT it FORWARD, hosts "tree potting" events at schools and community gathering places in Raleigh, NC.  Participants pot the trees and then give them away to others who then promise to gift someone with another tree. "With WE PLANT if FORWARD, I am trying to afford everyone the opportunity to learn more about trees, to plant trees, and to build a network of tree planters," Maggie said.
Solutionary Stoves in Kenya: Joseph Okello Makokha and his organization Mundembu Jua Kali Youth Group are looking to make the land in Bungoma County, Kenya greener and the air cleaner for the health of the community and the earth. Joseph's project encourages the use of more efficient modern stoves. The project will train 30 women and youth in the construction and marketing of stoves and food warmers to reduce deforestation, pollution and the labor needed to continually stoke inefficient cooking fires. Besides the environmental benefits, the stoves also contribute to healthier, cleaner indoor air for the women and their families. "The use of these traditional cook stoves by the community members is also one of the most significant contributors to deforestation, greenhouse gas emissions, and the release of black carbon," he said. "Since modern cook stove reduces deforestation and carbon dioxide emission, the direct distribution of modern cook stove to customers who need them most can be a good gift to the community women, and the whole world."
Biodiverse Education in Ecuador: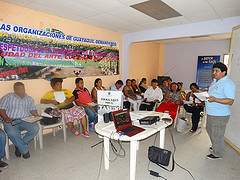 Longtime activist and Ashoka Fellow César Wilfrido Cárdenas Ramírez is encouraging Ecuador's young people to help save the country's Yasuní National Park from oil exploitation and destruction. César is a founding member of several initiatives encouraging children and youth leaders to become active in working for the poorest communities in Ecuador. His newest project, alongside his organization Mi Cometa, brings educators into 10 secondary schools in Guayaquil, Ecuador to talk to youth about the biodiversity of the Yasuní, the indigenous people who call the park home and the threat the area faces with oil extraction. The project will encourage youth to collect signatures and join the push to protect the Yasuní through a national referendum. "Every child come into this world with an innocence that gives us a natural connection to the Earth which most of us tend to lose later on in life," César said. "However, since the adolescents are in a state between childhood and adulthood they are still connected and are highly impacted by ecological issues but are better able to promote change in complex matters the Yasuní."
Congratulations to our grantees this week for their outstanding work to bring justice, peace, health and compassion to their communities. These are just a few examples of what a little seed money can do when put in the hands of someone with a vision and a plan to change the world.
Are you our next grantee? Please go to our website at www.thepollinationproject.org for funding guidelines and application.