In 2013, I began giving a seed grant every single day of the year to a social change visionary with a practical plan to make their community and the world a better place. Now 30 people have joined me by giving $1 or more a day to inspiring projects led by extraordinary individuals over the world. The Pollination Project facilitates this practice of daily giving and we will continue making daily grants of up to $1000 each day of 2014 and beyond. Please join us as a daily giver, or simply create your own giving practice. It will change your life! Here are the extraordinary people and projects that we are honored to support this week.
Food is Elementary: New Yorker Antonia Demas is the founder of the Food Studies Institute and creator of the Food is Elementary curriculum, which teaches kids about organic gardening, environmental issues, plant-based nutrition and healthy cooking at more than 3,000 schools across the U.S. They now need to upgrade their website to reach more people with the curriculum, and we were proud to support this effort.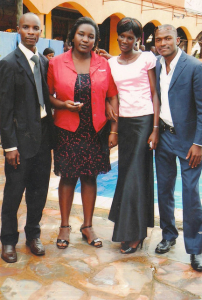 Building Income Streams for Schools in Uganda: As a student pursuing his Master's degree in finance, Richard Jakait is passionate about the idea that a community can protect its environmental resources while also benefiting economically from them. Richard is bringing his vision to life with the Environmentally Friendly Sustainable Education Project. Richard and his team help public schools generate their own income sustainably from the harvesting of fruit trees, so they can improve the quality of instruction without having to charge the usual fees that can prohibit poorer students from getting their education. Program leaders have already held workshops with teachers, talked with district heads and are planning a demonstration orchard.
Stop the Poaching in Ghana: Noah Dumahasi is passionate about protecting the animals living in the forest reserves in the Volta Region of Ghana. He explains that poaching endangered animals within the reserve is on the rise. To address the problem head-on, Noah will travel through the communities within the reserve, educating the members about endangered species, poaching and biodiversity, and training young people as community animal advocates.
Art for Yasuní in Ecuador: Rita Estefania Mantilla is working to educate her Ecuadorian community about the biologically diverse Yasuní rain forest, and the threats it and its inhabitants face, through art. Her group, Guardianes del Yasuní, has been contributing its creative spirit to the efforts of the organization, YASunidos and its attempts to gather enough signatures for a national referendum on drilling in the Yasuni-ITT park. The effort ultimately failed due to alleged fraud by the Ecuadorian government. Rita and Guardianes del Yasuní recently hosted an event with music, dance, art and film to bring more awareness to the Yasuní. "Art has an amazing ability to directly or indirectly convey information on sore or difficult topics in a way that it becomes more comprehensible or even more heartfelt sometimes. Accordingly, we want to bring in drama and dance groups linked with social and environmental issues, bands and possibly an environmental documentarist," she said.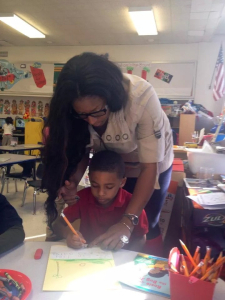 Early Childhood Education in Sierra Leone: When Nmmah Kanu was 10 years old, her family moved from Sierra Leone to the United States, giving her an opportunity for an education that many kids her age didn't have. Now, with her Master Degree in Early Childhood Education, she's heading back to Sierra Leone to start the Early Childhood Empowerment Program in her family's village. "My project will promote and empower children in a place that has little to nothing of its kind. My project will provide educational opportunities that are not available right now," she said. "I want to give the children of Pepel and Kumrabai the tools they need to be successful scholars for the rest of their lives, catch them young and build them up." She will stay in the country for the school year, outfitting classrooms, bringing over educational supplies and teaching kids ages three to five. Families have already joined the program and children are already lined up on a waiting list.
Jimmy's Big Barn in New Jersey: Mike Stura is a long-time animal rescuer. He has created a refuge for animals in his own backyard in Ringwood, N.J. With his wife, they are are currently caring for four animals rescued from slaughter, including a young calf saved after being separated from his mother, a dairy cow, and used in a petting zoo. He also works directly with local animal sanctuaries on higher profile animal rescue cases.  Mike and his wife use all their own funds to rescue these animals and just purchased a brand-new, larger barn. With more space to house animals rescued from dairy and meat industries, the couple is looking to expand their efforts.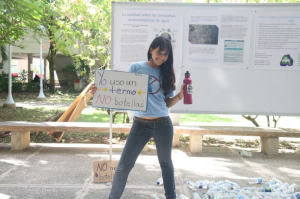 Message in the Bottle in Puerto Rico: Amira Odeh kept seeing water bottles discarded everywhere at her university in San Juan, Puerto Rico -- in the gardens outside and littering the floor of classrooms and bathrooms. Her project, No Mas Botellas, or No More Bottles, campaigns for better water fountains and seeks to educate the student community on the negative impact of bottled water on people's health and the planet's health. Now, they are working to ban bottled water from their campus and recently received official support from the school administration to continue working to that goal. "This project is important because bottled water consumption is part of releasing CO2 into the atmosphere, using too much water resources and privatizing water in communities. All these problems can cause serious issues in an island whose territory depends on sea level rise and on using the limited resources available in a smaller area of land," Amira said. "I decided to approach this issue by starting with education at the university because the student community is usually more open to engage in environmental conservation issues than other areas in the island. By succeeding with this project at the university, there would be a community of 15,000 people in Puerto Rico that know about this problem and there will also be a bigger quantity of people interested in solving it."
Congratulations to our grantees this week for their outstanding work to bring justice, peace, health and compassion to their communities. These are just a few examples of what a little seed money can do when put in the hands of someone with a vision and a plan to change the world.
Are you our next grantee? Please go to our website at www.thepollinationproject.org for funding guidelines and application.