Every day of the week, The Pollination Project provides $1000 in seed funding to an individual who is working to make the world -- or just their own community -- a better, more peaceful and more sustainable place. Here are the extraordinary people and ideas changing the world this week:
Rebecca Prine is a social worker who founded the volunteer-run grassroots organization Recycled Resources for the Homeless in Los Angeles. Recognizing that many homeless individuals have deep roots in their communities, but have no assistance in transitioning into housing, Rebecca is beginning a new program, "Neighbor to Neighbor," to pair up a housed neighbor volunteer with a homeless neighbor. The volunteer commits to visiting their homeless counterpart at least twice weekly to build trust, socialize, deliver clothing and other assistance, and help them in the process of securing housing.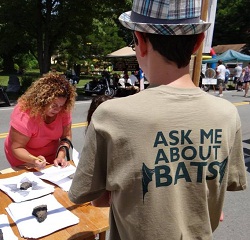 Truth Muller is just 13 and a passionate advocate for bats. When he learned that more than 93 percent of bats in New York State had died due to a new species of fungus, he founded Buddies for Bats, an education and outreach program to teach the public about the value of bats for our environment and dispel negative feelings about them. Truth has already educated more than 400,000 people through his efforts and is the youngest member of the Bat Conservation International's Speaker's Bureau in history.
Celia Alario, a media and political strategist, is creating a grammar and writing guide to assist journalists in the meaningful use of terminology related to the environment and sustainability. Her project, "Because Words Matter," will introduce and establish new language standards for reporters and editors, which will be submitted to stylebooks used in newsrooms today, ultimately resulting in increased respect, integrity and dignity in media coverage of these critical issues.
Kisirisa Muhammed and Mugagga Brian grew up in poor families in the most deprived and notorious slum area in Kampala, Uganda, where education is both a struggle and a lifeline. Their Books 4 Life Project will provide technical training to unemployed young adults, former drug users, former sex workers and young mothers to make and sell schoolbooks. The books will be used to enhance the education of urban poor children including those in orphanages.
Stephanie Harris, Stefanie Morrison, April Tubbs and Jessi Van Pelt, founders of Family Forever Animal Foundation, are working to prevent people from surrendering their companion animals to shelters in Central Florida, where so many will be killed. FFAF provides resources, supplies and veterinary care for animals at risk of being surrendered for financial or behavioral reasons, facilitates trap/fix/return services for feral cats, temporarily fosters animals for displaced people, mediates between tenants and landlords to keep animals in their homes and helps re-home animals when necessary.
Rebecca Newburn is a middle school teacher who wanted to help other teachers bring environmental and social justice education into their classrooms. Her Earth Care Education website will offer lessons and activities, and provide resources that not only educate but also inspire students to take positive actions to create a socially just and environmentally sustainable world. A companion website for kids and parents, Earth Care Geek, will feature fun DIY activities for home use.
Tracy Murphy is the founder of Asha Sanctuary, a home to animal victims of the meat and dairy industries. Recognizing the need for more awareness around farm animal abuse, Tracy is planning a "Country Jamboree" at the 25-acre sanctuary with speakers, a vegan dinner, live music, dancing and fun for her entire community in rural, Western New York. By introducing attendees to humane, animal-friendly food and living, Tracy is laying the foundation for a more compassionate, healthier future for animals and people too.
Congratulations to our grantees this week for their outstanding work.
These are just a few examples of what a little seed money can do when put in the hands of someone with a vision and a plan to change the world.
If you were given $1000, how would YOU seed the change the world?
-----
The Pollination Project makes $1000 grants every day, 365 days a year to individual changemakers. Visit our website at here.