Every day of the week, The Pollination Project (www.thepollinationproject.org) provides $1000 in seed funding to an individual who is working to make the world -- or just their own community -- a better, more peaceful and more sustainable place.
This week's grantees all offer transformations and transformative experiences, from teaching their community to care for the earth to physical, emotional, and intellectual transformations. Here are the extraordinary people and ideas changing the world this week:
Erika Hallquist and a few friends started Allove Tree to encourage Florida's Miami-Dade community to take care of their environment. The group now collaborates with growers, builders, musicians, artists, schools, and extracurricular programs to raise awareness through local events and promote neighbors working together, and maintains a community garden.
Daniela Orozco is bringing music therapy to her hometown of Guadalajara, Mexico. She and eight other music therapists will travel to Mexico to introduce the power of music therapy in medical settings, and promote current research supporting the transformational modality. Via this trip, Daniela and her colleagues will enable music therapy to grow as a profession in Mexico, and open music therapy programs in public and private hospitals throughout Guadalajara.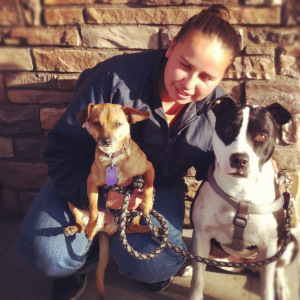 Christine Kim feels at home in Skid Row, Los Angeles, where she has spent six years working with the local homeless population. An estimated 10 to 25 percent of U.S. homeless have animals, yet only a handful of shelters permit pets. Christine, who has a master's degree in social work, is curating the multimedia exhibit "My Dog is My Home: The Experience of Human-Animal Homelessness" for the National Museum of Animals and Society. The exhibit showcases the importance of the human/animal bond, and the need for increased services for these interspecies families.
Dr. Alan Bean has advocated for criminal justice reform throughout Texas, Louisiana, Arkansas and Mississippi. His Common Peace Community strikes at the roots by working in predominantly white, middle-class communities to address underlying systemic problems stemming from income inequality, racism and injustice to undo decades of indoctrination and foster a new moral outlook.
Orameh Bagheri, a Los Angeles-based yoga teacher, is partnering with the LAPD Youth Cadet Program to teach yoga to at-risk young people in South Los Angeles. The program will offer a safe place to learn and practice yoga, and introduce teens age 13-19 to the transformative power of yoga for mental, emotional, physical, and spiritual health.
Sarah Davis has seen transformation through the equine assisted therapy programs at Broken Creek Youth Ranch where human and horse volunteers serve disabled and at-risk youth, and a large garden encourages nutrition, sustainability, and love for the earth. Her Flowers for Maddie program will improve accessibility of the garden for participants with mobility challenges and those in wheelchairs.
Vasanthi Kumar cofounded STRAW India in New Delhi to plant seeds of compassion for people, animals, and the environment through educational programs in schools. Her "Compassionate Classrooms" initiative will provide humane education content for the 35 state educational boards in India. Since thousands of schools are affiliated to each of these boards, the reach and impact of these messages of compassion would be widespread.
Congratulations to our grantees this week for their outstanding work.
These are just a few examples of what a little seed money can do when put in the hands of someone with a vision and a plan to change the world.
If you were given $1000, how would YOU seed the change in the world?
The Pollination Project makes $1000 grants every day, 365 days a year to individual changemakers. Please go to our website at www.thepollinationproject.org for funding guidelines and application.