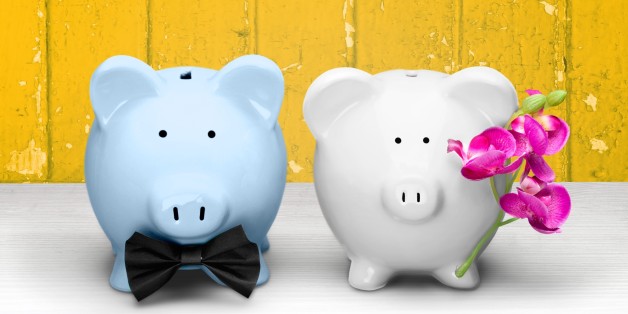 It's crunch time, and it's well known that most stress caused by a wedding is directly related to the amount of dough coming out of your pockets! Everyone wants to have a unique, memorable wedding, without breaking the bank.
That being said, I interviewed our real brides and asked them about their best budget tricks they used for their big day. I also reached out to several wedding vendor friends to get their inside scoop on how to meet your target wedding budget.
Here are eleven of the best wedding budget ideas from real women who survived the wedding planning process.
1. Think Outside The (Flower) Box
"I loved every bit of our wedding, but my favorite planning piece was the flowers! I knew I wanted A LOT of flowers, but I didn't want to pay a lot. So I ordered fresh flowers from a wholesale distributor and picked them up the week of the wedding. We supplemented with additional wildflowers from a local Amish farm." -Rachel B.

Photo by Blue Elephant Photography
PRO TIP: "Asking for 'in season' flowers only, is not a guaranteed way to save money. They can be in season or not, but if I can get them at a better price from outside the country, then that's what I will do.
You save money by using less expensive stems (just say no to peonies, orchids and callas) and cutting your wedding party amount and guest count. Less centerpieces and less personal flowers will bring the cost down. Be open to filled flowers and greenery to fill your centerpieces." says New Jersey luxury event planner Danielle Rothweiler.
2. Be Your Own Wedding Planner
"We didn't have a planner or anyone showing us what we had to do. During the last couple of months we found it hard to get everything done that we wanted but we were able to work together to make everything happen. We had a lot of help from friends and family and we couldn't have done it without their support." -Sullivan
You do have to make quite the investment of time when planning your own wedding. Time = money. So, if you're short on time or details make you crrrrazy, it's definitely worthwhile to hire someone to handle the details. You may also find it worthwhile to hire someone to coordinate details the day of the wedding, so you don't have 20 people tugging on your wedding dress wondering what to do next.
Here is a hybrid option. Former Weddingbee blogger Martine Boursiquot-LaConte, is now a successful wedding planner and can give you online help with planning your wedding. Another favorite is fellow Huffington Post contributor Sandy Malone. She offers DIY wedding consulting.

Photo by  Femme Fraiche
PRO TIP: "It is a universal truth that the one thing you can't get back is wasted time. An experienced wedding planner will help you maximize your valuable time, and streamline all the decision making processes.
Many of my preferred vendors offer my clients unpublished rates or discounts. I always pass any discount I receive along to my clients." says California wedding planner Renee Scotti Dalo
3. DIY Wedding Video Through Your Guests' Perspective 
"Once we'd distributed the cameras and told our friends how to use the app, we told them to go nuts and they didn't disappoint. They gave us a ton of great footage to work with to create a really unique and memorable wedding video that we wouldn't have been able to have otherwise." - Sylvia
4. Have a Family Friend Officiate the Wedding  
"For our ceremony outside in the Bedford Village Inn garden, we started with a very basic ceremony template, and built it from the ground up to make it our own. It was very personalized, and we were married by Matthew's older brother, Ryan, who got licensed as an officiant just for this occasion. He did an absolutely beautiful job." -Taylor
Keep in mind, while a friend can create a super personalized ceremony, there are also benefits to hiring a seasoned pro - like how to roll with the punches. In case something doesn't go as planned, a pro will know how to make it all look flawless to both you and the guests.
PRO TIP: "Make sure you like your friend's writing style and that they will be confident in front of a crowd." says Chicago wedding officiant Bonnie Cortez.
5. DIY Your Own Reception Entertainment
"As for the details, our friends and our families worked together to create a lot of personal touches at our event. From the corn-hole boards made by our best man and then hand spray-painted by myself, my mom, and Matthew; to the incredible jelly and jam favor display that my mom created; and the other countless other little design elements that kept us busy right up until the final week." -Taylor

Photo by I Heart Weddings
6. If It Can Be Crafted, Get Crafting! 
"I penned out our entire ceremony, I made all the centerpieces, the Candy Bar, the invitations, the escort cards, the wedding website, I even made my neck-shoulder piece and birdcage fascinator. Anything that could be crafted, I did. In the end, I was practically sweating glitter. (I even made a kids coloring book!)" -Alexandra
Photo by Melissa Prosser
PRO TIP: Atlanta wedding planner Natalie Bradley adds, "If you want a fun and lively reception or cocktail time filled with games, but you need to scale back on the money spent, you can whip up some entertainment the (new) old-fashioned way. You can create your own giant version of the Jenga game if you are talented with a saw, sander and some stain ... hard costs are less than about $50 and your guests will love playing!
The same is true for a giant Yahtzee game. You just need some wood cubes and a wood burner and you're in business. You can also add things like horse shoes and corn hole games. Keep an eye out for deals at Good Will and other places where you can find gently loved items."
7. Find Everything You Need At Antique Stores & Libraries 
"One night Craig and I decided to sit down and brainstorm what we wanted for our wedding. Refinishing desks, designing pencils, contacting library after library to find card catalog drawers, visiting antique stores, and finding all the items we loved from our elementary school days not only helped bring our vision to life, but also brought us closer together. We were so proud of each detail, no matter how small, because we envisioned it, designed it, and created it. Our planning and crafting created a wedding that was perfectly us." -Burns-Vital wedding
8. Breakfast For Dinner! 
"Coming up with the idea to do a brunch wedding- not only did using breakfast food cut our bill in half, it was a sentimental choice too. Our first date was breakfast at a diner because we both worked overnights at the time. Plus, who doesn't love breakfast? People loved the originality of the idea and the delicious food!" -Amy
9. Take Your Time (Your Budget Will Thank You!) 
Very early on, we knew the style of wedding we wanted, and had decided on a budget. We had a pretty long engagement, and spent almost two years crafting, bargaining, and thinking of inventive ways to get the same high-end looking at less the cost." -Lauren
10. When In Doubt, Etsy Will Save You
"We ordered dried bouquets and boutonnieres from Etsy for our bridal party. I have always had a hard time swallowing the cost of real flowers and not getting to enjoy them but for one day. I found a lady on Etsy  who made exactly what we wanted for our flowers and now I get to enjoy my bouquet every time I walk into my closet!" -Jessica
11. Get By With A Little Help From Your Friends
"One of the more unique things we did was our own flowers and they came out great!  The day before we did the bouquets, centerpieces, boutonniere's, etc with the help of our friends and family...it couldn't have gone smoother!" -Lauren
Ariane Fisher writes at the WeddingMix blog about all things DIY wedding. To get useful tips for turning those photos and videos from your wedding planning, big day and honeymoon into a fun video memento, follow her...