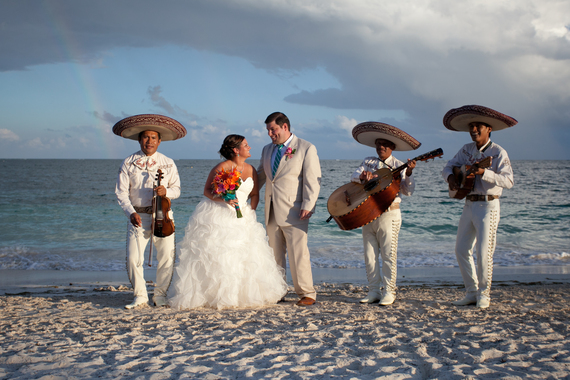 'Tis the season. Are those Santa's bells I hear? No, no. It's wedding bells. Destination wedding bells. Did you know that 24 percent of weddings last year were destination?
In my years as a video editor with WeddingMix, I've seen the ups and downs of destination weddings. Here are 3 common concerns I've seen:
How to involve guests who can't make it to the wedding
How to plan from afar
How to remember the whole week, rather than just "the big day"
How to Involve Guest Who Can't Make the Trek
Let's face it. This was your decision to get married in _______. The Caribbean, Europe, South Asia, etc. While you may think it's the most romantic thing in the world, not all your guests will be able to make the trip.
You can still include them in the wedding. Have them film well wishes to you on their phones. You can even ask them to share a memory of your friendship/relationship. Send them specific interview questions such as:
What should the groom give the bride on their first anniversary?
How can she sweet talk him?
What do you think they'll be doing in 10 years?
Here is the complete list of
interview questions and filming tips
.
One awesome example is Houston bride Savanah. She was concerned because most of her wedding guests would not be making the trek to Cancun. The guests who were flying to Mexico were mostly from the grooms side. First, she had all of her guests film greetings on their phones -- whether or not they could be at the wedding.
She also filmed her wedding planning and bachelorette party with her Houston besties:
How to Plan from Afar
Planning remotely is a daunting task. You need to have absolute faith in your destination vendors -- even as decisions need to be made without your presence. This is where Pinterest can be super handy. You can create create a secret Pinterest group board and invite your vendors and key wedding party peeps. That way, the rest of your guests can still be surprised with your gala event, but the decision makers can post photos and videos along with comments.
How to Remember the Whole Week
The day of the wedding you'll likely have a photographer and videographer to capture the I do's and reception -- but what about the rest of the week? Ask your guests to join in the fun and act as roving cameramen. They're likely taking pics and videos of the trip for themselves anyway.
Here are some key scenes you'll want to remember:
Departure from their home cities - the journey can be half the fun!
Arrival in _______
Local sightseeing
Local delicacies
Pre-wedding party
Post-wedding recovery
Savanah asked all her guests to film their experience the entire week. After the wedding she created a video from everyone's clips. Lastly, she created a gallery so that everyone who couldn't be there could share in her big day.
Check out Savanah's destination wedding in Cancun, especially the crazy thing she did the day after the wedding!